I'm so excited to share this post with you. I know I love this blog because I was totally exhausto tonight when I got home at 8pm after my adorable nephew's birthday party and then had to finish homework and clean up the Easter grass from yesterday's wreath.  I told myself I would take a night off.  But I've written and published 69 posts and I haven't missed a night (Sun-Thurs) since I recommitted to the blog a few months ago.  And when I remembered I was going to make these sweet Pom Pom pencils and share them with the world (ok the 10-20 of you who visit, anyway!), I got energized and sat down to work.
Who wouldn't want a pack of those in their Easter basket?  Huh, huh???  I totally love them.  Here is the inspiration:
So cute, right?  But, $12 for a set of six, I think, is a bit steep!  I thought even I could DIY those puppies.
Here's what you need:
That's a pack of mini colored pencils (mine are from Target and were about $5), some embroidery floss (I already had a bunch so this was free), some scissors, a glue gun and pretend there is some Elmer's Glue in that picture.
First thing you will do is make a pom pom.  Coordinate your embroidery floss with your pencils however you would like. I went with sort of a monochromatic/ombre feel, but the inspiration pencils are contrasting colors.  Wait, you don't know how to make a pom pom?  Oh, you poor creature!  I have instructions here and here.  You will use one finger for these small pom poms and you will wrap 50 times instead of  100.  Once you've fluffed up your completed pom pom, hot glue that baby to the top your pencil.
Hey, you're halfway done!  Next, pick where on your pencil you would like to wrap your embroidery floss.  All the way at the top?  Toward the bottom?  In the middle?  I did a few different spots on different pencils.  I would only suggest not wrapping the floss all the way at the bottom because you may want to someday sharpen your pencil a little.  Lightly coat the pencil with Elmer's glue where you've chosen to wrap your embroidery floss.  You don't need a lot.  Less is more here. If you want to add a little more as you're wrapping, you can, but you don't want there to be too much glue gettin' all messy and gluey. Know what I'm sayin'?
Guess what? You're done!  Whoo hoo!  Here are several pictures of mine just cause I'm happy I got some decent shots.
Make these pencils, will ya??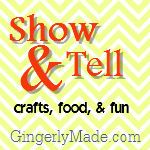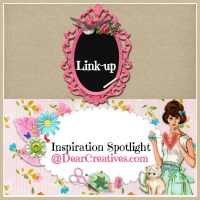 Tater Tots and Jello Link Party Palooza
Chic on a Shoestring Decorating
(Visited 446 times, 1 visits today)