Nothing says I'm boring like a giant empty wall in your house.  And I know you are not boring.  But good large scale art is expensive and it can be really daunting to figure out another way to fill up that empty space.  Well, have no fear.  I have found 6 Simple Accent Walls with Major Impact for you to try.   ***This post contains affiliate links.  If you click on one and make a purchase, I may receive a commission at no additional cost to you!  Thank you for supporting Lifestyle for Real Life!***
6 Simple Accent Walls with Major Impact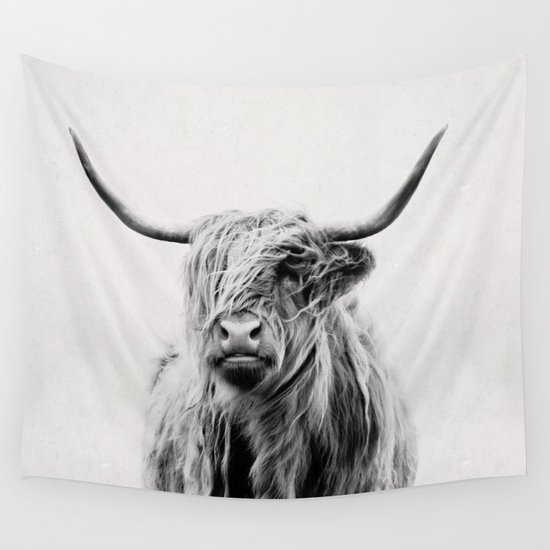 Perhaps the easiest way to quickly fill a large space and make a serious impact is with a wall tapestry.  I have had my eye on this guy from Society 6 for a long time, but I haven't pulled the trigger because I am certain that my family will feel I have most certainly lost my mind.
But, for some reason I am drawn to this bull with long hair.  I can get away with a lot, but I'm not totally sure I can get away with a wall of this.  Good news, he's less than $50, so if I do ever get the courage to buy him, I will not have broken the bank if my husband gives the "it's him or me" ultimatum.
If you're not into bovine wall art, don't worry, Society 6 has TONS of options to choose from.  To elevate this look from college dorm, you could mount it with a drapery rod and clips, or if you're handy, you could create a simple frame for it, too.
This is my house.  That wall is my pride and joy. It is everything I want my house to be in a wallpaper mural.  I know what you're thinking.  "You said these were simple and wallpaper is NOT simple".
Ok, I confess, it is the most difficult thing on this list, but I promise it wasn't very difficult. I had my mom help and we followed the directions that come with the mural and we had that thing up in a couple of hours.  It comes in sheets that weren't so big that we couldn't work with them, but big enough that you cover a lot of wall with one sheet.
I swear to you, this is doable.  If I can do it, you totally can, too.  Komar has videos you can watch and written instructions.  You got this.  This is just one of many options you can purchase, so if primary colors are not your thing, there is sure to be something you will like.
Symmetrical Wall Gallery from Inspired By Charm
 This symmetrical wall gallery from Inspired By Charm has some major impact and a very refined take on the gallery wall.  I love this look.  These almost 20×20 frames are available at Ikea for $15.  If you *need* 12 to fill the space, it will get a little pricey, but you will have a customized gallery in your house.  I love the look of the bright, colorful photos, but this would be really pretty with black and white photos, too.
Depending on the size of your wall, you could get away with 6 frames and Ikea has a great example of that:
Let's not pass by that Ikea room without mentioning that just a ridiculously good pop of color can be enough to create a fantastic accent wall.  I don't like purple, but I like that!
Washi Tape Wall from Everything Emily Blog
This might be slightly painstaking, but I love the look of this simple cross wall.  And she did it with washi tape!  It's amazing what a little bit of math and some patience can do.  And thanks to bloggers like Emily, you don't even need your own imagination, you can just borrow hers! I know I would NEVER think of something as clever as this on my own.
Using things like washie tape or removeable contact paper is a great option for renters and/or those of us who might like to change things up.  Occassionally.  Ok, maybe all the time.  It wouldn't take much time at all to tear those crosses down and try something else!
I have an obsession with sort of weird art that I find at thrift stores.  Here is an example of a piece of wall art that I found at a thrift store that I didn't buy because I knew it would look totally bizarre all alone on a wall in my house:
But!  The inspiration photo above tells me that if I bought a bunch of these random thrift store pieces and hung them together, they would look like an actual work of art.  Like a curated collection instead of one bizarre piece.  Never again will I leave behind a funky piece of art.  That's my promise to you.
And one day I will have an amazing collection and you will all finally know that I am a genius.
Fabric Wall by Numbered Street Designs
I've always been skeptical about attaching fabric to a wall, but Amber from Numbered Street Designs has several examples of it on her blog and straightforward instructions that make it sound fairly simple.  I really LOVE the idea of using this fabric with the handwriting on it.
Of course, it kind of makes me think that I might want to just take a sharpie and start writing on the wall.  But we all know that is a bad idea.  Right?  It's a bad idea, I'm pretty sure.
I'm about to get started on an accent wall that will be close to that symmetrical gallery wall, but I really want to start collecting for my future thrift store art wall, too.  Which one are you going to try?
(Visited 1,765 times, 1 visits today)