I bought some new hair products this weekend and I thought I would share.
First up: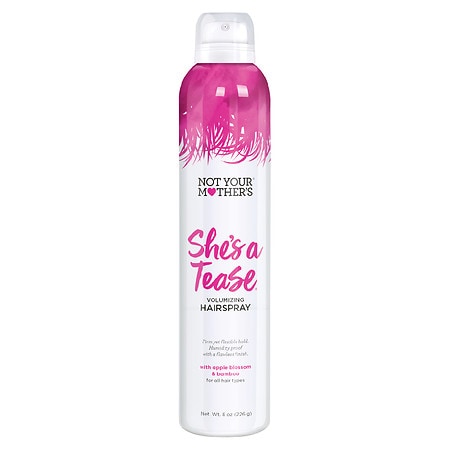 Not Your Mother's She's a Tease Volumizing Hairspray – I have to be honest, a friend of mine got one of these products in her Birch Box and the packaging and branding sucked me in.  But, I'm glad it did!  This is a great hairspray that did add a bit of volume to my limp hair and it smells awesome.  Definitely a winner!
Tresemme Fresh Start Volumizing Dry Shampoo – I'm big on the volumizing.  This stuff was interesting.  Remember when you were practicing your updo for the prom and the cool mom was like, "You hair has to be dirty to get it to hold the style".  This is the stuff that you would want to use to dirty up your hair.  And I totally don't mean that in a bad way.  It does suck up the oil in your hair like it's supposed to, but it also gives it the gritty feel you need if you do want to hold a specific style.
Remington TStudio Silk Ceramic Multistyler – The jury is out on this purchase.  I bought it on clearance at Target because my old flat iron broke and this one is supposed to straighten or give beachy waves.  The price was right, so  I grabbed it.  I thought that the barrel would open so that it could be used just like a traditional flat iron, but it doesn't.  You have to maneuver your hair into a pretty skinny slit in the middle of the barrel.  It's weird and you can't fit much hair in it.   So, as a smoothing/flat iron, I don't know.  It's probably a good thing to only be able to do small chunks of hair at a time, but I don't have the patience or the arm strength for that.  However, for the beachy wave look, I really like it.  I still fed my hair through the slit, but it was easier somehow and the curls come out adorable.
Happy Styling!
(Visited 71 times, 1 visits today)