I need a new mailbox.  For real.  The door broke off of it and every time I reach my hand in, I'm terrified there will be a spider waiting to attack.  I would really like to replace what I have with something fun and funky.  So I scoured some of my favorite haunts for ideas.  Here are my eight favorites.
These lovely mailboxes were covered in wallpaper remnants.
I love the base of this one made out of pallets.  Very cool!
Over the top?  Maybe.  But, I think I'm okay with over the top.  I don't know how the mailman would feel about this one.
I love this one that does not appear to be available on etsy anymore, but it looks diy-able, right?
Do I have it in me to mosaic something again after the Anthro inspired mirror?  Yes, yes I do.
Come on, you know you want this!  Just a little.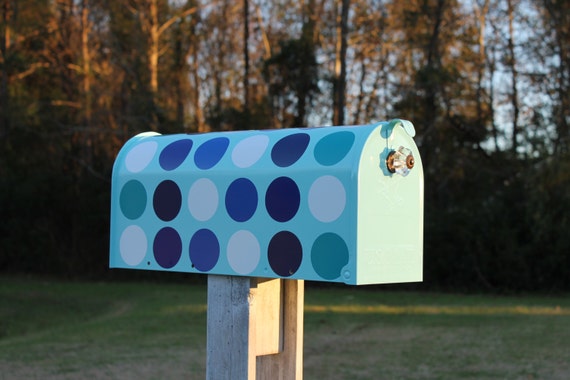 This one is speaking to me.  I love the glass knob and I just so happen to have one leftover from the necklace displays.
This one is sleek and cool.
I think the polka dot one is speaking to me.  Which is you favorite?  Have you seen any cool mailboxes?
(Visited 6,501 times, 1 visits today)