I've been hosting Thanksgiving for many years.  The one thing I always forget about is that for kids, it's not really the most exciting holiday.  This year for Thanksgiving I'm going to have one teenager, a 10 year old, a five year old and a 3 year old. Let's be honest, if the holiday doesn't involve presents, it's kind of hard to get the kids into it.  Especially for the 5 and 3 year old who want to spend about 2.5 seconds sitting at a table to eat a meal.  That can lead to a chaotic Thanksgiving.
You have to be strategic in planning how to occupy these kids.  Now, I'm lucky that I have a 13 year old who can take the lead on activities for her younger brother and cousins.  You may need to designate an adult for this.  But, by all means, designate someone to be the lead kid corraler.  If you are hosting Thanksgiving, you are NOT going to have time to be making crafts and playing games with the kiddos.  And, you have to remember to plan the activities for the kids about a week ahead of Thanksgiving.  Thanksgiving is possibly the most labor intensive holiday when you're hosting, which means when it gets down to crunch time, the kids activities are going to be the first thing you decide to forgo.  So, carve out an afternoon to decide on a few things that the kids will love and grab any supplies you might need.  It would be great to have your designated adult/teenager help with this part so they are already in on  the plan!
10 Activities to Keep Kids Happy On Thanksgiving
Part 1 of Operation Keep Kids Happy on Thanksgiving:  Get Outside
The first thing you're going to want to plan is some type of physical activity, preferably something they can do outside (yes, outside!  It's usually cold here in the Northeast for Thanksgiving, but a few minutes outdoors won't hurt anyone.  And it gets the kids out from under your feet!).  The kids are going to arrive at your house, possibly after a lengthy car trip with boundless energy and the unintentional desire to destroy things.  You're going to want that energy OUTSIDE.  Far away from you and your turkey and pies and mashed potatoes.  I love this idea from Kid Friendly Things to DO:
Nothing super fancy or expensive or difficult to make.  Just a simple game of toss the mashed potatoes into the turkey.  Ok, it sounds a little odd when you write it out like that, but the kids will get a kick out of this.  Another super fun idea (and something I would only allow outside or in a basement or somewhere else where no one else will get pinged in the face with a Nerf dart) is this Shooting Turkeys game from A Girl and A Glue Gun:
I guarantee you this will be a hit with some of the adults, too.
Part 2 of Operation Keep Kids Happy on Thanksgiving:  Feed them Treats
Ok, now that you've had the kids burning off some energy outside, you're going to have to let them in the house.  This is when you need to do something special and cute, just for them.  It's when you give them the old, "You have been SO good, I have a special treat, just for you!".  And then you give them something awesome to eat.  It can be candy.  I know you haven't eaten the turkey yet, but a little candy is fine.  If their parents complain, tell them they can host Thanksgiving next year (just kidding!  that would be rude!  Don't say that.  But, still, give them candy.  You need these kids out of your hair for a little while longer, ok?).  I love these little Turkey Treat bags from Clean and Scentsible:
Make a few of those ahead of time and the kids will adore it.  And they will think you are the best Thanksgiving hostess ever.  Obviously.  You could also try these sweet Cornucopias from Adventures in Making:
And if you absolutely insist on giving them something healthy for this special treat, you could whip out this bad boy: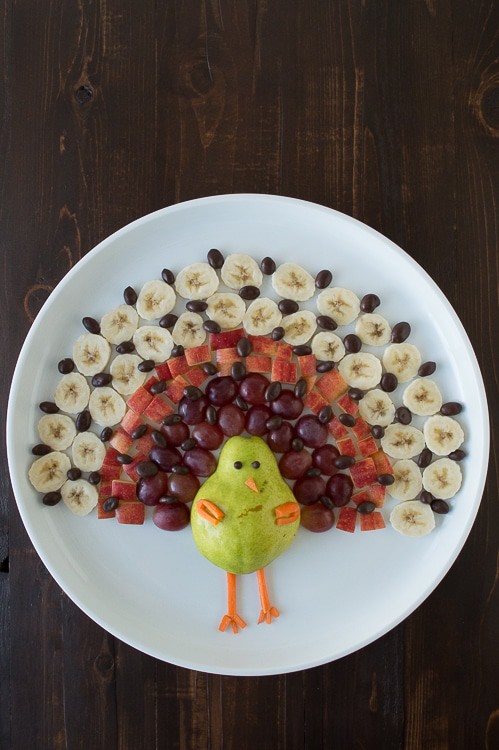 That's an easy Turkey Fruit Platter from the First Year Blog.  Pretty adorable, right?  Kids will totally eat that.
Part 3 of Operation Keep Kids Happy on Thanksgiving:  Quiet Time with Crafts
Ok, at this point, hopefully you are about ready to eat dinner.  With any luck, they will sit through at least 15 minutes of the meal you have been slaving over for 14 hours.  Honestly, 15 minutes is probably pushing it.  Funny aside, one year, my brother brought McDonald's Chicken Nuggets to my house for Thanksgiving to feed his son.  True story.  Not only that, but he had to drive back to his house to get the sweet and sour sauce that he forgot.  Good times.
Anyhoo!  You are again in keep the kids out of the kitchen mode.  You've got a lot of cleaning up to do AND you have to start setting up dessert.  Thanksgiving is a marathon people.  If you're hosting, you may burn more calories than you eat, maybe.
At this point, the kids are probably more apt to do a sitting down quietly activity.  Now is the time to sit them down with a cute craft or simple game.  There are lots of great ideas to choose from and they can be as simple as these free printables from Simple Every Day Mom:
Printables are perfect for Thanksgiving because there is really no prep involved here. Hit print and hand out pencils or crayons.  That's it.
If you're feeling slightly more ambitious, you could try a simple craft like these Turkey Finger Puppets from Artsy Momma:
I love that with the paper crafts the kids will have a souvenir to take home with them, but food crafts are also totally appropriate at this point because you are about to eat dessert and most kids are going to turn their noses up at your Pumpkin Pie (sorry, they will.  Give them 10 years and they will get the subtle flavors of pumpkin and spice, I promise).  This little Turkey Treat from Princess Pinky Girl is perfect:
And, with that, you have officially survived Thanksgiving with kids!  Not only have you survived it, but you've made it special for those little nuggets and that is going to make you feel good, I promise.  Not as good as unbuttoning the top bottom on your pants after the meal, but pretty darn good.
(Visited 377 times, 1 visits today)