Oh my god did you forget to get Valentine's for your kids to pass out at school?  Or, are you, like, super organized and ahead of the game and have tons of time to help your kids make Valentine Crafts for school?
Either, way, I have you covered with these Valentine Crafts for Kids!  A handmade Valentine really does say, "I really do care!".  OR, it might say, "I forgot about this and threw these together!".  Whichever camp you fall in, your Valentine's will look adorable if you can pull together the supplies for one of these adorable crafts.
Valentine Crafts for Kids
Nothing is easier than a free printable.  These little Glow Stick Valentine Printables from Jasper and Willow are perfect!
Kids love glow sticks and these will be simple to whip up if you're in a hurry.
Ok, crocheting obviously isn't the quickest of crafts, but I had to include this adorable Heart Headwrap from Bre Pea.
Bre has a free pattern for this for you.  You're little girl will love this and although it's perfectly themed for Valentine's Day, there's no reason she can't wear it any day of the year!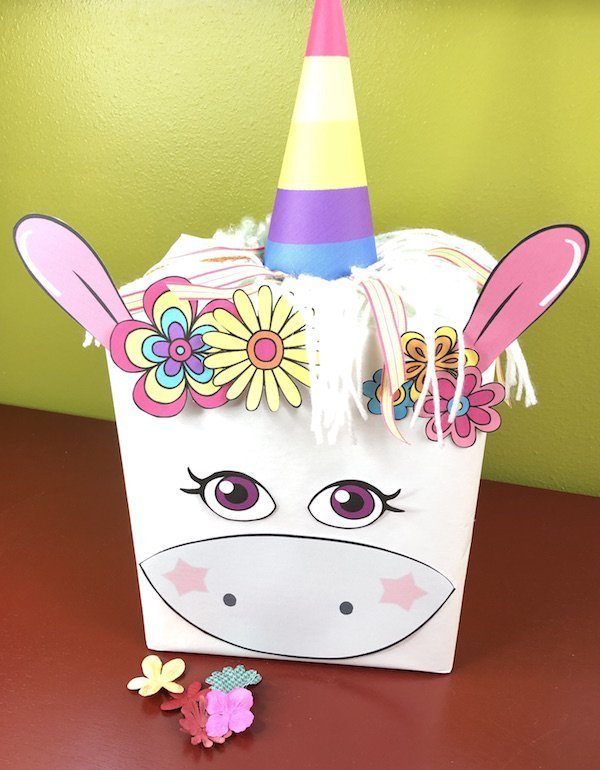 This Unicorn Valentine Box from Rhoda Design Studio is just ridiculously cute.  I know you think that is not going to be easy to make.
You'd be wrong.  Rhoda has free printables for you, so this will come together for you in a flash!
If you're anything like me, then you have a drawer FULL of crayons that you just really don't have any need for, don't you?  I mean, I buy a new box of crayons for school every year.  Why don't I just reuse the million that I already have?
Well, perhaps this will be the year I do.  These Melted Crayon Hearts from Mom Luck are easy and kids LOVE them.  And they are technically useful because they still work as crayons, too.  It's a win/win/win.
I love the idea of these Heart Shaped Stress Balls from Here Come the Girls Blog.  My kids both have sensory and fine motor skill issues, and these are great for both of those things.
And the little heart shaped balloons are so perfect for Valentine's Day.  I love the sort of Modern look of these.  I can also imagine them with little Sharpie doodle faces on them.
These pretty Cupcake Liner Flowers from Ginger Cake are a great option for Valentine's Day. Simple materials, easy to make and they will brighten up a corner of any desk.
I think your kid's teacher would love a little bouquet of these!
Heart shaped magnets are a great idea to pass out as Valentine's!  These Heart Shaped Magnets from Red Ted Art are totally customizeable. There are three different options for designing them, but you could use your imagination (or, rather, your child's imagination) and come up with any design you like!
Because they are so customizeable and because they are actually useful as a magnet, these are great for a wide range of ages.
My son is in the 5th grade and as a 5th grader, he gets to be a 1st grader's Book Buddy.  He LOVES being a book buddy.  He loves reading to a younger child and he always has a story to tell me when it's Book Buddy day.
(In case you don't know, anytime an 11 year old boy has a story about school to tell you, you should savor that story.  Because most of their stories go like this "I don't know", "I forgot", "Nothing").
One of these Heart Bookmarks from Catalogs.com for his Book Buddy would be awesome.
Is it really Valentine's Day if chocolate isn't involved?  And, if you're going to involve chocolate, wouldn't you want to make it super cute and adorable if at all possible?
These little Hershey Kiss Mice from The Happier Homemaker are really just adorable.  You'd almost have a hard time eating them because they are so cute.
Almost.
heart suncatcher from One Crazy Mom and it's so simple to make. Try this easy Valentine craft for kids! " />
Pretty Suncatchers for the window are a must for the cold, cold month of February.  These Heart Shaped Suncatchers from One Crazy Mom are simple to make.
I love the idea of sending this in to school as a Valentine and then every kid in the class hangs it in the window at home.
How cute are these little heart shaped puppet creatures from Creative Family Fun? These are totally simple and fun.
Your kids will love making them, playing with them, passing them out to their classmates and the playing with them some more.  These are perfect for that early childhood/early grade school set.
I love anything that takes really simple materials and turns into something adorable.  This Bee Mine Valentine from ABC's to ACT's is a love.
So easy to assemble and so much cuteness!
These little heart shaped Bird Feeders from Sweet and Simple Living are made from Fruit Loops.  I have to say, I feel like in addition to being Bird Feeders, they could be small people feeders.
Right?
These would also be just as adorable and a smidge more healthy if you just used Cheerios!
These Shake It Up Hearts from Sunny Day Family are the winner of the Valentine's Day Kid Craft challenge.  I just made that challenge up and I'm the only judge, but I love these.
Kids will LOVE making these. There's a jar that you shake to make that paint splatter.  I know kids will get a huge kick out of this.
And why not get in the way back machine from my very first year as a blogger and try this tutorial for these cute Funny Valentine Monsters.  They are super simple and fun to make.
Alright, did I cover you?  Do you have an amazing idea now for what to do about those Valentine's? I hope so.  Do you have one you love the best, or is there one you've made before that I should know about?  Let me know in the Comments!
PS!  I have bunch more to say about Valentine's Day!  Check out all of my posts here:  Valentine's Day Ideas!
If You Liked It Then You Shoulda Put a Pin In It!
(Visited 824 times, 1 visits today)