Once Christmas and New Year's are done, we enter into sort of a dead zone of winter blah.  That might not be true if you live in San Diego, but if you live somewhere that it gets cold and gray and COLD, then once the holidays are over, winter can be a bit of a downer.  There is a Nordic concept that helps beat back the winter doldrums.  It's called Hygge and it's pretty awesome.  Here are 13 Cozy Crafts to Make for a Very Hygge Winter.
Hygge is a feeling of coziness, togetherness and well being.  It is exactly what you are craving when you see it snowing outside and you want to sit on the couch with a cup of hot chocolate, a candle burning and your kids cuddled around you reading books.  I know, it sounds like a fantasy land, and it kind of is.
One way that I like to create Hygge at home is to make cozy stuff.  Sometimes that means cooking a hearty meal, sometimes it's crafts.  Today, it's crafts.  I've searched the depths of the internet for some crafty inspiration and I've found some great stuff!  As always, the stuff I like to make is simple, fairly inexpensive and useful in some way. And they are all totally Hygge friendly.
Cozy Crafts to Make for a Very Hygge Winter
Sparkling Glitter Druzy Earrings – Tutorial from eHow
I rarely make anything for myself, but these glitter earrings are so pretty.  Mostly I make stuff for the house, but if you have the winter blues, these earrings are a win/win.  You get to make something, which always puts me in a good mood AND you get beautiful earrings.  And beautiful things also put me in a good mood.  Being in a good mood contributes to my well being, so, yes, jewelry (hand made jewelry) counts as Hygge.  I've actually tried something similar, to these earrings but they didn't come out nearly this pretty.
Watercolor Pine Trees – Tutorial from Craftsy
I love learning new things.  This tutorial for painting some evergreens is detailed and looks like it could make an artist out of anyone.  Imagine if you could just whip up a new painting for your house?  That's a pretty special thing.
DIY Colorful Poured Resin Wall Art – Tutorial from Resin Crafts Blog
Umm, ok, this one looks like it is way to beautiful to actually be doable.  But I think I need to try it.  It's one of those things that will either come out amazing or it will be such an enormous fail that I will have to share the ridiculousness of it with you.  I'm seriously in love with this one.  Watch for my version some time after the holidays.  If I can screw up the courage.  And just imagine sitting on your couch, drinking coffee and admiring this piece of art that you MADE!  Hygge, I think so.
Mason Jar Oil Lamp – Tutorial from Hearth and Vine
How pretty are these?  And useful because I can just imagine what they smell like when lit!  Perfect for a cold winter night.  A burning oil lamp filled with natural scents is right at the essence of Hygge.
Fleece Mittens – Free Pattern – Tutorial from DIY Crush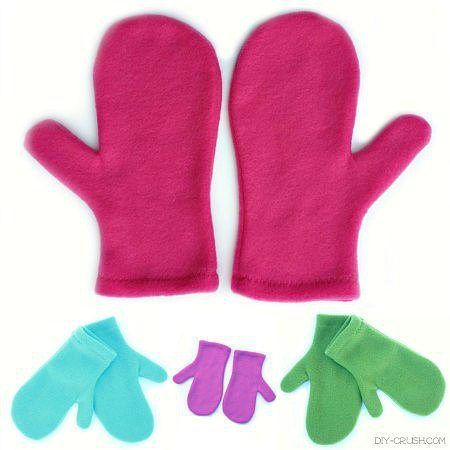 I don't know about you but in my house, we have a constant shortage of gloves and mittens.  I think they go to the same place that the other sock goes to.  Why not whip up a bunch of these cute mittens so you never have to wear socks on your hands again!  (I'm not the only one who has done this, am I?)  Warm hands are very Hygge.
Home Made Thinking Putty – Tutorial from Little Bins for Little Hands
I love the idea of thinking putty as an alternative to the slime craze. Yes, this is meant for your kids, but I could totally see myself using this, too.   I'm a big time fidgeter and this would be lovely to fidget with!  This calming putty will most certainly contribute to your feeling of Hygge this winter.
Dollar Store Faux Birch Bark Vases – Tutorial from Simple Made Pretty
Simple, inexpensive and useful.  That is everything I love in a craft. I would make these with dollar store glass candles and I can totally see these on my winter mantel.  Light the candles and you are all Hygge for the night.
Wood and Resin Pendant – Tutorial from Resin Crafts Blog
Resin might be my word of the year for 2018.  I'm totally obsessed with these pendants. I gotta get my hands on some resin!  This is the kind of handmade that I want.  It's so modern and unique.  You know that commercial where the woman brings the faucet to the architect and says "Design the house around this"?  That's how I feel about these necklaces.  Design my Hygge life around these.
Winter Ice Light Catchers – Tutorial from Daring Baker Duluth
This is something I can say I have never seen before. These winter light catchers are first gorgeous and second, when they start to melt in the early spring, the birds will eat the seeds and fruit!  I love that idea.    I love how simple this is too.  Like, no skill involved, just the desire to make something.
Starburst Twig Wreath – The Tutorial from The Painted Hive
If you're into some farmhouse glam, this wreath is for you.  It's made of sticks collected from the bloggers yard.  You know you would pay $39.99 for this at Home Goods, right? You could make this for practically nothing (hot glue gun, some twine and something to stick the sticks to) and have the added benefit of the satisfaction of having made something (and ps, the feeling you get from making something, totally Hygge).  I swear to you, there is nothing like that feeling.  If you've never made anything, just pick one thing and try it.  You will not regret.  And, ps, my biggest crafting fail, led to my greatest blog post of all time, how to remove mod podge.  So even if your project stinks, you will still have learned something along the way!
Simple Macrame Bird Feeder – Tutorial from Blue Corduroy
Macrame gives me a nostalgic feeling.  My mother either made a macrame plant holder or received one as a gift when I was a little kid and I always loved to look at the organized tangle of knots.  This little bird feeder holder looks like the perfect beginner project to try.  And feeding the poor birds is definitely togetherness, which is, of course, Hygge.
Gold Leaf Resin Paperweight – Tutorial from Resin Crafts Blog
I have a little bit of trouble classifying a paperweight as useful.  But if it's this beautiful, I might let it slide.  And it's a resin project again!  These are just so striking!  Perhaps not Hygge, but I couldn't not include these.
Felted Soap – Tutorial from Lifestyle for Real Life
If you're a frequent reader here, then you might have picked up on the fact that I am on a mission to bring the joys of felted soap to the world.  I'm failing at the mission right now, but I'm not giving up.  Please, click the picture above and check out the tutorial and make some felted soap.  Please.  I don't think I need to explain why this is Hygge.
Are you ready for the coziest feeling Hygge?  Make something!  Make the felted soap.  Or anything else on here.  I know I'm going to.  And I'll post about it here, of course!
If you liked it then you shoulda put a pin in it!
(Visited 6,463 times, 1 visits today)