I promised you in my Easter Egg Craft post that I would be back with some super cute Easter crafts.  Well, never one to disappoint, I'm back.  I found the most adorable and simple Easter Crafts.  I don't usually go all out for Easter decorating, but I might need to do at least a couple of these.  They definitely have me day dreaming about spring and Egg Hunts and not wearing a parka every day.  ***This post contains affiliate links. If you click one and make a purchase, I may receive a commission at no additional cost to you!***
I really should do more Easter decorating.  You know why? It's sort of the unofficial start of Spring.  The colors are bright and pretty.  When you've finally made it through February and most of March, you need a little color in your life.  These projects are just the thing to add that color.  These are mostly super simple ideas and you could knock them out for minimal expenditures of time and money.  You can't really ask for more than that, right!
13 DIY Easter Crafts for  Fun and Festive Holiday
Felt Easter Bunny Wreath from Hobby Craft
If this isn't the cutest little wreath ever, I don't know what is.  I've made a yarn wrapped wreath before and it takes a little time, but the texture factor is worth the time.  And those felt flowers are totally to die for.  After Easter, you could take that bunny off and just use the wreath for the rest of the Spring.
Paper Straw Easter Egg from Keeping It Simple
Have you seen the amazing Paper Straws you can buy?  They are so colorful and fun!  I don't think I would ever drink out of them, I'd just try to figure out cheerful crafts to make with them.  This framed Easter Egg is so great.  I love that it's three dimensional and 100% easy to make.
Plastic Easter Egg Flower Pot from Made With Happy
I don't exactly have the greenest thumb in the world, but I could totally try these with some grass growing out of them, right?  I don't trust myself with anything that has those precious little blooms, but I could probably grow grass.  I'm pretty sure I could manage that.  How hard could it be?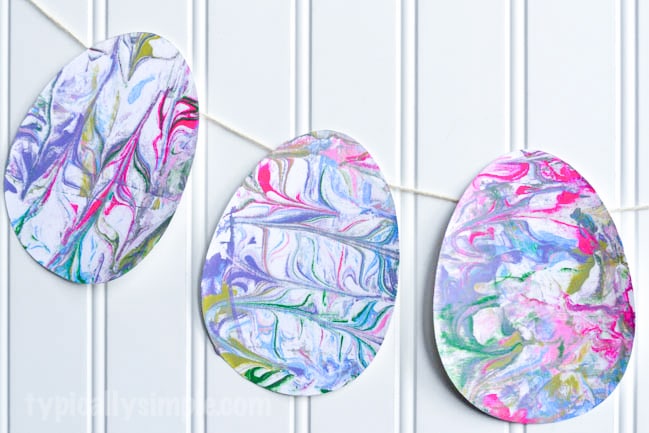 Shaving Cream Marbled Paper Easter Eggs from Typically Simple
How pretty and also cool are these marbled paper Easter Eggs?  I have never tried this shaving cream marbling technique, but I think I need it in my life.  I've seen it used in many different ways and I think this might be the perfect simple project to start with. Those pastel colors are calling to me.
Stand Up Paper Easter Eggs from Little Miss Celebration
When I was little, my mom made a Christmas tree that I'm pretty sure was made with the same method as these Paper Easter Eggs.  They would be great as a centerpiece for Easter dinner.  They are tall-ish and wide, but not so tall that people can't see over them.  I hate a centerpiece that you can't see over.  And I'm short, so there are a lot of things I can't see over.
Easy Carrot Easter Baskets from Kids Craft Room
If you're hosting an Easter Egg Hunt, these are the perfect little party favor.  It's just a free printable and some jelly beans.  But you know kids love anything that is as adorable as this.  Totally precious.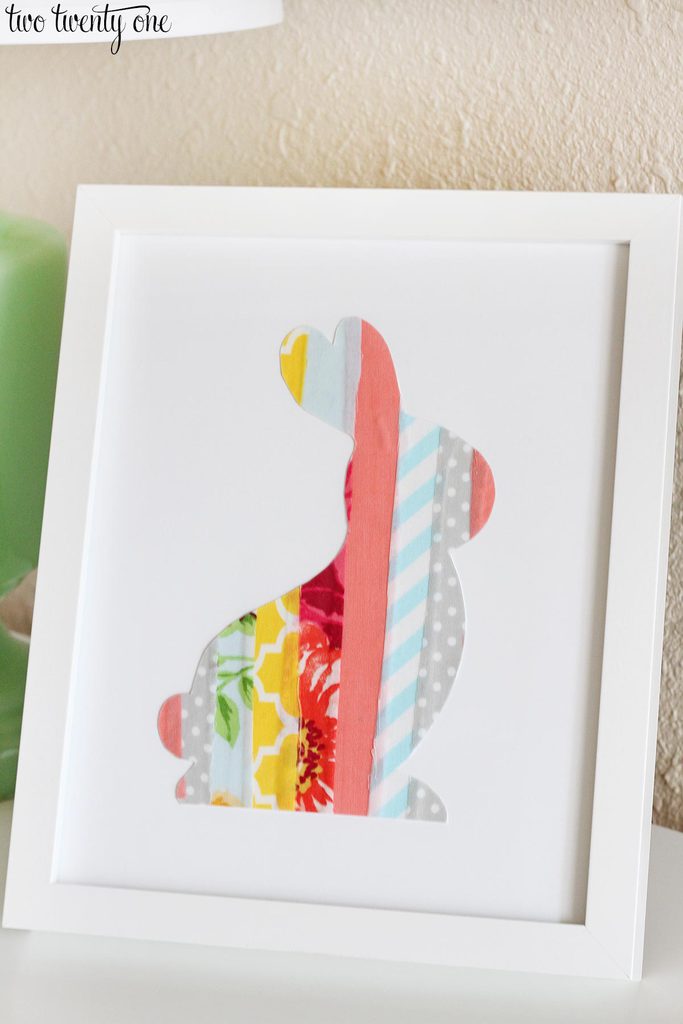 Easy Spring Art from Two Twenty One
This little fabric scrap framed bunny art is way easier than you even THINK it is.  You could also totally do this with washi tape if you don't have scrap fabric hangin around.  Amazon has some great washi tape options for spring!
Felt Easter Eggs from Paper and String
These little felt Easter eggs are definitely not the simplest project on here, I admit that.  But they are so worth the time and effort, aren't they?  I love the little buttons for a little added something.  And some super cute ribbon on there, too!
Bunny Ears Drawstring Bags from Lauri Nana
Ok, I don't even think I could attempt to make these, but if you are good with the sewing machine, this is such a great project.  Not a ton of fabric to buy and something that kids could use year after year.  I love that.
DIY Button Craft from A Cultivated Nest
Ok, back to the easy crafts!  This button Easter Egg is possibly my favorite one on the list.  It's so terribly cheerful and I'm pretty sure they have big bags of buttons at my local thrift store.  I wonder how long it takes to attach all of those buttons?  It would be a very relaxing project.  Other than the glue gun burns.
Easter Egg Ornaments from The Life Of Jenn
I love when a craft is three dimensional.  I also love when a craft uses super simple materials like paper, yarn and beads.  This is the type of thing that looks impressive, but is totally something anybody could do.
Easter Egg Mason Jar Craft from Mason Jar Crafts Love
Who doesn't love a good Mason Jar Craft?  I've seen a few different versions on Pinterest, but I love this one the most.  I'm pretty sure I could pull of painting that.  I mean, it doesn't have to be perfect, right?
Salt Dough Easter Egg Ornaments from Design Mom
I don't know how it's possible that I've never made Salt Dough before, but it's true, I haven't.  I love the idea of bringing in some branches from outside and hanging these ornaments for a little twist on a holiday tree.
Alright, now the fun part.  Which one should I make?  Do you have a favorite in there?  I'm kind of leaning toward the Mason Jars as gifts for niece and nephew and maybe even put one of the little carrot candy holders in there.  But I really love that paper straw egg, too.  Decisions, decisions.
If You Liked it Then You Shoulda Put a Pin In It!
(Visited 3,484 times, 1 visits today)