Has anyone been around here long enough to remember an old favorite I like to call Buy It, It Spy It or DIY It?  Crickets?  Ok, so I happen to think it's a lot of fun to go on-line shopping and pick out my favorite things and decide whether I should Buy It, Spy It (look for it for less $$ somewher else) OR DIY It (make it with my own two hands!).
To be honest, it's a bit of a filler post, but it is also a bit of fun.  I have lots of things that are not filler to share with you soon, but nothing is done yet.  I have a Stitch Fix review coming up probably this weekend, that I think is either going to be AMAZING or HILARIOUS.  I've also got another resin craft in the works.  So, in the meantime, please forgive and maybe even enjoy this filler-ish post about Room Decor at Urban Outfitters!  ***This post contains affiliate links. If you click one and make a purchase, I may receive a commission at no additional cost to you!***
Buy It Spy It or DIY It – Urban Outfitters Room Decor
Half Moon Planter – $14.00
This little planter is adorable and quirky!  I'm loving brass lately and I really ought to start thinking about bringing some plants into this house.  I mean, eventually one will survive, right?  I can't kill every plant ever, can I?  OR maybe I could just go for one of those cute plastic ones from Target.  Who would know?  Besides my mom?
The Verdict:  BUY IT!  That's a whole lotta look for 14 bucks, guys.  Go for it.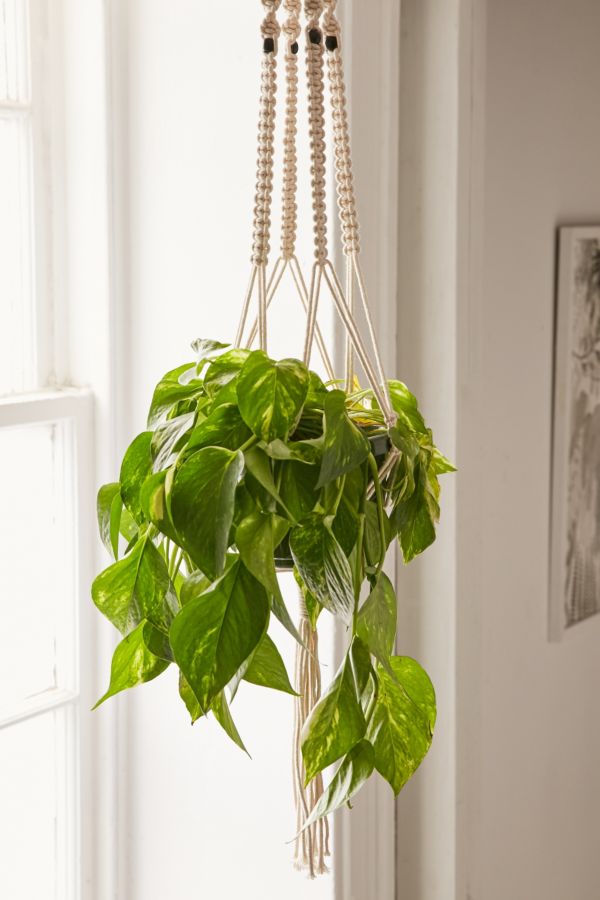 As I'm typing this, this is on sale for $19.  Depending on when you read this, that price could go up to $24.  I have a thing for these macrame planters.  They bring me back to my childhood.  My mom has a crazy green thumb (not hereditary, apparently) and she had a few of these macrame planters.  I'd love one or seven in my windows.  Of course, it will require that I keep plants alive, which is probably why I don't have one of these yet.
The Verdict?  DIY It!  Obviously!  This is a great Urban Outfitters DIY.  There are tutorials for simple macrame planters EVERYWHERE.  I feel like this would be super relaxing.
I'm obsessed with the funky corner on this dresser.  It is so full of personality.  I really, really, love this thing.  I don't want to take my eyes off it.  Who even thinks of putting a little nook into a dresser like that?  It is just so stinkin' adorable.  It looks totally cozy to me.  I don't know.  I can't put my finger exactly on the word that describes my feelings on this little guy.  But I really love it.
Verdict:  BUY It!  I want this.  I want two of them.  Actually, I want all of them.  I just want to have a house full of those and beds.  Sure it's 800 bucks, but this thing is giving me all the feels and I would save my pennies for it!
This is a little cutey, isn't it? I didn't actually plan to have this many plant related items in this post.  I basically just go to the website and pin whatever suits my fancy for these posts and plant holders were my fancy this afternoon, I guess.  I love the bold color and retro look of this guy.  And if you are multi-function, then I am a fan of you.  I can put my water glass down on the table and when I'm done, if there's a little left, I can water the plant!  Brilliant!
The Verdict: Spy It!  This is something I would totally scour the flea markets and consignment stores for.  It would be so much to find something like this and pay like 5 bucks for it and then spray paint it and have everyone ooh and ahh over it.
The Big Book of 30 Day Challenges
This is a fun coffee table book.  I like stuff like this.  I love how one of the challenges is to Be More Interesting.  That's kind of funny.  This would be a cute housewarming gift for a young person.  Because it's the type of thing that's kind of cool to have, but do you really want to spend money on it?  Most people wouldn't actually buy this for themselves, ya know?
The Verdict:  Buy it as a gift!  OR, DIY it by googling 30 Day Challenges.
Ummm, these are my furniture spirit animal.  I'm now furnishing my house with these, beds and the dresser from above.  And that's it.  What more do you even need in a house?  I love the colors on these benches, I love the chunkiness of them, I love the texture.  They are amazing.
The Verdict:  Buy it.  No, Buy them.  Many of them.
DOIY Design Saguaro Stacking Glass 
Green has been my color for the last couple of years.  It's weird, cause I never used to like green, but this shade, in these glasses, is my favorite at the moment.  I love the idea of having some super cool glasses to sip my Captain and diet out of.  I like to have a few nice, sort of fancy things like this. It makes me happy.
The Verdict:  Spy It!  I've definitely seen these at Thrift Stores and consignment stores.
Honeymoon Hotel Keep Me Wild Art Print
This print captured my heart.  I love the sentiment.  I'm not sure which one applies to me and which one applies to my husband.  I guess either depending on what's going on.  I just know that it's sweet and I like it.  It's like a secret promise.  That's a smidge sappy, but I'm ok with that.  I like the font and I like the simple frame. This is a winner for me.
The Verdict:  DIY It.  You could most definitely make this with no trouble at all in something like Canva or Picmonkey.  I like the large scale print above, but I can see this just in a small frame on the bedside table, too. Another great Urban Outfitters DIY.
So, what's your favorite??  Mine is most definitely that dresser.  Although that Honeymoon print really got me, too!
If You Liked It Then You Shoulda Put a Pin In It!
(Visited 1,198 times, 1 visits today)