I believe that a cozy home  is one that takes all of your senses into account.  And your sense of smell is a very important one. It's tied very closely to your memory.  And you do want to have fond memories when you smell something that reminds you of home, right?  But how do you make your house smell good?
The first thing you need to do to make your house smell good is keep it clean.  Empty the trash, clean out the fridge, clean up after pets… If it is capable of making a gross smell, put it as a top priority on your cleaning list!
Beyond keeping the house clean, there are lots and lots of other ways to make your house smell good!
***This post contains affiliate links. If you click one and make a purchase, I may receive a commission at no additional cost to you!***
How to Make Your House Smell Good
Candles are the first and obvious choice for making your house smell good.  We all love a good Yankee Candle don't we?
There are other options, too!   Karen from the Art of Doing Stuff loves the Woodfire scent from Illume.
And, Laura of Little Yellow Wheelbarrow swears by Woodwick candles.  And not just for the scent!  The wood wick sounds like a crackling fire.  I love that they have "Homesick" candles to remind you of home.  Which is exactly the whole point of this post.
Simmer Pots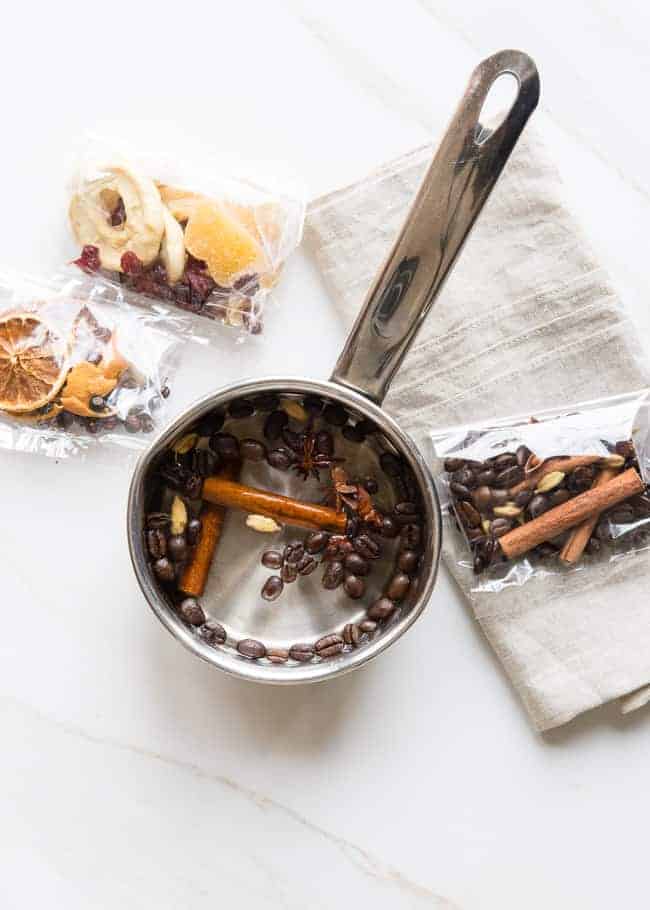 Simmer Pots are a favorite of mine for getting a great smelling home because they feel so natural.  It's a rich, unprocessed smell that you'll get as your choice of ingredients simmers on the stove or in the crock pot all day.
You can use your imagination on this, but here are some of the best recipes on the internet:  3 Holiday Simmer Pots from Hello Glow.
Reed diffusers are great for rooms that you want to smell nice, but you don't want to have an open flame.  Like the bedroom.  Where you might have blankets or clothing flying around.
They are also a lovely little piece of decor, too.
Wax Melt & Homemade Wax Melt
I have a great Wax Melter from Yankee Candle. I love to use it in the kitchen.  It gives off a great scent depending on what I put in the melty part.
I love the idea of a homemade wax melt, though!  Those little wax pods are not cheap and if there's a DIY option, then I am all for that!  Check out this tutorial for DIY Wax Melts from One Good Thing:
I prefer a DIY room Deodorizer spray to one's that you can buy like Febreze.  I once did an experiment to see if Febreze can kill ants because I saw it on Pinterest.
Spoiler Alert.
It does.  Which made me feel like I didn't want to spray it in my house so much anymore. So, a great alternative is this recipe for a DIY Room Deodorizer Spray from At The Picket Fence.
This is a fun smell hack that I had not ever seen before.  Real Simple says to try Kool Aid on an empty dishwasher cycle!  I haven't tried this yet, but I can't deny that Kool Aid does smell amazing.
These little air fresheners are made to go in your car air vents.  And they smell fantastic.
If your car is as "lived in" as mine is, then these are a magical smell remedy.
The Krazy Koupon Lady came up with the brilliant idea of adding them to your air vents in your home, too. Why not?  Kind of genius, right?
Essential Oils when warmed up smell amazing.  But sometimes you just don't have an easy way of warming them up.
Or so you thought.
Put a drop on a light bulb and as the bulb warms, so will the oil.
Bake Something
This is a realtor trick.  Bake some cookies in the oven before an Open House and everyone that walks through the house naturally wants to buy the house immediately.  Because it smells like cookies.
And I'm all about the smell of cookies, but to me this works with savory foods, too. Turkey roasting?  Yes, please.  Pot roast?  Don't mind if I do.
I've never seen anything quite like these beautiful little deodorizing discs made with baking soda.  I will most definitely be making these for my own home. Mostly because they are so very, very pretty.
And also, I love to DIY things. I feel so accomplished when I look at something and say, I made that. So check out the tutorial for DIY Deodorizer Discs from Reading My Tea Leaves.
Did you know that Sea Salt soaks up bad odors?  I had no idea.
These Sea Salt and Fruit air fresheners from Free People are so pretty and the fact that they actually work at soaking up stinky smells is pretty awesome!
And of course who doesn't like a hit of a citrus aroma when they walk in the kitchen.  Nothing says "I Cleaned Today" like the smell of lemon, right?
Umm, yeah. The toilet can be stinky.  There's no way around that one, is there?
It also can be a place where you can use a lot of chemicals.  Which, I'm not totally against chemicals, especially in the toilet, but if I can make do with something else, then I'm good with that.
These DIY Toilet Bombs from Lemons Lavender and Laundry sound amazing!
Eucalyptus is a beautiful, subtle fragrance.  It's great if you are congested. Add some steam to that fragrance and you have a great home made remedy if you're all stuffed up.
These DIY Eucalyptus Shower Melts from Busy Bliss sound perfect!
We LOVE having a real fire in the fireplace at our house. It's so cozy and warm in the winter. There's no substitute for sitting by the crackling fire.
To make sitting by the fire even cozier, why not try an Aromatic Fire Starter?   This tutorial from Hello Glow will show you how.
What I love about this DIY is that you'll probably have a lot of the ingredients in your home already!
Vinegar is a great tool for cleaning.  It works REALLY hard.
Sadly, it does not smell very good. 
But you can remedy that!  Make your own DIY Scented Cleaning Vinegar with this tutorial from One Good Thing By Jillee.
What's Next?
Next, you try some of these!  I will, too. Which was your favorite?  What smell hack did I miss that you use in your cozy home?
Don't forget, to have a house that smells good, you are going to need the foundation of a clean house, though.
If You Loved This Post, I'd Love It If You Shared It!
(Visited 1,188 times, 1 visits today)