A cozy home starts before you even walk in the front door.  It starts with your front door decor.  It doesn't have to be elaborate or expensive. It just has to be uniquely your front door.
A wreath is always the first thing that comes to mind when you think of front door decor and that's definitely a great place to start.  But there are other ways to make the entrance to your home cozy.
I was just on a wintry walk, which is completely unlike me.  As you may already know, I'm more of a couch sitter than a walker and that is especially true when it is December and COLD.  But, on my walk today, I heard someone's wind chimes and it got me thinking about ways to make the outside be as cozy as the inside.
If you're lucky enough to have a porch, then there's of course a whole world of cozy available to you there.  Rocking chairs and blankets.  A porch swing, perhaps?
Let's take a look at some home's that are doing Front Door Decor the cozy way.
Cozy Front Door Decor
To get the cozy vibe, your front door decor should be welcoming, without being fussy.  It should say, "Step inside for a rest".  Or, if you're lucky enough to have a porch, it should say, "Sit down for a spell while we have a tea".
Front Door Wreaths
You can DIY your wreath or you can buy a great one from Home Goods.  Whatever you decide, make sure it is totally YOU.  Also, if it's white-ish or another bright color, it will really show up from the street!
This perfectly cozy wreath from Laura at Little Yellow Wheel Barrow is everything I love in a Front Door Wreath.
It's white (Laura LOVES white) and full of texture. The yarn looks totally touchable.  It's the perfect way to say, "Hey we're so excited you're here, we put a WREATH on the door!  It's beautiful, but not fussy.  Just like US!"
I am also a lover of color and on my sister site, Lifestyle for Real Life, I made this bright and cheery wreath for the Spring:
It's one of my favorite things I've ever made, but sadly, it fell off the door one day and the wreath form broke into 3 pieces.
I reused the flower in this similar wreath:
If my wreath isn't white, then I really like it to be sort of a preppy, graphic pattern like polka dot or buffalo check.
And a wreath doesn't have to be a wreath at all.  It can be really almost anything you can hang on your front door.  This pretty Picket Fence Wreath from Little Yellow Wheel Barrow is a perfect example.
I love this wreath because you can switch out those flowers depending on the season.  For spring, Tulips, of course.  Summer, Daisies, or Sunflowers?  Fall could be Mums with a few pumpkins tucked and evergreens for Winter.
If you're not into DIY'ing your wreath, have no fear. There seems to be an infinte amount of beautiful wreaths for your front door decor on Etsy.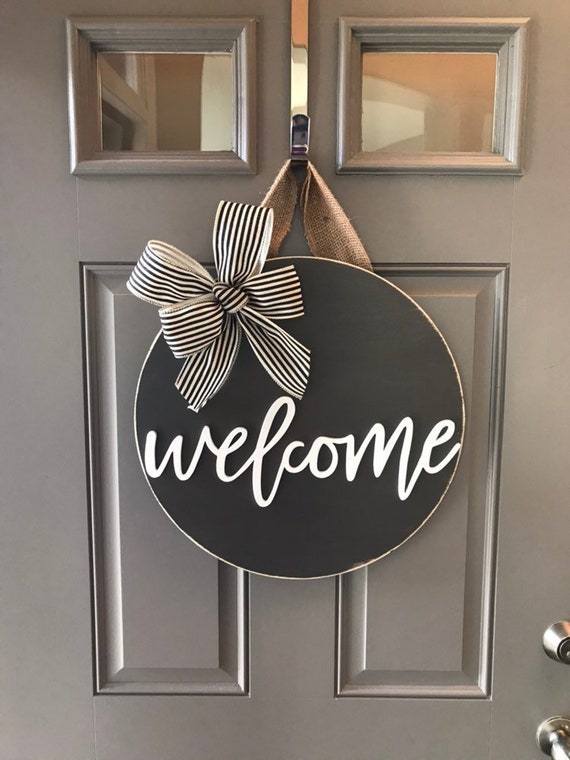 This graphic, black and white welcome wreath is one of my favorites.  I love the simplicity and the message.
If you're into a pop of color, there's this beauty for Spring: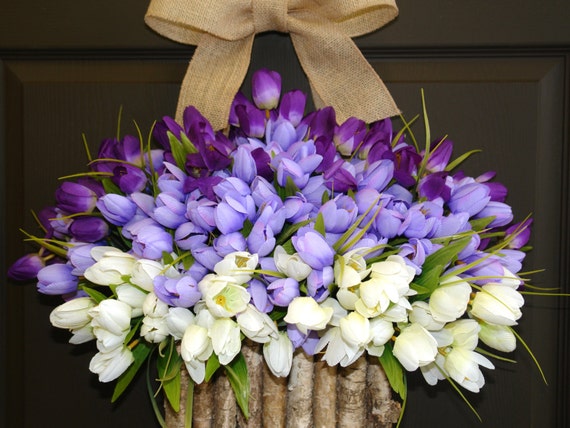 I love the ombre effect of those Tulips.
If you're looking for something you can use all year long, this faux Eucalyptus wreath is a stunner: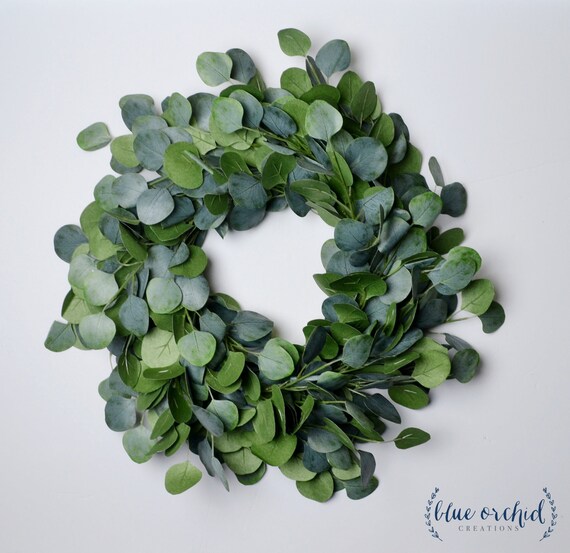 Wind Chimes for the Front Porch
I really do believe that a cozy home takes into account ALL of the senses and there's no reason not to set that tone right at the front door.  And Wind Chimes don't just sound beautiful; they look beautiful, too.
I've made a couple of different wind chimes:
These ombre wind chimes made from tiny terra cotta pots have washers inside and they make a quiet tinkling noise.
And this pretty and gigantic wind chime:
Was a bit of a beast to make, but the ceramic discs make a pretty noise when the wind blows them around.
If you're going strictly for that lovely melodious wind chime sound, though, I love these:
They are absolutely mesmerizing when the wind blows through them.  Peaceful.
Front Porch Decor
If you are lucky enough to have a porch, you better make it cozy.  I have designs on getting a front porch this coming spring.  Our front steps are on their last legs and they need to be replaced, so might as well go all out and throw a porch up, right?
I like simple furniture for the front porch.  A couple of chairs, a table or two for a potted plant.  If you've got room for a little outdoor love seat, then go for it, but it doesn't have to be fancy. It does need to be clean and comfy, however.
Keep the clean part in mind when you're choosing your porch furniture.  I have a bug phobia, so my porch would have cushions I can pick up quickly and give a shake to dislodge any creepy crawlers.
This is a perfect example of a simple and cozy front porch.  There's a couple of chairs to sit in, some wind chimes and a few potted plants.  Lovely.
This pretty little porch has a few cozy elements that sets it apart.  Pillows (indoor outdoor), a bright rug and those curtains to block any harsh sunlight.  This is all about making a human comfortable.  Relaxed
Fragrant Plants for Your Front Door
I've said it before and I'm saying it again.  Your sense of smell is very important.  It is tied very closely to memory and if you can have a fantastic smell as you walk up to your front door, then let's do that!
Lilacs, roses, geraniums are perfect.  I don't know if everyone loves the smell of geranium, but I do.
Here are some of the most fragrant flowers you can plant for a cozy smelling front door:
Plumeria
Lilac
Hyacinth
Gardenia
Rose
This is a great article from Balcony Garden Web about fragrant flowers you can grow.
Warm Up the Front Door
If there's a place for you to sit by your front door, then to extend your ability to utilize that spot, you should find some ways to warm it up.  In the northeast, where I am, you don't have a long window of opportunity for sitting outside unless you take matters into your own hands.  Blankets work, heaters, even a fire pit.
For me the best blanket for outdoors is something with minimal frills. I want to be able to shake it out and feel confident that if there was a spider on the blanket, it did not have anything to hold on to through my vigorous shaking.
A quilt would work:
I love that one from Amazon.  The colors are rich and it's a nice size for wrapping around the shoulders.
A fire pit for the front of your house?  I do it at my house.  I know it's usually tucked away in the backyard, but I have a couple of chairs and a firepit in front of my house.  Not too close to the house, but near the front door.  When it starts to get cool, as summer is ending and Fall is beginning, we spend Friday nights by the fire listening to music.
You could also go with a patio heater:
Hammered Bronze Patio Heater
One of those means you get to have more outdoor time throughout the year.  More time to sit by your front door and watch the world go by.  More time to sit and listen to music with your husband and kids in the cool night air.
What's Next?
Regardless of what season you happen to be in (I'm in Winter at the writing of this post), let's pick one or two of these front door decor ideas and see if you can't cozy up that front door.
A wreath is a great place to start, but what else?
What did I miss when it comes to the front door?  What do you do at your cozy home to make your entry welcoming?
Drop me a message in the comments and let me know!
If You Loved this, I'd Love it if You Pinned It!
(Visited 394 times, 1 visits today)