Am I the only one that sees a DIY Sugar Scrub on Pinterest and simultaneously wants to eat it AND slather myself in it?  I mean they are always named things like "Raspberry Lemon Sugar Scrub" or "Pumpkin Spice Sugar Scrub".  That's something you want to eat, right?  ***This post contains affiliate links.  If you click one and make a purchase, I may receive a commission at no additional cost to you!***
*crickets*
Just me?  Fine then.
I'll have you know that I made two DIY Sugar Scrubs today and not only do they give you luxuriously smooth skin, but they do in fact taste…ok.  Like, they're edible, but truthfully not as delicious I fantasized they would be.  So, rest easy, you won't resort to wolfing down your sugar scrub when you go on a rebellious sugar binge.
They do, however, do an amazing job of exfoliating and moisturizing your skin.  And who doesn't need that after the long, horrid winter?
(If you said you don't need that, then you can feel free to just go right now. And take your effortlessly moisturized skin with you).
That one, above is Lemon scented (flavored?).  It smells amazing and looks so pretty with that little lemon slice in there, doesn't.  I don't plan on storing it with the lemon slice in it, however.
And this one is Vanilla and Cinnamon.  This one smells even better than the lemon.  I think.  I guess it depends on your mood.  Or the season.  The lemon is very summery and the vanilla cinnamon is definitely fall/winter.
They look good enough to eat, right?  Please just nod and agree with me, ok?
DIY Sugar Scrub – One Lemon and One Vanilla
Here's what you'll need:
A container to hold your scrub.  I used small canning jars, so my ingredient measurements are loosely based on that.  You'll need to work out the appropriate amounts based on your container size.  But, mostly I just eye-balled it.  Or, more appropriately, finger tested it.  I mixed everything together then rubbed it between my finger tips and added a bit of this or that depending on if I wanted it smoother or rougher.  This is not a science, I promise.
about 1/2 cup of granulated sugar, per container
about 1/8 cup of olive oil, per container
Juice of one Lemon for the lemon scrub
1 T of vanilla for the Vanilla scrub
Cinnamon
I mixed my ingredients right in the little jar. I didn't fill the jar completely.  I left a little bit of room because my only concern with these cute little jars is that I will be a klutz in the shower and spill the scrub everywhere if it is too close to the top.
I tried the vanilla and cinnamon tonight and I swear, I'm not just saying this, my skin feels AMAZING.  It's, like, buffed and shiny and smooth and I smell yummy, too!  I can't wait to give the lemon a whirl. I think it will be very refreshing in the morning.
I love that you only have to use just a little bit to get the exfoliation happening, too. I made these in tiny little 4 oz mason jars, but I'm using it pretty sparingly, so I think I should get some decent mileage out of it.
If you aren't into DIY your body scrubs, don't worry, I totally understand.  Lucky for you, you buy awesome body scrubs from Etsy!  And that's still homemade, by the way.  It's just made in someone else's home and sent directly to yours.  But, you're still supporting a Maker!
Check out this one: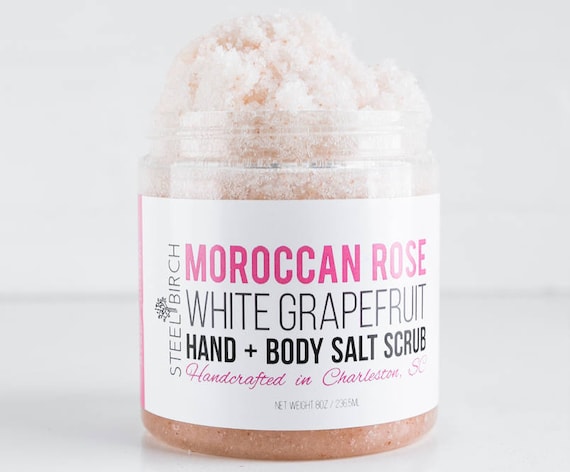 Moroccan Rose and White Grapefruit?  Sounds delightful.  I love the idea of having something citrusy in a bath product because the smell of citrus wakes me up.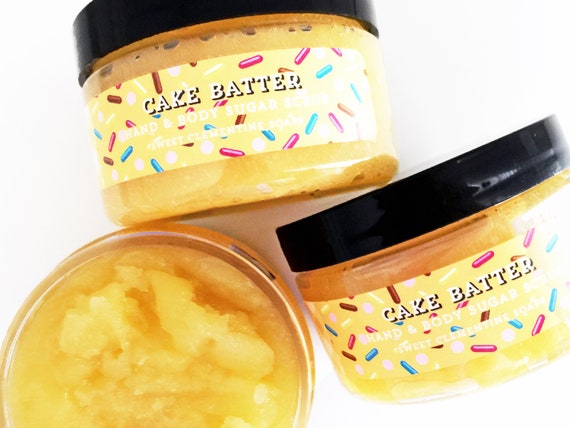 Cake Batter Sugar Scrub.  Sign me right up.  Now.  Cake batter is one of the most intoxicating scents in the world.
Now all I can think about is what other flavor combos to try!  Any ideas??  Let me know in the comments.  I'm happy to whip up a few more of these!
And if you're dying to try more DIY Pampering products, you should most definitely check this tutorial for Felted Soap and or this one for Exfoliating Oatmeal Soap.
If You Liked It Then You Shoulda Put a Pin In It!
(Visited 1,763 times, 1 visits today)