***This post contains affiliate links.  If you click one and make a purchase, I may receive a commission!***        I was so excited to see a massive response to my post about painting tiles with Sharpies and Rubbing Alcohol!  So happy you all liked it and welcome to anyone new who found my little blog because of it!  I have exciting news!  I have an update on how to seal painted tiles!  Just in time for me to get started on a pretty important project that I will share when it is done!
First, let me tell you what did not work.
 Mod Podge – I first tried painting on some clear Mod Podge.  This left some paint brush lines on the tile Also, when I put it to a water test, the Mod Podge came off in clumps.  The Queen of "How to Remove Mod Podge" (my most popular post) should have remembered that Mod Podge is water soluble and therefore would not stand up to water.
Shellac – Shellac, in case you didn't know, is a natural product made of bugs and alcohol.  Had I known that it was made of bugs and alcohol before I purchased, you better believe I never would have bought.  Because, a. BUGS! and b. Alcohol is exactly what I used to activate the color blurring when I made the tiles in the first place.  So, of course, the first thing that happened when I sprayed shellac on the tiles was that the ink started to blur.  Which, by the way, ruined ALL of the tiles pictured above, so I was super bummed about that.
So what did work?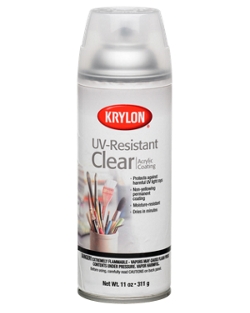 Krylon UV Resistant Clear Acrylic Coating  did the trick.  It was extremely easy to apply, although it smells horrendous and I strongly recommended doing it in garage with the door open or somewhere outdoors if possible (remember to keep your project covered so nothing lands on it.  Like a fly).  I did it in my basement and it made the first floor stinky for a while.  But, other than the smell, it does not affect the ink in anyway, as long as you remember to shake the can for at least a full minute. I didn't see any new blurring.  The finish is completely clear.  I ran it under hot and cold water and did not have any issues.  I still would probably not put this finished product in the dishwasher, but my plans for this project wouldn't require that anyway.  If you're making coasters, I would say hand wash them, just to be safe.
If you're planning on doing this technique on something outside like wind chimes, you should seal the tiles with Resin.  Give the tiles a couple of coats of mod podge and allow them to completely dry.  Follow the directions that come with the resin VERY CAREFULLY and make sure you elevate your tiles.  I used four bottle caps underneath the tiles so that the resin could drip off the edges.  Oh, and don't forget to protect whatever surface your working on.  I usually use newspaper and I work on an old, beat up kitchen table in case of any accidents.  I do not want resin on my countertops, ok?
And, further proof that the Sharpie/Alcohol painting comes out great every time:
The tile does still need to cure for a couple of days before it's completely dry, but I'm thrilled to see that the hot and cold water had no effect on it.  This was my biggest concern as my project will eventually be out in the elements.  I'll keep an eye on it and I'll be sure to post an update if there happen to be any hiccups as I continue to the project!
(Visited 127,903 times, 1 visits today)