Next week is our annual vacation to my favorite place on earth, Lake Winnepesaukee! I've written about my love for this spot before here.  I look forward to this every year and I'm so excited that it's finally almost here.  The cottage that we stay in has a small, but efficient kitchen and a grill on the big deck over looking the lake so there is no excuse for not eating well while on vacation!  My mother things that is a travesty and that the best part of vacation is going out to eat for every meal, but I actually do enjoy cooking and planning what we'll eat, so I'm happy to cook.  We might have the odd lunch or dinner out, but as my cooking skills improve, I really find that I look forward to cooking at the end of the day.  I also love planning a Vacation Meal Plan, so it's a win all around!
The most difficult part of putting together a vacation meal plan is figuring out just how much food you will need.  We'll be gone for 7 days, which is technically 21 meals if you include breakfast, but I know if I plan 21 well thought out meals, we'll end up with too much food.  Inevitably there will be days when we grab a slice of pizza for lunch or we skip dinner and have ice cream instead…  Ideally, I want to focus on making dinners that will give us some leftovers to transform for lunch the next day.  Snacks are also a big part of vacationing for us, so I want to make sure I include some good ones.  Something a little special that we might not have at home all the time.
Vacation Meal Plan
Dinners
Steak, Potatoes and Grilled Veggies
I like to start vacation with a great meal.  Set the tone for the week, ya know? Steak is really simple and fairly quick to just throw on the grill.  I like to use the little, tiny new potatoes, toss them in some olive oil, salt, pepper and garlic powder and pop those on the grill wrapped in tin foil.  Get those started first and then work on the steak and veggies.  I love peppers and onions with steak, so I'd basically give them the same treatment as the potatoes and then season the steak and grill.  My recipe for Restaurant Quality Sirloin Steak translates well to the grill.  Instead of cooking it in the oven for the end, just be sure to close the grill on it for a few minutes.  And for the love of God, let your steak REST before you slice into it.
Chicken Kabobs and Rice Salad
We always have a Kebab night on vacation.  There's something about eating off of a stick that just feels summery and vacation-y.  This recipe from Hawaiian Chicken Kebabs from Cooking Classy  is one I've wanted to try for a long time.  I also love a cold, carbohydrate laden salad for vacation because it keeps well and you can make a ton of it for the whole week.  This Cowboy Rice Salad from Recipe Tin Eats is what I have in mind.
Shrimp/Seafood Boil with Potatoes and Corn on the Cob
My family is fairly seafood friendly, especially shrimp, so to add some variety to the week, I'm going to add in a either a Shrimp boil or Shrimp packet dinner like this Low Country Boil Foil Packets from Nutmeg Nanny.
Chicken Legs with Veggies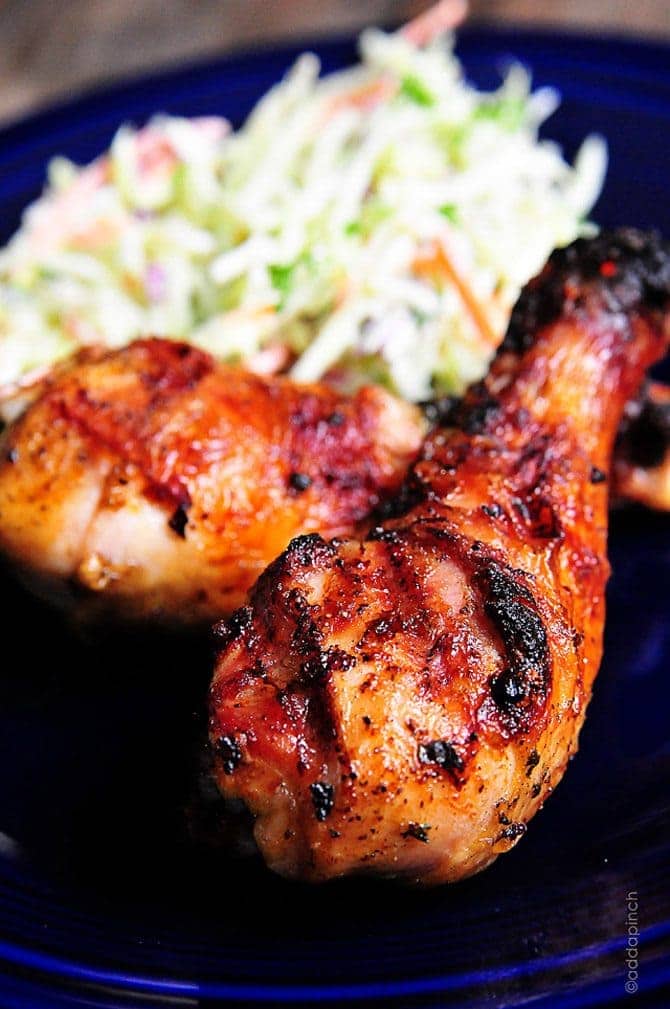 Chicken Legs are also a hit at our house.  Except my daughter who refuses to eat meat off of a bone…  No problem, I just cut hers off the bone.  Because she won't even look at it if it's still on the bone.  This recipe for the Best Grilled Chicken Marinade from Add a Pinch sounds scrumptious!
Burgers and Hot Dogs with Loaded Fries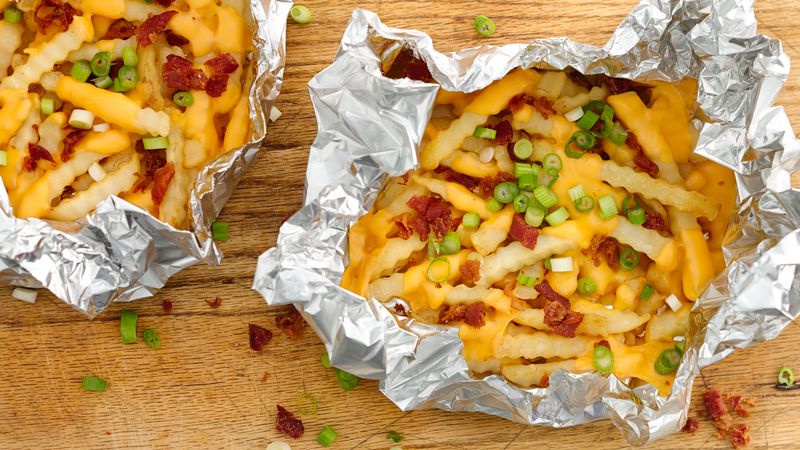 Burgers and Fries are a  staple and we'll probably eat them more than once during the week, but to make it a little special, serve them with Loaded Fries!  I can totally see a toppings bar set up with fun cheeses, leftover grilled veggies and maybe some fun dips or sauces?  This recipe for Grill Foil-Pack Cheesy Fries from tbsp is kind of what I'm thinking.
Lunches
Steak Tacos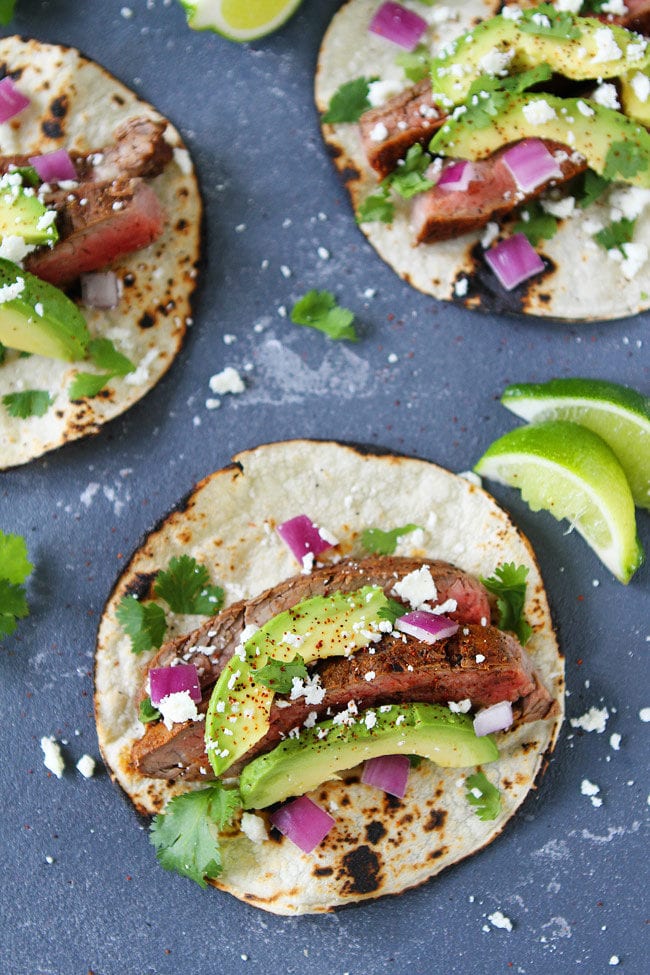 Pop an extra steak on and use the leftovers to make tacos for lunch!  Serve this with the Cowboy Rice Salad and you're good to go.  This recipe for Grilled Steak Tacos from Two Peas and Their Pod looks perfect.
Turkey Ranch Wraps and Salad in a Cup
Sometimes you need an easy to go lunch.  Sliced wrap sandwiches and a salad in a cup is perfect lunch if you're spending the day at a beach or hiking.  I haven't found anyone who says no to a Turkey club, so this Turkey Ranch Club Wrap from Life in the Loft House should be a crowd pleaser.  And if you need a recipe for a Salad in a Cup, I have one for you!
Hot Ham and Swiss Croissants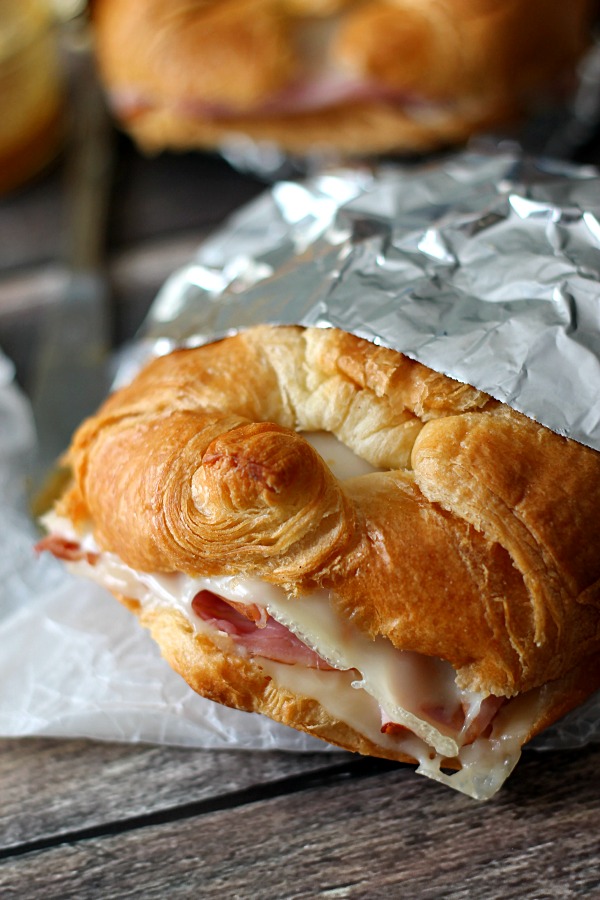 If you're looking for a lunch that's comforting and indulgent, this Hot Ham and Swiss Croissant from Life With The Crust Cut Off will do the trick.  This is not something I would ever eat for lunch on a normal day, but I'm happy to indulge a little while on vacation.  I LOVE any sandwich on a croissant.  A LOT.
Grilled Pizza
Has anyone else had Naan bread pizza?  SO Good!  This Caprese Pizza on Naan Bread from Refreshanista sounds fancy, but my kids will think it's just regular cheese pizza.  Maybe I'll leave the basil off theirs.  OR, I could set up a pizza topping station and let them make their own!
Breakfast
We're not big breakfast people.  We usually grab a granola bar or have some toast.  Maybe we'll scramble some eggs and cooks some pancakes, but generally we are not morning people.  I may make a batch of these delicious egg cups because they are easy, portable and everyone loves them.
Snacks
Nachos
I don't see any reason I can't pop my sheet pan Nachos on some tin foil and cook them on the grill, can you?
S'mores Snack Mix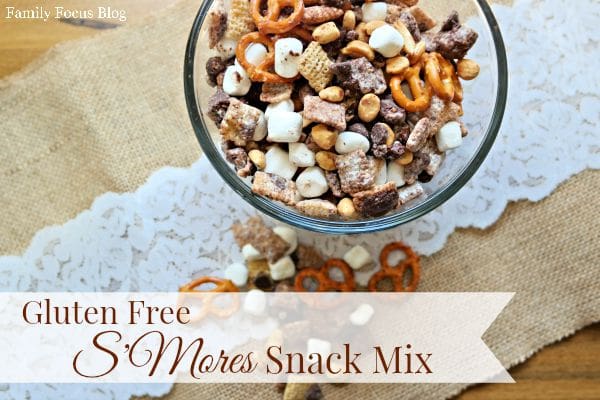 I've always wanted to make a Chex mix and I think vacation will be the perfect time to do it.  I might even make this Gluten Free S'Mores Snack Mix from Family Focus Blog the day before we leave and let the kids munch on it in the car.
Veggies & Hummus
Or Veggies and Dip or a fruit platter… some type of healthy spread for picking on.  I find if I put things out in platter form, they will get eaten.
Desserts
Espresso Fudge
I actually first discovered Espresso Fudge at Lake Winnipesaukee, but last year, my fudge guy didn't have any espresso flavor.  Well, I surely can't take that kind of a risk again, so I'll be bringing my own this year.  It's ridiculously easy to make and totally addictive, fair warning.
Campfire Cones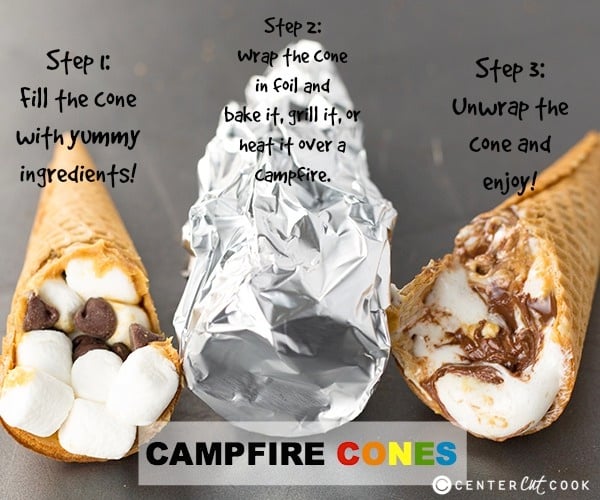 S'mores in a cone?  Uh, yes please.  This recipe for Campfire Cones from Center Cut Cook sounds just about right.
7 Layer Bars
Is one more dessert overkill?  Maybe.  But, then again, maybe not.   This recipe for 7 Layer Bars from Katie At The Kitchen Door looks too good to leave out of this menu plan.
Ok, now I REALLY can't wait for vacation!  What's your favorite vacation food?
And, as always, if you enjoyed this post, give it some Pinterest love and save the picture below to your tastiest boards!