I love the dollar store, but sometimes their stuff needs to a little bit of help to reach it's full potential.  Never has this been truer than with the Dollar Store Pumpkin.  It's sort of a sorry looking thing, but oh the things you can do with this humble little orange orb.  Check out these 17 Amazing Dollar Store Pumpkin Crafts.  (click the pictures or the titles to go to the tutorials!)
17 Amazing Dollar Store Pumpkin Crafts
I love some good copper craft paint.  These super chic pumpkins would make a great centerpiece from early fall through Halloween and even Thanksgiving.
I'm a fan of chalkboard on pretty much anything.  It's great that you can use chalk to write on these, but I really just love that matte black finish on these upcycled dollar store pumpkins.
I own this gold duct tape.  I have never succeeded in making it look as cool as these pumpkins look.  Well played.
Glitter on pumpkins?  Why not??  These formerly boring dollar store pumpkins are completely blinged out.
These pumpkins are a little shabby chic farmhouse with a touch of rocker glam.  Not a combination you see often.  I like it though.
More chalkboard, but this time assembled into an adorable dollar store Pumpkin topiary!
I love the colorful splash on these confetti pumpkins.  So fun!
There's nothing I like more than a functional DIY.  Need a spot to display your Keto Halloween cookies?  How about a Pumpkin serving tray?  This is one that will carry you through Thanksgiving, too!
More glitter!  All the glitter for these awesomely stylish pumpkins!
These dollar store pumpkins are probably the easiest of the bunch.  How super creepy do those spiders look on there?
These "Fall" pumpkins are just plain pretty.  Simple and perfect.  Natural looking.  Love it.
I love blue and orange together.  This gold foil is pretty spectacular!

I wish I could hand letter.  I can't.  But if you can, you should totally try this project!
I've seen tons of melted crayon dollar store pumpkins.  This rainbow one is adorable!
Melted Crayon Pumpkin from Life's Carousel
If you're looking for a more Halloween vibe from your melted crayon pumpkin, check out this one that uses black and orange crayons!
I love succulents.  This is a great idea.  Great for fall, totally applicable to Halloween AND you can use it for Thanksgiving.  Love it.
Blue is my favorite color.  Indigo is even better.  I'm kind of obsessed with these.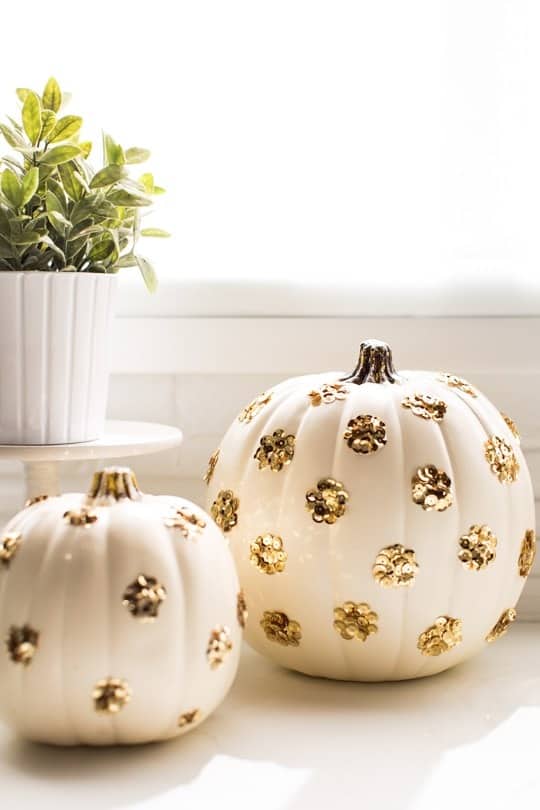 Sequins?? On a pumpkin?  Don't mind if i do!
Don't forget to Pin It!!
(Visited 7,128 times, 1 visits today)