If you're going to do Halloween right, you gotta have some creepy food.  It's the one night of the year that I don't mind when my kids say, "That looks disgusting!" when we're eating dinner.  The list I've compiled would be awesome if you're having a Halloween party, but maybe pick one to make just for the family on Halloween, right before Trick or Treating.  I've pulled together 20 Creepy Halloween Party Foods to inspire you!

20 Creepy Halloween Party Foods
Might as well kick this off right with some super creepy Meatballs.  Yes, they look disgusting, but they also kind of look delicious, don't they??
Ok, someone is brilliant!  Flip your ice cream cone over and you have a witch hat!!  So smart and these are too adorable.
These are too cute!  If you really have a lot of time on your hands you could put a bunch of these together for your trick-or-treaters.  Or maybe your kids classmates?
This is scary.  I mean really scary.  I might have to sleep with the light on tonight.
If you've never made these candy and pretzel treats, let these be the first one's you try.  There are tons of variations for every holiday and the salty sweet combo is totally addictive.
If it has the word pizza in it, my kids will eat it.  They probably won't even notice that these are in the shape of mummies.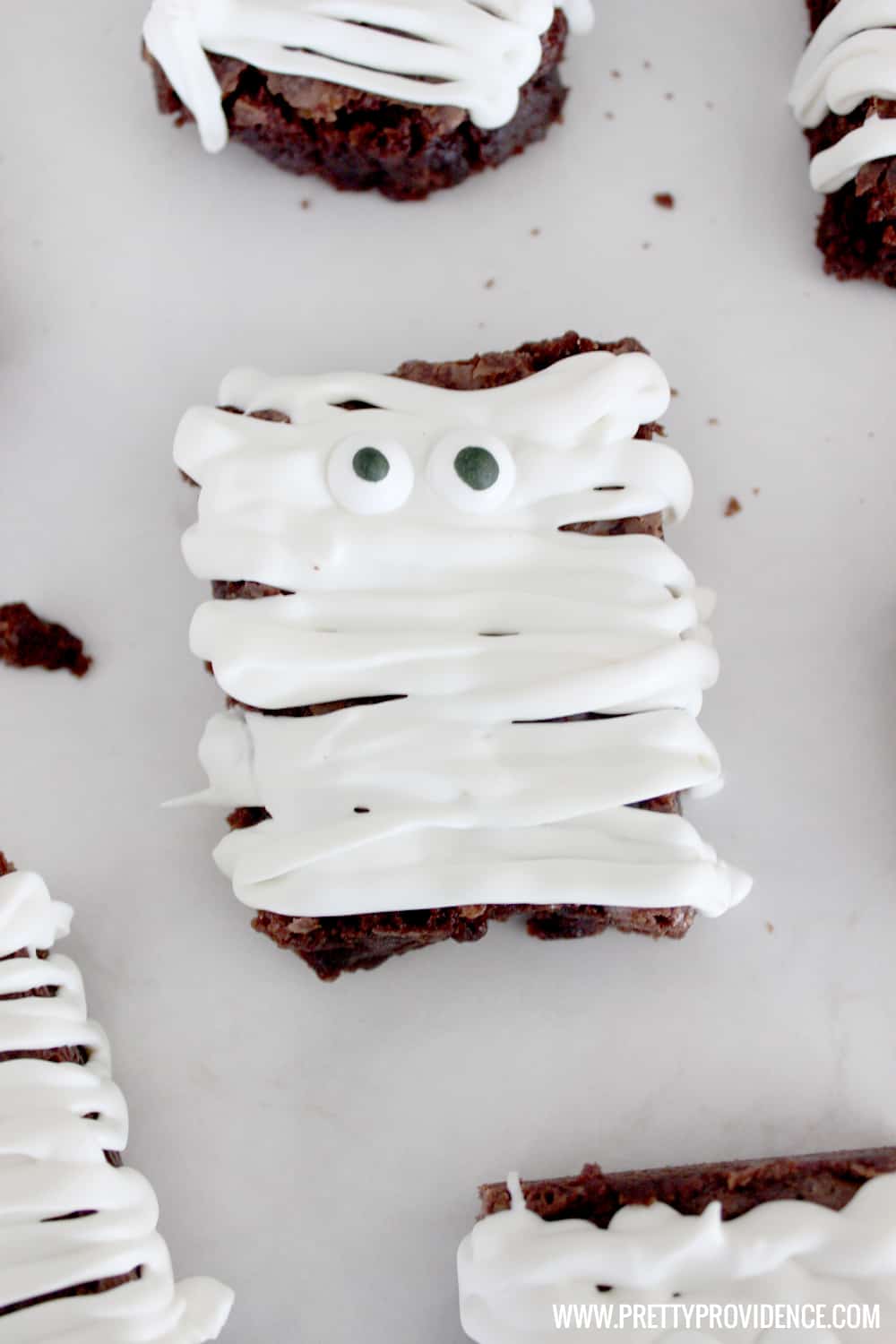 Sticking with the mummy theme, how about these brownies?  You don't even really need to actually bake brownies, you just need to cover them with white icing.  (Don't worry, I won't tell anyone you cheated!).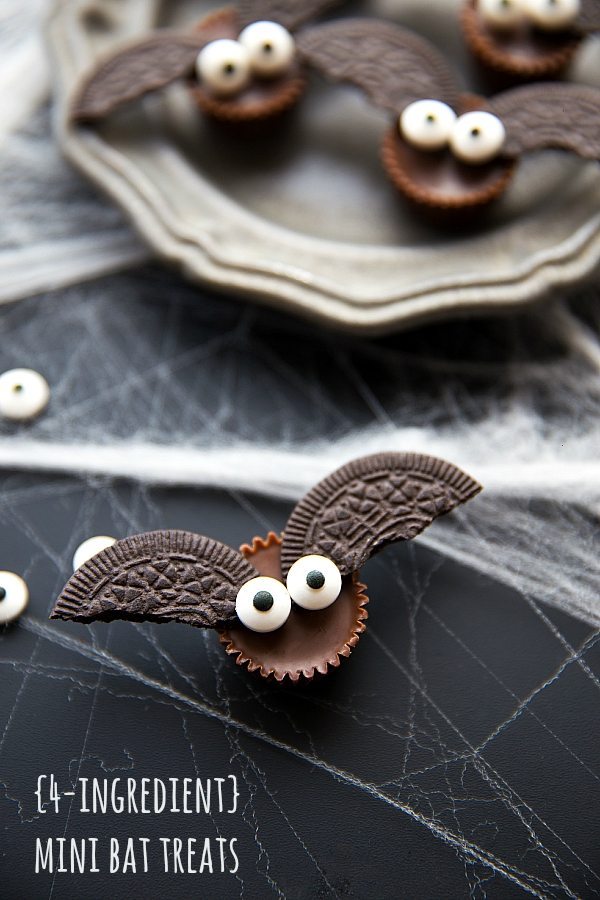 Bats scream Halloween, right?  These sweet ones won't bite back!
If you're looking for something a little more sophisticated for Halloween, this cheese tray has got you covered.  
Here's what's great about these.  Cupcakes aren't really hard to make, neither is the spider shown above.  But, these are totally the thing that everyone will ooh and ahh over at the Halloween bake sale.  The recipe from Texan Erin is gluten free, btw, if you're interested!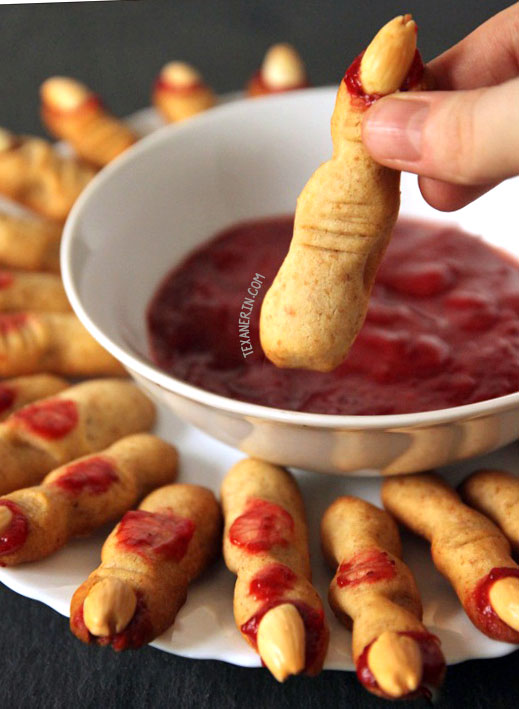 Two in a row from Texan Erin, well played Erin.  These healthier witches fingers are totally creepy, but also very appetizing.
I actually made these cuties for a Girl Scouts Halloween Party several years ago and they were a hit.  It's nice to have something that's not chocolate on chocolate on peanut butter on chocolate.  You know, cleanse the palate and all that.
Oh, this wins.  This soup is totally my favorite.  First of all, it's not as complicated as it looks which is always a good thing.  This is happening in my house.
Oh my God, those are totally disgusting.  AND PERFECT!  I'll eat the chicken soup on Halloween night and my kids will eat these nasty things.
Another creepy pizza.  I guess I'm not the only one with pizza fanatics!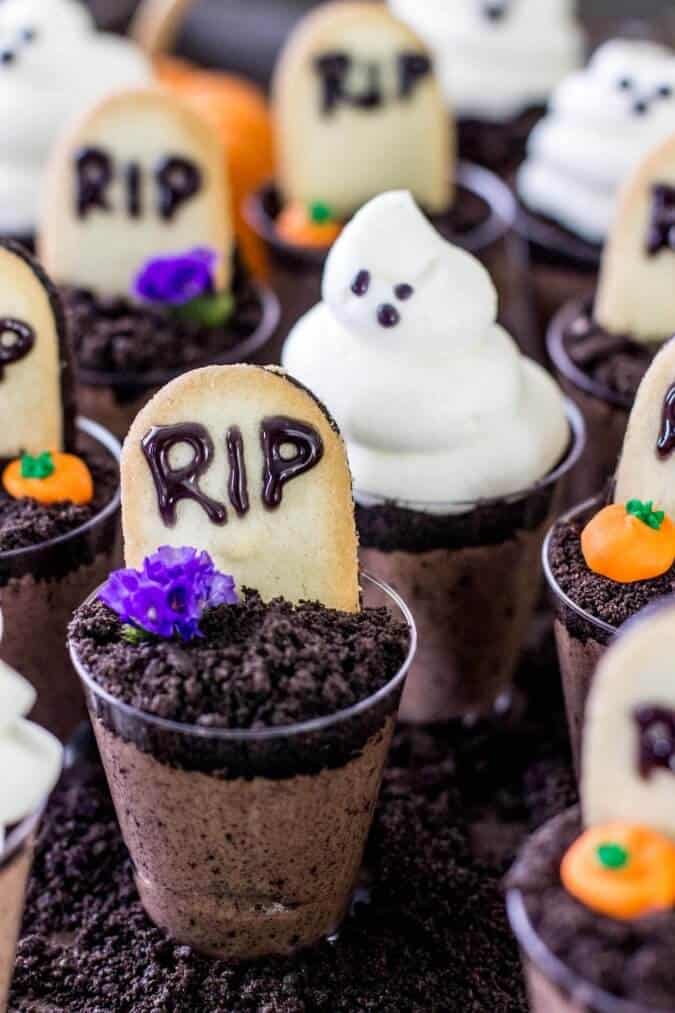 Ok, if there are Milano cookies involved, I'm totally in.
I love taco dip, so why not creep it out for Halloween?
These win the award for most adorable, in my opinion.
Am I the only lucky parent who got a kid that loves Deviled Eggs?  I feel like most kids would not eat these, but my daughter loves them!
Have I whet your creepy appetite?  I can't wait to try some of these out!
Don't forget to Pin It!
(Visited 11,946 times, 1 visits today)