Thank the diet gods that the holidays are over.  I absolutely DO NOT have the will power to get through Christmas without cheating on a diet. For those of you that might have missed the first post about my Keto Journey, the Keto diet is a low carb, low/no sugar and high fat lifestyle change.  You can learn everything you would ever want to know about it from Keto Bootstrap.  What is most important for me to tell you about the Ketogenic Diet is that, for me, it's working! And, I've got two recipes I've tried and loved and a bunch of Keto Super Bowl Snacks that I'm looking forward to trying.  *** This post contains affiliate links.  If you click one and make a purchase, I may receive a commission at no additional cost to you!***
Pre-holiday, I lost 8lbs in 2 weeks.  I learned to put less sugar in my coffee (yes, I cheat and put a teaspoon in my large) and I tried to figure out how on earth to eat the amount of fat that Keto requires.  That sounds like it should be easy, but it's not.  Luckily, I've finally discovered a delicious "fat bomb" that I will share with you in a bit.  During the holidays, I didn't go totally off the rails, but I definitely cheated.  I ate less sugar and carbs than I did pre-Keto, but I still ate enough of them that not only did I not lose, I might have gained a pound (or two) back.
So, I've been trying (not always succeeding, but mostly succeeding) very hard to not cheat the last couple of weeks so that I can get back on track.  AND, I weighed myself this morning and I'm down another two pounds!  I entered a new weight decade.  I started at 148, lost 8 and this morning I was down another two, bringing me to 138.  Which means I also knocked off the 1-2 lbs I had gained over the holidays.
I have to add here, it's not just been about pounds lost.  A few other "side effects" have happened that I think have to be mentioned.  I'm happier.  I laugh more.  I don't know why that is or if it has anything whatsoever to do with Keto, but I think it does. Here's why.  I feel better about myself.  I feel less self conscious.  I never had a weight problem until after my son was born and it had become a self esteem issue recently, I think. I'm literally working this out as I'm typing, so bear with me. Younger me, like teens through about 30, did not have a weight problem, at all.  In fact, I was probably the person that most people hate because I could eat whatever I wanted and still look great.
Then, one day, I woke up and I was fat.  Plain and simple.  I didn't really notice it catching up to me. I can remember pretty distinctly two instances where this sunk in.  Trying on clothes at Target and looking at a picture of myself from my daughter's pre-school graduation.  That picture especially hurt because I could see the weight in my face.  The picture didn't look like the image of myself that was in my head.  At that time, I was at an age where a lot of other mothers were still carrying around some baby weight.  My son was 1.  So I didn't think too much of it.
Now, however, my kids are 10 and 13. The other mom's have been hitting the gym, or drinking shakes or getting lipo for years, apparently, and I've been left behind in the fat dust of donut crumbs. I think that made me sad and a little ashamed for a while.  When you have babies, you get a pass on some things.
I don't have time to pick up the house, go to the gym, brush my hair, I HAVE BABIES TO KEEP ALIVE!
But at some point they become somewhat self sufficient and you do have some time. But I didn't choose to spend it on going to the gym, or shakes or lipo.  So, I got fat.  I don't even like typing that sentence, but it's true.
Now that I'm down 10 lbs I can see changes.  My face is starting to thin out, my stomach is getting flatter and I feel lighter which is a great sensation.  My feet used to hurt going down the stairs in the morning and now they don't. These are the things that are making me feel better and be able to laugh more.  If that's not reason enough to stick with this, I don't know what is.
Ok, therapy session over.  Back to your regularly scheduled post!
There are two awesome recipes that helped me get through the last two weeks.  One is a perfect lunch and the other is a delicious fat bomb dessert.
These Keto Tuna Melts from Bad Tuber are a lifesaver.  I love tuna melts.  They are one of my favorite sandwiches. (Wait, tuna melt is probably my second favorite sandwich after the Reuben.  I'm officially on a mission to find a Keto version of a Reuben)
Tuna Melts are all well and good, but I was really desperate to find some type of dessert I could eat on the Keto plan.  Well, a miracle visited the Lifestyle for Real Life home in the shape of sugar free Jello pudding.  It's called "Mousse Pudding" and I found it through Keto Bootstrap.  It's easy.  It's chocolatey.  You could serve it to your whole family and no one would think you were giving them a "diet dessert". You can also find it on Instrupix and the image below is courtesy of them.

Yeah, that is included in the Keto food plan.
AND I've finally found a sugar substitute that doesn't taste like chemicals!  It's called Xylitol and it's amazing.
Looking ahead, to the next few weeks on Keto, I need to start thinking about the Super Bowl. That's the next big food centered event (oh, yeah and the football).   I've found a bunch of snacks that will fit perfectly for the Super Bowl.
I also have one snack that you don't even have to make.  And it's a cookie!
I found Keto cookies through another Keto friend and they have delicious Keto cookies that taste kind of like Famous Amos Cookies with a little more crumble to them.
I haven't tried the nut butters yet, but those are next on my list!
Keto Super Bowl Snacks
To me, nothing says Super Bowl like a Crock Pot full of Meatballs.  For your non-Keto friends you can leave some rolls out for them to make a Meatball Sub.  For me, I'll leave some toothpicks nearby and eat them like a proper lady.  Just kidding, there's nothing proper about eating a meatball off of a toothpick.
Popcorn is my favorite snack. I miss it so very much.  This Keto version is only related to popcorn in that it is a bite size snack that you will want to binge on.  It's actually made of pork belly.
I've been missing pizza a lot and these cute little bite size cups might be the perfect way to feed that craving.  They look super easy and totally customizable.  I'll definitely be giving these a trial run soon!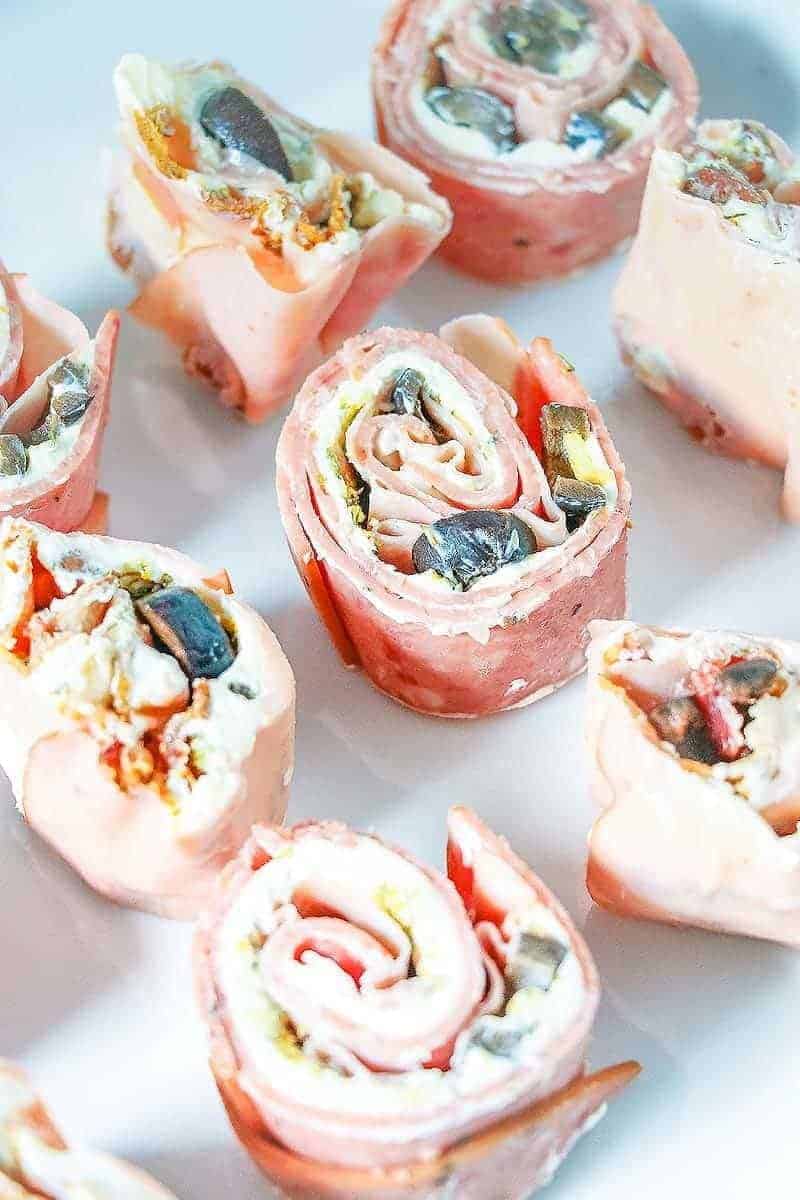 These little bite size Pinwheels look great and are packed with flavor.  This is another one that will please a crowd, low carb or otherwise.
Simple Deviled Eggs from Keto Connect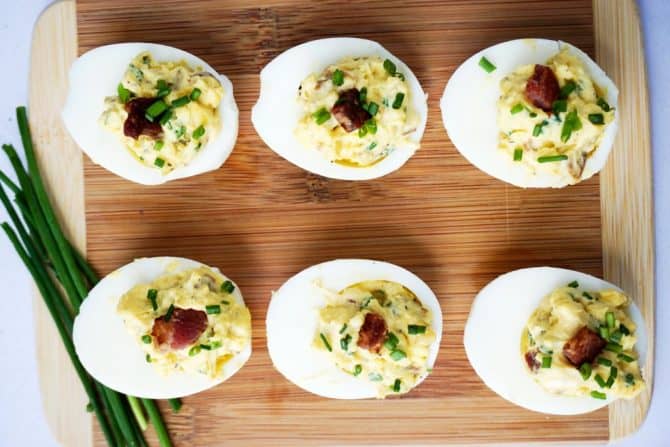 I love Deviled Eggs.  As luck would have it, my kids love deviled eggs, too.  The addition of bacon and chives make these a little extra special.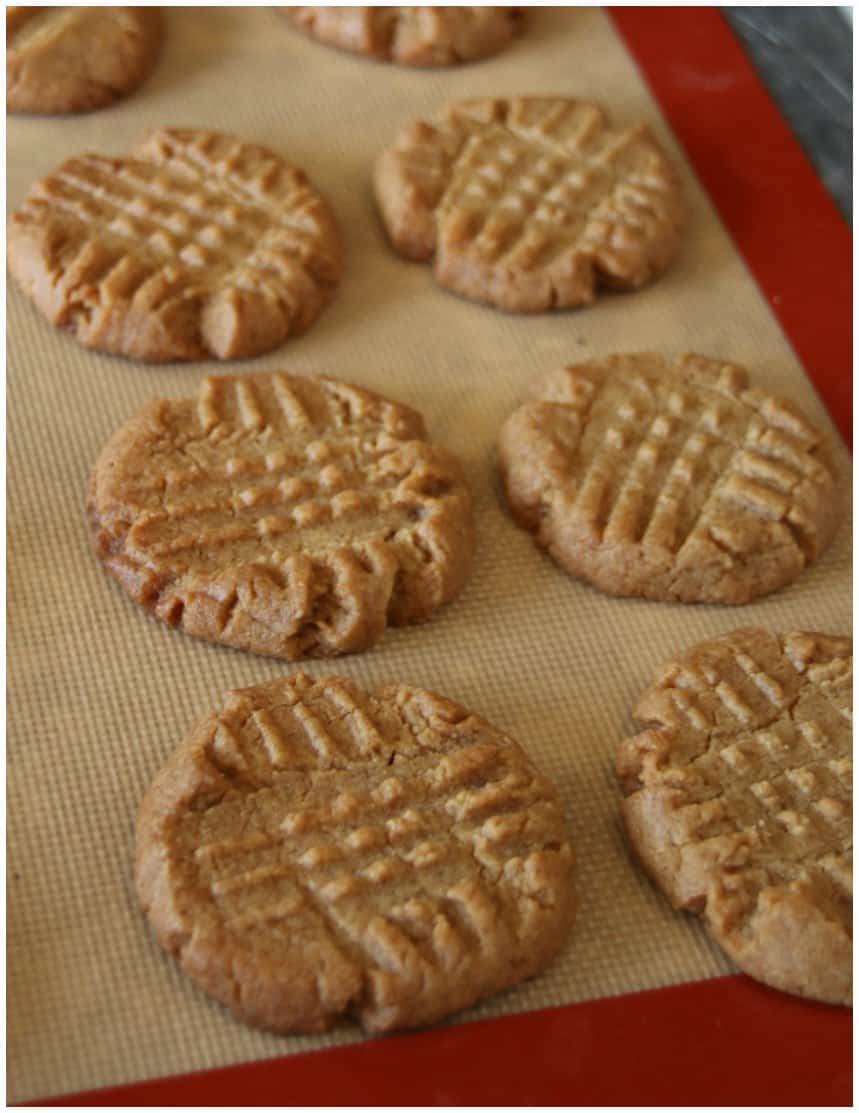 I'm still a little skeptical on using the fake sugars, and this recipe calls for them.  I did buy a new one this week, so I'm thinking these cookies would be a great place to try it out.  I will most definitely let you know how they are!
With the recipes I tried in my first Keto Post, the miracle pudding dessert and these treats to try out before the Super Bowl, I'm feeling confident I'll be able to stick with my Keto commitment and hopefully drop more pounds!
Amazing Keto Recipes to Start the New Year Right
Keto Snacks I Can't Live Without
This is the Simple Keto Meal Plan You are Looking for
Bullet Proof Coffee and the Keto Diet  – Start Your Morning Right!
Easy Keto Dessert – Chocolate Mousse Cheesecake with Coconut Crust
Keto Smoothie & Shake Recipes for When You Don't Know What to Eat
If You Liked It Then You Shoulda Put a Pin In It!
(Visited 67,955 times, 1 visits today)