Keto is such a hot topic that it's hard to spend much time on Pinterest without finding LOTS of great Keto recipe blogs.  I've got a go to list that never lets me down and I'm about to share them with you.  Because a handful of Keto recipe blogs is a great thing, but LOTS of Keto recipe blogs can be overwhelming!  ***This post contains affiliate links.  If you click one and make a purchase, I may receive a commission, at no additional cost to you!***
Anybody interested in a super quick update on my Keto journey first?  Well… I think I'm the same as last week as far as weight, when I was down 21lbs.  BUT, I learned something very important about myself this weekend.  I cannot go to the movies anymore.  I simply can't.  It's just not possible to sit there in a dark theatre watching the Avengers for 2 hours and 40 minutes and NOT eat popcorn.  And a few gummy bears.  Also one churro.   SO… at least I didn't gain weight is what I'm saying.
I will tell you, after that fateful trip to the movies, I felt AWFUL!  I felt nauseous and incredibly achy.  I blame the churro for that one.  Who knew how much damage one little churro could inflict?
In other news… I ran today!  Well, I mean, I started a running program from How to Run Guide.  The first day is mostly walking, with just 1 minute bursts of running, so it was totally tolerable.  It will be the greatest irony of my life if I turn into a runner.
The Best Keto Recipe Blogs
Keto Bootstrap is one stop shopping for everything Keto.  There are recipes, meal plans, shopping lists, challenges and a great support community.  It's not just a keto recipe blog.  It's a paid membership community, but there are also TONS of free resources available through theKeto Bootstrap.  If you're looking for all of the information you need on Keto, ever, then Keto Bootstrap has you covered.
Have Butter Will Travel has the most mouth watering recipes and pictures you will find of Keto food on earth.  If you go there for the food pictures alone, you will not be sorry.  I mean, really, with those blueberries??  I don't even like blueberries, but I want to eat those ones.
But stick around for the amazing recipes, too.  And, while you're there, read Dan and Erika's stories.  They are true Keto success stories.  There are also lots of great reviews of Keto products on Have Butter Will Travel.
And Dan and Erika don't just give you recipes and inspiration and product reviews.  They also give lessons in Cooking techniques!  Did you know there is a right way to boil an egg?
Here's what I love about Modern Low Carb.  They have an abundance of keto recipes that are just like that Reuben salad one.  You know when you're craving your former favorite food, like a Reuben sandwich? Modern Low Carb is the first place I look for my solution to that dilemma.
There are keto recipes for all the things you might miss on Keto.  Lasagna, Sushi and even some interesting bread recipes.  It's rare that I miss a food when I'm eating Keto; I really don't have sugar cravings anymore unless I eat a little sugar and then I want ALL the sugar, but sometimes a girl wants a grilled cheese sandwich, you know?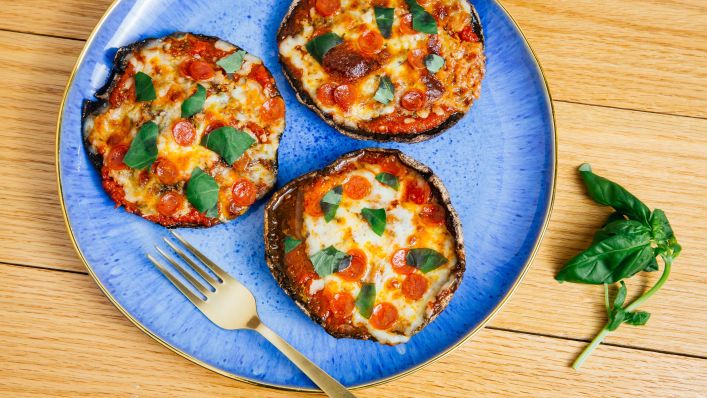 Genius Kitchen has a seemingly unending list of recipes in general and if you pop Keto recipe into the search bar, you're going to come up with some great responses.  If you search Low Carb, you're going to find a TON of recipes.  And Sugar Free is great to pop in the search bar, too.  These mushroom pizzas are up next on my to try list.
One of the great things about Genius Kitchen is that the community is interactive.  The recipes have reviews and I always find that to be super helpful!
If you're looking for family friendly fare, My Natural Family has the best options for you.  It can be really hard to be the only person in a household eating a diet like Keto, but these recipes are ones that everyone can enjoy.
I've made theKale Chicken Soup you see above before and it is hands down one of my favorite things to eat, diet or no diet.  Super flavorful soup that just happens to be healthy, too.
Technically, My Natural Family is a paleo food blog, but Rebecca was kind enough to tag any recipe that fits into the Keto diet, too!  So just do a search for keto, and you'll get what you're looking for.
Last, but not least, is a little Keto recipe blog called Caroline's Keto Kitchen and it's a gem.  Caroline's got that special something about her.  Her website feels like it's your friend from college who found the Keto secret and she's sharing it with her bff's.  And as a blogger, I have a thing about the "feel" of your website.  Caroline could be the biggest Keto blogger on the block (maybe she is?), but her site feels personal.  It's like, instead of going to Walmart, you're going to the mom and pop shop in the center of town.
Her keto recipes are totally approachable.  Nothing feels like it's too much work for the average home cook.  She's also got a great Instagram.  Nothing super fancy.  Nothing that makes you feel like you're doing life wrong because you don't have peonies in every corner of your house.  Just simple pictures of simple food done simply well.
One more thing to love about Caroline.  She HAND MADE macaroni for low carb Macaroni & Cheese.  Pretty awesome.
Alright, those are my 6 Favorite Keto Recipe Blogs. Narrowing it down to a few favorite blogs has been helpful for me because I trust these Keto recipes.  I've come across some duds and it's such a waste of time and money when something turns out poorly.  So check these guys out!
If you're interested in reading more about my Keto Journey, check out these posts:
Amazing Keto Recipes to Start the New Year Right
Keto Super Bowl Snacks & And a Keto Diet Update
Keto Snacks I Can't Live Without
This is the Simple Keto Meal Plan You are Looking for
Bullet Proof Coffee and the Keto Diet  – Start Your Morning Right!
Easy Keto Dessert – Chocolate Mousse Cheesecake with Coconut Crust
Keto Smoothie & Shake Recipes for When You Don't Know What to Eat
If You Liked It Then You Shoulda Put A Pin In It!
(Visited 2,608 times, 1 visits today)