I'm in a making kind of mood.  One of my very favorite mediums to work with of all time is Polymer Clay.  There is something so very satisfying about squishing some clay between your fingers, warming it up in your hands and then making something out of it.  You make a thing that didn't exist before your hands touched it.  It's just like magic.  I swear it is.  I've been on the prowl for some easy polymer clay tutorials and I've found a few I love! ***This post contains affiliate links.  If you click one and make a purchase, I may receive a commission at no additional cost to you!***
Simple Polymer Clay Tutorials You Should Totally Try!
One of my favorite polymer clay tutorials from DIY Rock Star Laura at The Little Yellow Wheel Barrow is this polymer clay vase made up of thousands (ok, maybe hundreds… alright scores… but who's counting??) of little polymer clay rosettes.  So preciously perfect.  I love the white flowers.  So, so pretty.
Laura's got skills, guys.  But, this is still a very doable polymer clay idea even for a novice.  She uses some interesting tools and the tutorial that she's written is on point.  You can totally make that vase.  Not a bad Mother's Day gift, actually. I'd love to see that under the Mother's Day tree.
The last project I made with polymer clay was these super easy and fun marbled clay trinket dishes.  I don't often make the same project more than once, but I've made these dishes a few different times and they come out a little different each time, but they are equally fun to make every time!
These dishes are the perfect beginner project with an easy to follow polymer clay tutorial.  You need clay and that's it.  You can use stuff you have in your kitchen (maybe don't use stuff in your kitchen that you put food in, it's not the best idea) that you don't mind tossing or relegating to clay only duty.  If you make these dishes, you will be hooked on polymer clay crafts.  I promise.
I have a fellow blogging friend, Sarah from Delicious Backyard whose daughter adores polymer clay.  She's truly talented and has made the most adorable little clay animals.  This is something that I could never do.  I don't have this type of artistic ability.
I think they are just so cute and to me they look like they are ready to be put on the tv screen as cartoon characters! Like they just want to get up and start doing stuff!  This doesn't link to a tutorial yet, but Sarah couldn't be prouder of her dear daughter's talents.  As well she should!
How cute are those little kittens?  That's a future DIY blogger, you know.  She's coming for you.
I'm loving the look of just the white polymer clay with these adorable tea light holders from the Crazy Craft Lady.  I might just have to grab a brick of white polymer clay and see where it takes me.
And the tea light holders are another very simple, beginner polymer clay idea.  There is a fun tool that you'll use to get that shape, too!  Click over and see the whole tutorial.
I think what I'd like to try next are these polymer clay encased pens from Creative in Chicago.  They are so colorful and the technique is something I have not ever tried before.  This polymer clay tutorial definitely takes a little bit more skill than I generally like to go for, I think, but I feel up for the challenge.  How hard can it be?
I think they would be totally adorable on my desk.  And those pens, they always feel a little too skinny in my hand, you know?  So the layer of polymer clay will be a welcome addition, right?  ***UPDATE***  See my version of Polymer Clay pens!
Polymer Clay Tools
My polymer clay of choice is the Sculpey brand.  I love this big box of assorted colors.  There are lots of fun projects that you could do with just that set of clay and some repurposed tools that you probably have around the house.
When I made the clay dishes, I used a can of tomatoes to roll out the clay and a bowl that had a chip in it as my tools.  (I don't recommend using a can of tomatoes.  In hindsight, I would spring for a rolling pin, at least).  I do want to repeat that the things I use on my clay, I don't then use for food.  I haven't seen anyone say definitively that it's safe, so I'm being cautious.
There are other tools that will help with more detailed projects, too!
If you're looking to get very uniform thickness in your clay, a roller like this one is very helpful.
Clay tools used for cutting and shaping clay are great to have in your craft drawer, too.
There are also lots of different polymer clay molds that you can use to get perfect shapes for things like flowers.
What I Love About Polymer Clay
What I love most about polymer clay is that it is so versatile.  The ideas for using polymer clay are nearly endless.  And there are polymer clay ideas for every skill level.  The marbled dishes above are suitable for any skill level or artistic ability.  Those rosettes from the vase, those will take a little more finesse, but definitely doable for any crafty DIY-er.  And then there are things like this: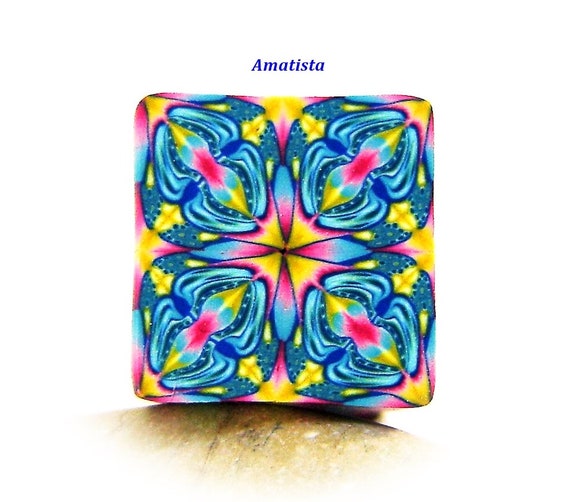 And I couldn't even begin to tell you how that is even made.  But, no worries, you can buy it on Etsy!
One of the other benefits of polymer clay is that a tiny bit goes such a long way.  If you get this container of polymer clay, you will have a great variety of colors AND it will last you for many many projects.
When I make a project there is inevitably a little bit of clay left over and I like to make little beads or baubles with the leftovers.  I've made earrings before:
Of course, if you're not in a making kind of mood, as I am, you can always hit up Etsy for beautiful polymer clay products.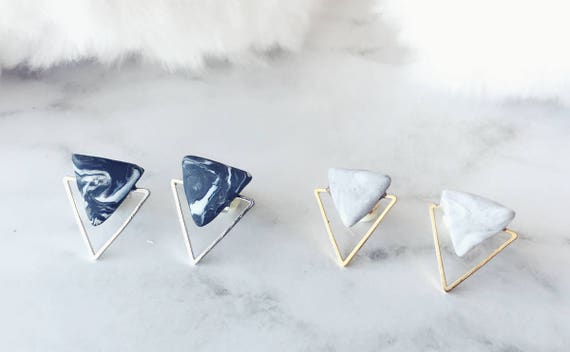 Those earrings.  Awesome.  For real.  I might just go buy those right now.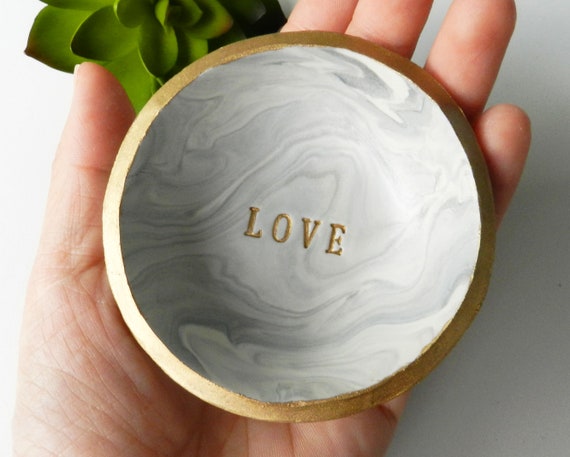 Here's a great example of a marbled clay dish.  I love the little LOVE stamp in the middle.  Nice touch.
If you Like It Then You Should Put a Pin In It!
(Visited 8,099 times, 1 visits today)