I'm a selfish blogger.  This list of Mother's Day Gifts from Anthropologie is mostly just my own wish list.  If my husband, children, mother, father, brother, sister-in-law, ANYONE is thinking about getting me something I really want for Mother's Day, look how kind I am to have made it so easy for you with this list! (PS, May is also the month of my birthday and my wedding anniversary, so these would cover those big deal days, too!).  You're welcome.  ***This post contains affiliate links.  If you click one and make a purchase, I may receive a commission at no additional cost to you.***
While I do love Anthropologie, don't worry, I'm still cheap and I don't expect anyone to spend a ton of money on my Mother's Day Gift.  Unless they really want to, so I included a few expensive things in this list, too.  For the most part, most of these won't break the bank.
Mother's Day Gifts from Anthropologie
I need something like this zippered clutch so that I'm not constantly searching through the bottom of my bag for important stuff like my credit card. Or a hair elastic.  Or my phone.  Or a snack.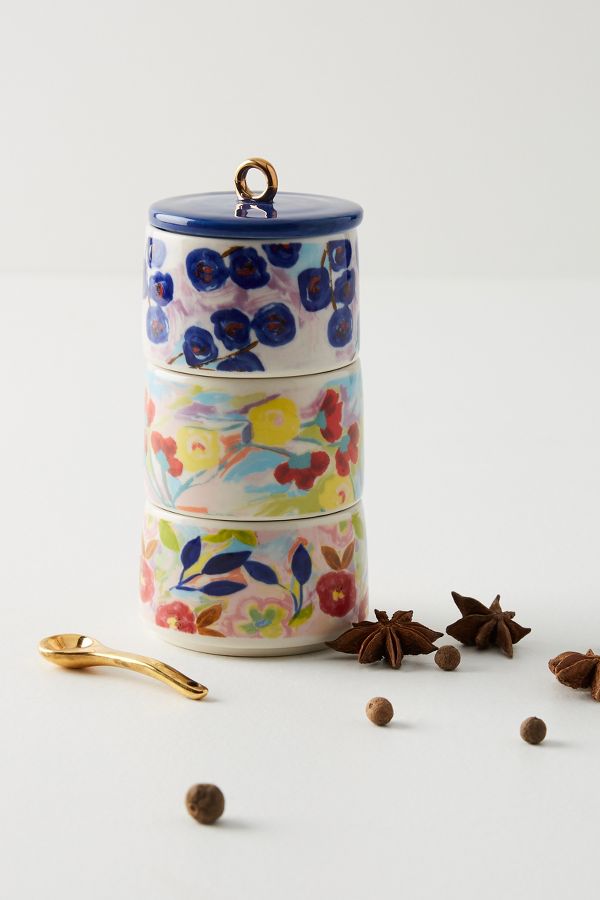 My kitchen is mostly white.  I don't have really any color in there.  If I can add a little bit with something that is pretty and functional like these stacking spice bowls, then that's a win. Plus this has an adorable gold spoon. Can't pass that up. I wonder how long this would be in my house before I lost the gold spoon?  And/or it fell in the garbage disposal and gets destroyed.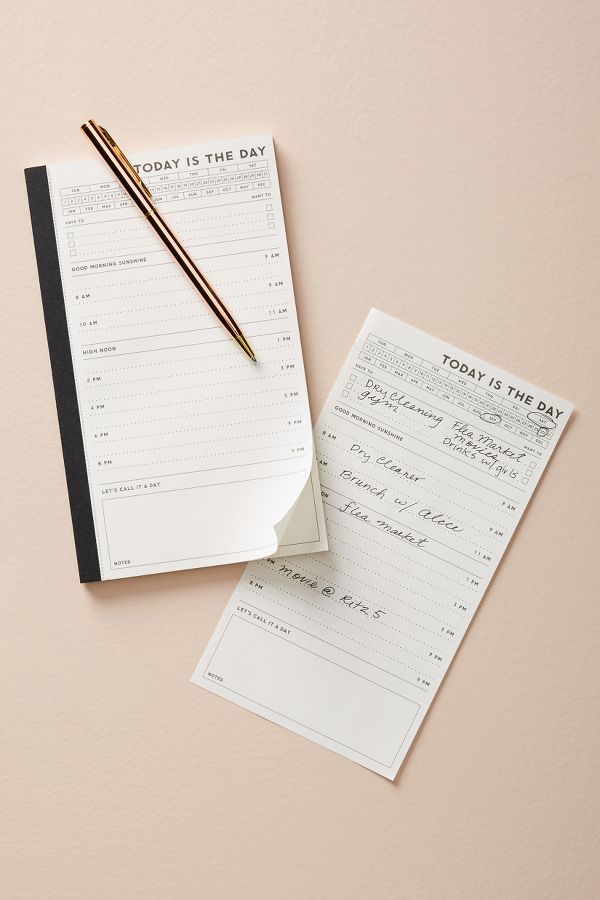 Today is the Day Notepad – $10
See, I told you these wouldn't all be expensive. I like this because it's minimal.  One black and one piece of paper to record your day on.  It's like the world's simplest bullet journal.
I believe that everything you have should be a little special in some way. These measuring spoons have all of the special.  I love this as a Mother's Day gift because it's so functional but also SO pretty.
In general I don't use cookbooks, I just look for recipes on Pinterest.  But it is nice to have one or two special cookbooks in the house.  One with great pictures and tried and true recipes.
Mistral Hand Soap & Lotion + Caddy – $38
Ok, so this set encapsulates what I want my house to be.  You need soap by the sink.  Everybody has that.  If you also have lotion by the sink, then you've thought a step further and said, I don't just want my family to have clean hands, I want them to have soft hands that smell nice, too.  And, then, you took it one more step still, and put it all in a pretty dish so that you're family knows exactly where to put the lotion back and if some spills, you can just wipe out the dish instead of cleaning the whole sink.  Now, do you still think $38 is expensive for soap and lotion?
How pretty and dainty are these little key chains? Here's the benefit to having a silk key chain.  You will love it and understand that it needs to be taken care of which in turn will mean that you will be more conscious of where you put your keys down.  Therefore, you will never lose your keys again.  Yes, I just solved one of mankind's greatest dilemmas.
Venice Beach Coin Pouch – $24.00
I had to include this coin pouch.  It reminds me of my grandmother.  I can remember buying her a coin purse for some holiday as a child.  She always had a little brown leather one.  Do people still carry these?  We need to start carrying these again.  For Nana.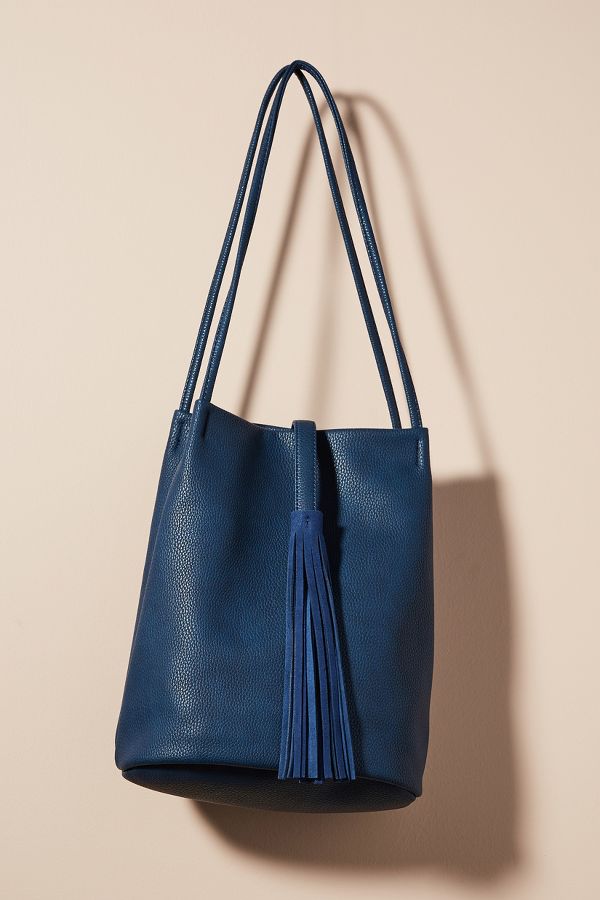 I love this bag.  I mean, I've sworn off these super deep tote bags because I can never find anything in them and I end up accumulating weird things in them like socks and protein bars, but maybe I could do it with this bag and one of the zippered pouches from above?
These pens are delightful.  So pretty.  They will look so cute in the bottom of my tote bag.  Also, fancy pens are a great Mother's Day gift because no mother will ever buy herself fancy pens.  It's a mom rule.
I bet you were expecting that necklace to be more expensive, weren't you? I'm really into green and blue together lately. Really pretty.
Floral Overlay Cosmetic Bag – $48
I don't think there is a woman in the world who doesn't need a new cosmetic bag. This one is so pretty, I might just keep it nice and clean.  I like these square shaped cosmetic bags because they hold EVERYTHING.  And then you can still zipper them.
I love a pretty hoop earring. These have the specialness factor because of the scallop. They're just a tiny bit different without being weird.  It's a fine line, right?
Garden Menagerie Hoop Earrings – $578
Ok, this isn't really a serious pick.  I'm never getting $578 earrings unless they are diamonds and even then, probably not.  But I still really love these.  These are right on the edge of being weird.   They are just a hair's breadth from being weird.  The price almost puts them into weird, actually.  But I LOVE these.
Little Feminist Book Set – $14.99
These are baby books.  I don't have any babies in my house.  I don't care.  I still want these books.
Ok, back to reality with these pretty mugs.  You could get your mom a bouquet from the super market for 12 bucks, or you could get her a lovely and inspiring mug that she will cherish forever and think of you every time she uses.  She'll be tossing those super market flowers in two days.  Which is the better use of your $12?
Precious little candles, right?  And they have a cover. I love it.
So there's my wish list.  Do you have a favorite?  Are you going to show this list to someone and say, hey, I want wacky $500 earrings for Mother's Day?  I'd be happy with the sleek, black and white note pad.  Anything that is a little extra special, right?
You know what else would make a fantastic Mother's Day Gift?  A Stitch Fix!  Check out my review here:
My Honest Stitch Fix Review: Why I Love It
If You Liked It Then You Shoulda Put a Pin In It!
(Visited 565 times, 1 visits today)