The first thing you see when you walk in my front door is a staircase.  I live in a colonial and that's just the way it goes.  You walk in and you get stairs.  Currently they are just wood with some white paint on the risers. Since it's the first thing you see when you walk in, I think they need a little jazzing up.  I love the look of painted stairs, but there are a lot of other great options for staircase makeovers.  So, I've started doing my research and I've pulled together a bunch of great ideas.
The current state of the staircase is, well, pretty bad. I have oak treads, an oak banister and white balusters and stair risers. I'm not a huge fan of oak, so not sure how I ended up with that other than that it was probably quick and easy to replce the 60's wrought iron that was there when we bought the house.  Yes, I know, now I'd probably like a second look at that 60's wrought iron. Maybe I was wrong on that.
Either way, I definitely want an update in the staircase decoration area.   There are lots of different options.  I could do a funky runner. I've seen DIY's for stair runners. That might be fun.
I could paint the stairs.  I've seen some cool things done with paint on stairs.  Paint is super cheap and easy and so that always makes it one of my favorite ways of sprucing a place up.
I've seen some really cool things done with contact paper or wallpaper on the stair risers.  I would really like to explore that option a bit, but my spidey senses tell me that could be a very frustrating project.  We'll see on that.
And then there's the banister and the posts to think about. And the long lonely wall that stretches upstairs. Lots of options on how to bring some personality to that area, too, right?
Painted Stairs and Other Great Staircase Makeovers
Painted Stairs
Paint is the best.  You get a brush and a bucket of paint and you can completely transform a wall, a room or in this case, stairs!  It's so much impact for not a lot of work of money. It's definitely the first thing I think when I think I want to make something over.
How to Paint Stairs from The Heathered Nest
These painted stairs from The Heathered Nest are so perfectly crisp and classy.  I love the look of a staircase runner without the fuss of having to vacuum stairs.  They've got an amazing tutorial that will show you exactly how to get this look.  The color lover in me is dying to know, what would would this look like with, oh, I don't, Navy Blue?  I mean, we don't have to go crazy here. I'm not saying paint them ORANGE, or anything, but I do think it would be a great spot for a pop of color, too.  That gray is pretty slick though.
Stairs in Full Color from BFarHarDesigns
These gorgeous rainbow painted stairs are right up my alley.  I don't know if this would definitely work in my house as my staircase area is very small and cramped, but these are great inspiration.
A few thoughts on painting stairs.
How do you get upstairs the night that you paint the stairs? Does everyone sleep downstairs that day?  Because you know you can't walk on them that night, right? I will either figure that out and let you know, or I will skip painting for this very reason.
How well does the paint hold up?  I would love to hear from anyone that has tried this before. I suppose it's something that needs touch ups fairly regularly.
DIY Stair Runners
I remember many moons ago Young House Love did their own stair runner install and I've always been so surprised at how simple it seemed to be.  And it is really nice to have some carpet on the stairs. It's perhaps the only place in the house that I could put carpet where the cat wouldn't want to pee on it.  (Is that tmi?  sorry.  I have a cat.  He spite pees.  It's a thing).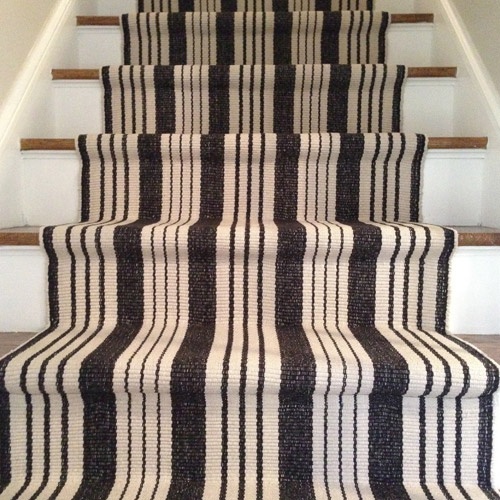 How To Install a Staircase Runner from Young House Love
This is probably the definitive DIY guide to installing a stair runner.  Young House Love does DIY right.  They make everything seem doable especially since they reveal any missteps they might take.
There are lots of awesome choices of runners that can be used for a DIY Stair Runner Project.  I love this one from Amazon:
I LOVE that mix of colors.  So pretty and vibrant.  But not over the top, either.  Know what I mean?
Bold and black and white could also be my jam.  Sometimes black and white is perfect to offset a colorful house while still being just in your face enough.
Contact Paper, Wallpaper and Other Sticky Things on Stairs
You know already that I love wallpaper (see these dining room pictures?).  Whether you choose wallpaper, or contact paper or some other type of fancy paper, they are all great options.  I would make sure to find a way to protect the paper if you go this route, though.  Stairs get so much traffic!
Contact Paper (Shelf Liner) Stairs from Margot Madison
This is such a pretty, fresh look!  I do believe contact paper would be fairly easy to work with on your stairs.  If I did this, I would definitely think about finding a way to seal the paper so that it didn't get damaged or start to peel as time wears on.
And, of course, Amazon has your back with lots of awesome contact paper options.
This is a pretty, subtle option.  If you're a subtle type of person.
I think you know by now that I'm not a subtle type of person.  This red and gold (what?) is more in my wheelhouse.  In general, if you said, do you like red and gold, I would be like, um, no.  But this works.
I think a wallpaper with a pattern like this one would be perfect for stairs.  It's a nice bold pattern, but still small enough that it would work on stair treads, yes?  And of course we've got color.  The stairs are a fun place to play with color because they don't usually compete with other colors in the home.  Stairs are usually pretty off to themselves, so go a little wild. Maybe?
There are even these tile wallpaper stickers that you can buy from Amazon specifically for stairs!  That would save the headaches of trying to figure out who to measure and cut the wallpaper, right?
The measuring and the cutting are probably the number one and two deterrents to me trying wallpaper on the stairs.  Also the gluing.
These vinyl decals for your stairs are pretty special, too.  I am a sucker for a good quote, so this would work with me.  I love graphic black and white, although I think would go for block lettering instead of script.  I've worked with vinyl decals in the past and they are super easy to work with, so that's a definite plus!
Staircase Bannisters and Posts
Now that you've done such a great job with the stairs themselves, you can't forget to do a little sprucing up with the bannister and the rest of the woodwork around stairs.
You can do something fairly simple and just update the stain of the wood as you see in this makeover from Practically Spoiled.  I think this came out great. They used gel stain and the difference from the original oak is remarkable.  Go pop on over and check out the before and afters!  I'll be waiting right here.
If you are a little more confident in your DIY skills, check out this staircase post makeover from She Holds Dearly.  This is so very Modern Farm House to me!  I love that crisp white against the warm stained wood floors. So pretty!
Staircase Wall Decor
And then, of course, we have that very long, very blank expanse of wall that leads up the stairs.  Whatever to do with that?
Here's my dilemma with that area of the staircase.  It's usually a pretty small, tight area.  So I almost don't want to even put pictures there.  I can just imagine that my kids and/or husband would knock frames off the wall on a daily basis.
Perhaps a DIY poster frame like this one from Life as Mama?
I think that would work well on the stairs.  There's barely any clearance there and if it did happen to fall?  There's no glass to break!  See how much you need to think ahead when you are the mother of children?  It's a lot that goes on in the head of every mother,  you know.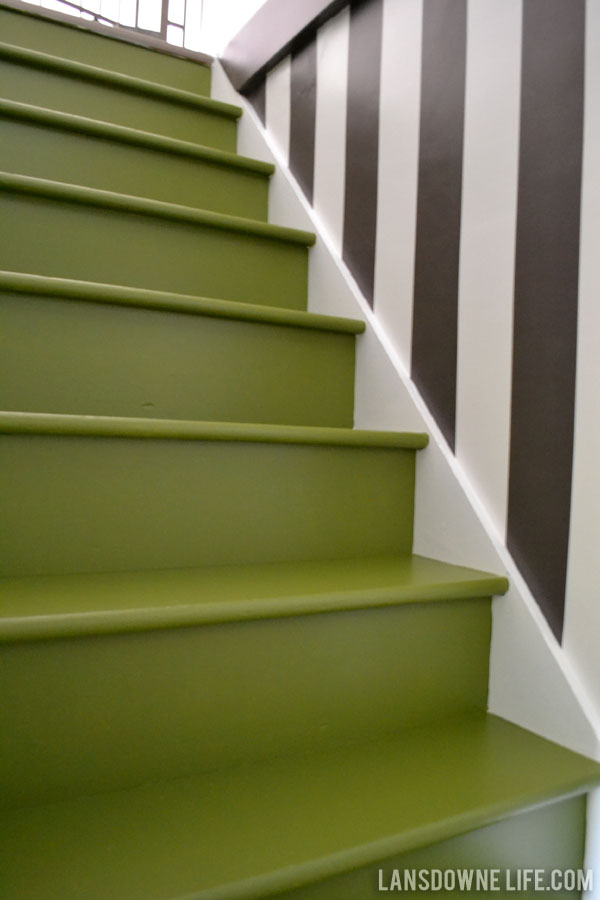 Of  course we can always go with paint to get something bold happening on the stairway wall.  I like this black and white stripe from Lansdowne Life.   The possibilities with paint are only limited by your imagination.  And maybe your painting skills.  I mean, I think I could possibly pull off stripes, but I know limits.
So there you have it!  What's your favorite?  Any suggestions I might have missed?  Now for the hardest part.  Figuring out which options to actually try.
If  You Liked it Then You Shoulda Put a  Pin In It!
(Visited 1,358 times, 1 visits today)