When they made up the little rhyme "April showers bring May flowers", I don't think they meant SNOW showers.  But, here we are, early April in the Northeast and it's been snowing all day.  Snow in April is like a ridiculously HOT day at the end of August.  It was fun in June, but by August, you're done with the heat.  ***This post contains affiliate links.  If you click one and make a purchase, I may receive a commission at no additional cost to you.***
There are actually lots of daffodils up and they are lovely, but they are looking pretty sorry at the moment with snow on the tips of the petals.  Lucky for us in the still frozen parts of the world, there are gorgeous DIY Paper Flowers to be made.  I've come across a bunch of beautiful tutorials and I'm itching to try one or all.  Either just for me, for around the house, OR, I think they would be a lovely handmade gift for Mother's Day.
Cause there's no way of knowing whether or not the snow will actually be done by Mother's Day.  It snowed on my wedding day.  May 18th.  Yup.
DIY Paper Flowers
What's great about making your own Paper Flowers, is that they might be even cheaper than real flowers.  And they most definitely last longer.  You really only need a few supplies and a little bit of time and you'll have some seriously pretty flowers to brag about.  Maybe send a bunch in to your kids school for their teacher!  Or pop some in the mailbox for the mail carrier!  Or, for sure, save them for Mother's Day.
DIY Paper Flower Bouquet from Ruffled
Can you almost not believe that those flowers are actually made from paper?  Is it even harder to believe that YOU can actually make those?  These are possible the most complicated of the bunch, but for real, they aren't hard.  You can do this.  So can I.  I think.  Maybe I'll try these ones and make sure.
DIY Crepe Paper Garden Rose from Crafted Bloom
These pretty crepe paper flowers might be my favorite of the bunch.  They are super delicate and  they seem so realistic to me.  What I really love about these is that the tutorial is SUPER detailed and points out lots of different tips.  I love a good, solid tutorial.
Easy Giant Paper Dahlias from Abbi Kirsten Collections
Large scale paper flowers make an ENORMOUS impact.  These would be amazing at your Mother's Day brunch, wouldn't they?  These, I've actually made something similar before, and I can tell you, these are very simple to make.  If you are all thumbs when it comes to crafts, you can do this one.  Unless you're literally all thumbs. That would be hard.
Hanging Paper Wisteria from Catching Color Flies
Here's another great option for impressive paper flower decor at your Mother's Day brunch or even a Bridal or Baby shower.  These hanging paper wisteria are so pretty and it's always a little unexpected to have something hanging from above.  We always forget the ceiling, don't we?
Paper Hyacinth Flowers from One Little Project
I've actually made these paper hyacinth flowers before, too.  These are simple but they take patience.  They are totally worth it though.  Such a pretty pop of color and they'll stand up very nicely in a pretty vase.  I think when I made these the first time, my daughter presented them to my mom on Mother's Day.  They make a really pretty little bouquet.
Crepe Paper Flowers from The Budget Savvy Bride
I really love the little paper dandelion flowers in this one.  Wouldn't it be adorable as a little boutonierre?  These are actually just lined up in vases, but the way the picture was shot, makes me want to make these into a paper flower garland and hang them in all of my doorways. Too much?
Paper Carnations from It's In The Details
These ruffly little paper carnations are so lovely.  Totally adorable. I really like the pretty, soft pale pink of this paper flower, too.  I mean, I know it's not my usualy MO, but sometimes color doesn't have to be completely in your face, right?  Sometimes subtle is just what you need.  I should listen to that advice more often.
Paper Flower Tutorial from Frog Prince Paperie
Did I already say that some other flower in this list was my favorite?  That was a lie, if I did.  THIS is my favorite.  This thing is to die for.  I want to make all of these and only these.  Ok?  That's how I feel about these flowers.  I'm going to quit blogging and become a this flower maker.  The pink and the black is crazy pretty.  Totally unexpected.
Mini Paper Roses from Living and Crafting
I like pretty much anything that is mini.  These little paper roses are just too precious.  This tutorial is also super detailed and comes with a template for cutting out those petals.  These would be lovely as a little gift topper, or maybe hot glued to a pretty head band.
DIY Book Page Flowers from Busying Being Jennifer
I love anything made out of book pages (see this wreath), but don't tell my daughter that.  She thinks it's a sin to ruin a book.  I prefer to read on my phone, so I'm perfectly fine with tearing up a thrift store book.  I especially like the touch of gold and copper paint that Jennifer put on a few of her flowers.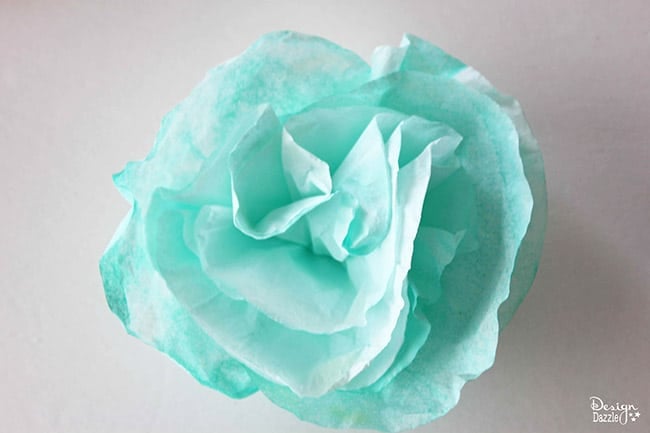 Coffee Filter Flowers from Design Dazzle
I love these paper flowers, especially the blue/green color, but I mostly wanted to include these because of the super cool tutorial that will show you how to dye coffee filters really pretty colors.  That sounds like a bunch of messy fun to me.
What I really love about all of these Paper Flowers is that they are so versatily.  You can go the obvious route and stick them in a vase, of course.  Or, you could make them pretty little gift toppers.  Have you seen the gorgeous floral crowns all ove instagram?  Make one out of Paper Flowers!  There are some in the list above that I could even see as a bridal bouquet, for the right bride.  It's a simple and lovely way to add a much needed punch of color to a special day, or just a regular old ordinary day!
And if you're totally not in the mood to DIY any paper flowers, don't worry, Etsy has you covered.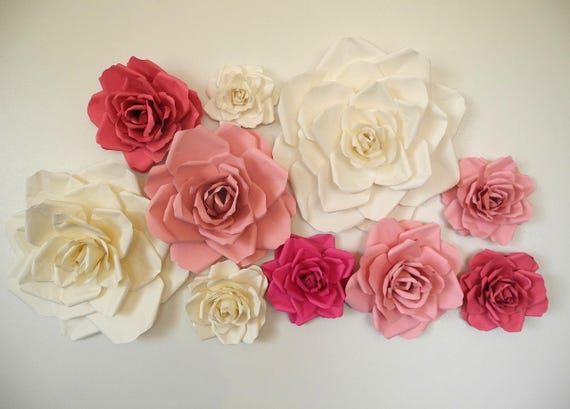 This set of pink and white flowers from Etsy is gorgeous.  That's a statement wall waiting to be hung in your baby girls nursery.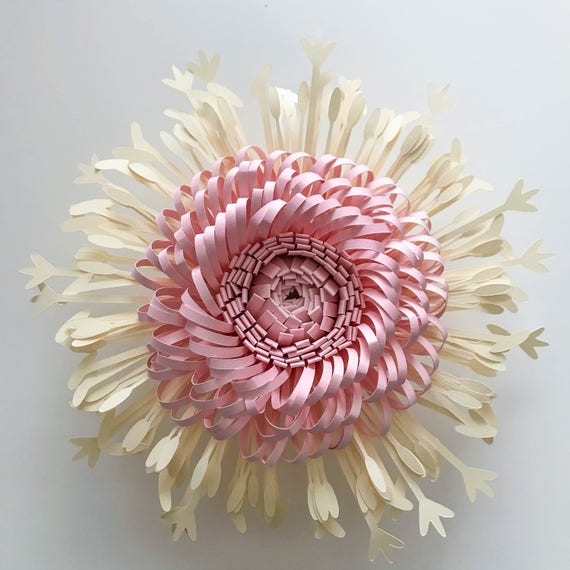 If you're looking for something just a little more funky (like Mr. Jones is), then you might love this beauty from Etsy.  That's the kind of thing that I would go for, for sure.  I mean, I could probably make any of the DIY's listed above, but this guy, this took more than my DIY skills are capable of.  That flower, is a special paper flower.
So, now you gotta tell me.  Which one is your favorite? Is there one you'd love to see me try and tell you all about it?  Let me know in the comments!!
If You Liked It Then You Shoulda Put a Pin In It!
(Visited 2,989 times, 1 visits today)