Your bedroom should be your sanctuary. If you are not at all into this cozy thing that I'm into, you should at least think about making your bedroom cozy. You should be able to go into your bedroom and feel comfortable and relaxed and like you escaped from the world.  It's hard to do that if your bedroom is a cluttered, disorganized mess.  Here are some bedroom storage ideas so you can start creating your cozy sanctuary.
**This post contains affiliate links.  If you click one and make a purchase, I may receive a commission at no additional cost to you.**
Bedroom Storage Ideas
Start with a Declutter
The first step in any good organization project should be to purge.  Declutter.  THROW STUFF OUT.
I know you hate that, probably.  But the fact that you hate that is probably what has landed you here, reading about how to organize your bedroom. So let's do it, ok?
There is one question I ask myself when I'm decluttering.
That's all.  Plain and simple.  If the answer is no, then the thing gets tossed.  If the answer is yes, (and the answer can be yes for whatever reason you want, including, I love it and it gives me memories) then it stays.
Have a trash bag with you, and a box for the things you decide you don't need so that you can donate them.
Once you've gotten through the clutter, you can start to organize.
I love the idea of storing your extra bed linens in the room they belong in as opposed to in a separate linen closet in the hallway.
It keeps things neat and easy to find. But where exactly should you keep them in your bedroom?
These under the bed rolling storage bins from Pins and Procrastination are an excellent solution.
And you don't have to DIY this.  Amazon has great options:
Any little extra storage in your bedroom is a good thing and if it happens to be hidden storage that does double duty, all the better.
This DIY from a Beautiful Mess for a mirror with storage is a brilliant idea.  You need a mirror to check yourself out in and you need a place to keep your jewels.  This kills both those birds with one stone.
If you're not into DIY'ing this, no worries, you can buy something very similar.
This one that attaches to your door hinges looks amazing: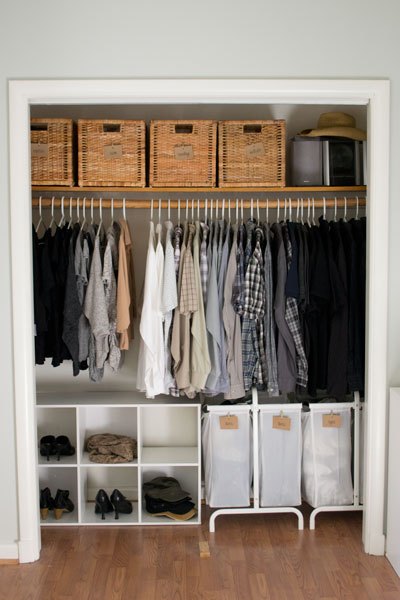 Up high shelves are excellent for storing things that you don't need access to every day.
Up high shelves are terrible for storing things that you DO need access to every day, so says all short people.
But, you want your up high shelves to look nice, don't you?  So throw that non-every day stuff in some baskets, ok?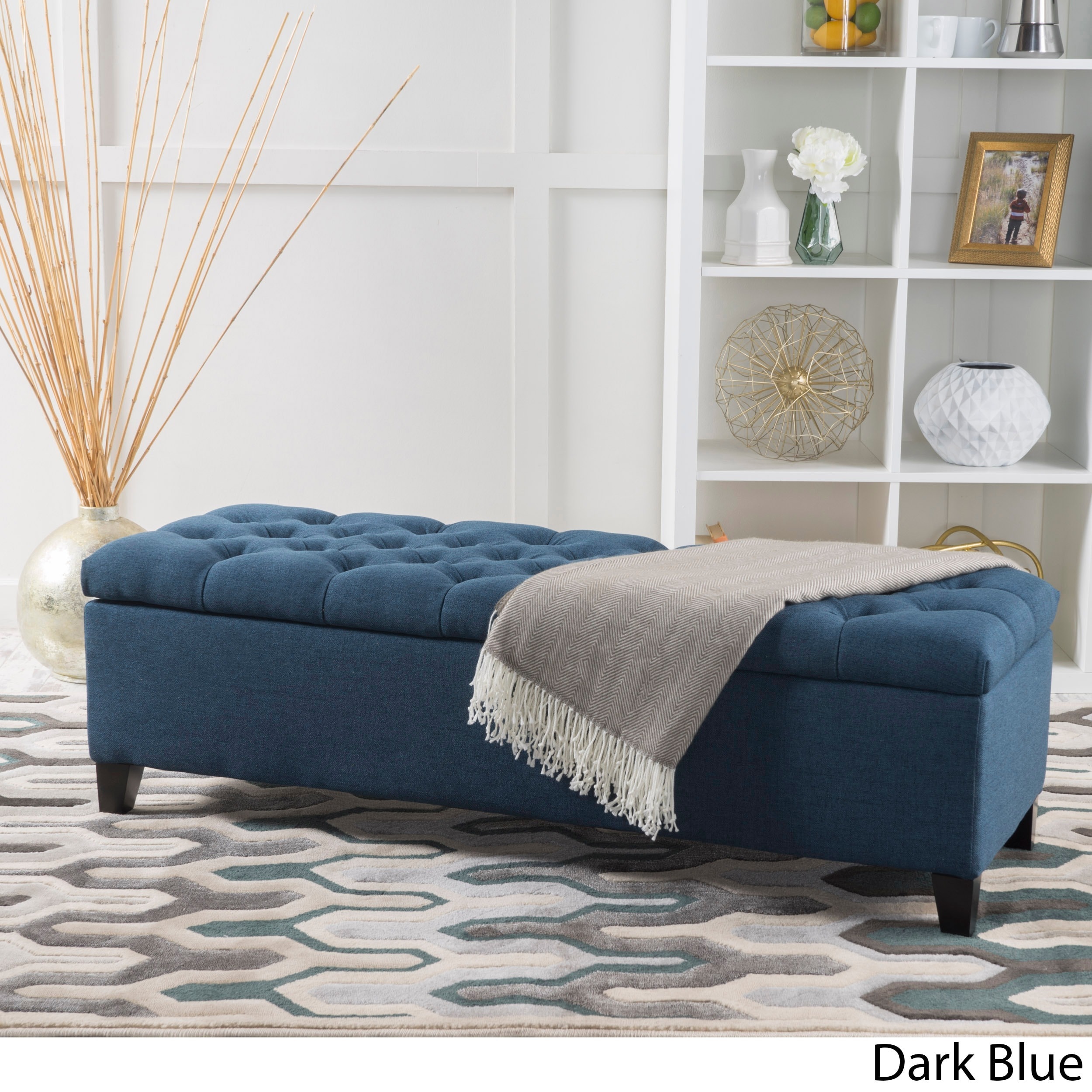 Storage ottomans are the best.  I have this one from Overstock and I use it in my living room.  In the bedroom it's the perfect place to store your throw pillows or extra blankets.
In addition to being perfect for storage, you can sit on this when you are putting your socks on in the morning, too!  You know, so you don't sit on the bed and create a bed sinkhole which immediately wakes up your dozing partner who happens to not have to get up SO early.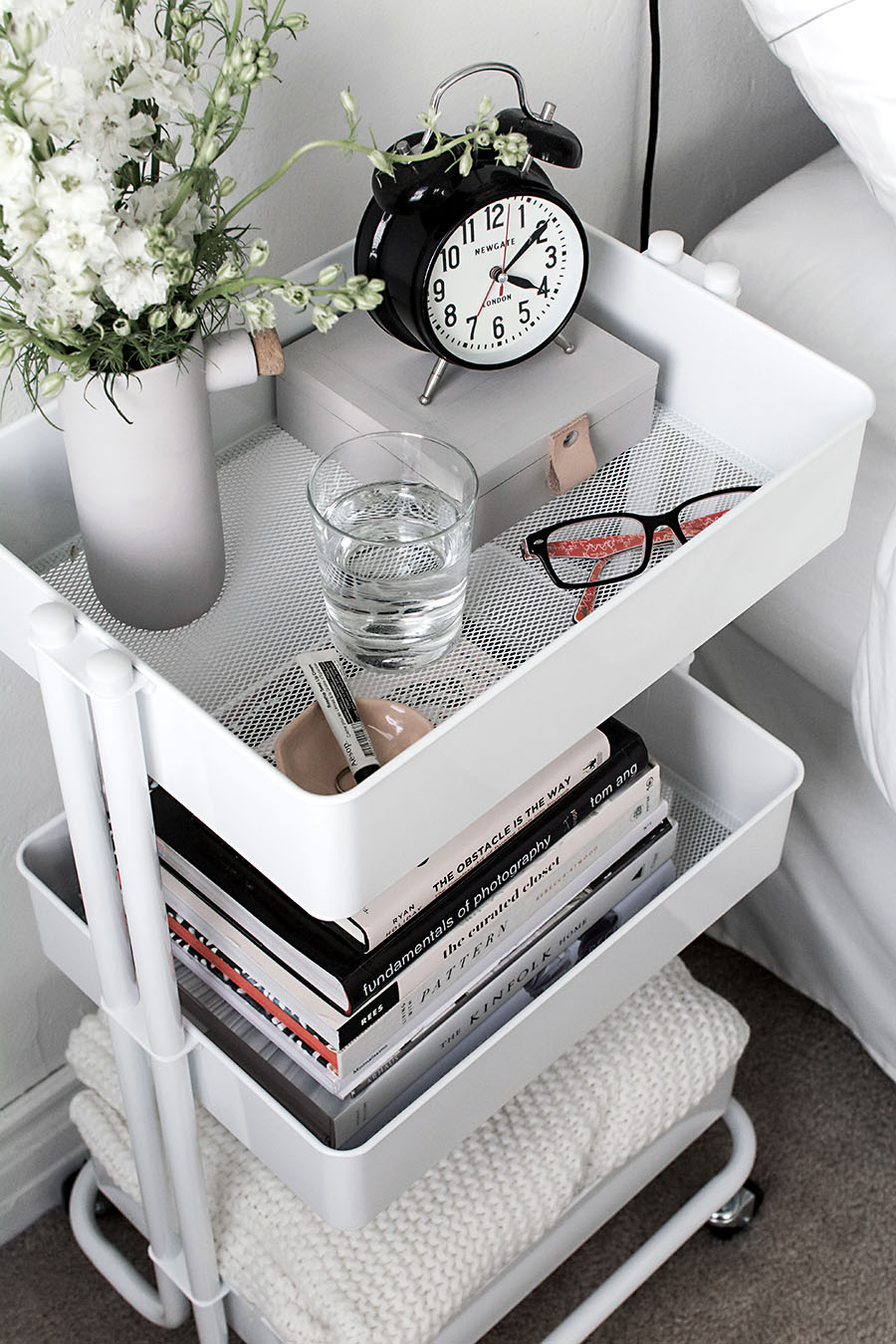 This little storage cart as a bedside table from Homey Oh My is a genius idea.  It's got a spot for everything you need at the bedside.
I especially like that because it's not technically just shelves, some things are sort of hidden.  If you walk in the room, sure you'll see the vase and the cute alarm clock, but you probably won't see the glasses or the lip balm.  Cause the rim of the shelves are hiding it.  So it's open storage without feeling cluttered.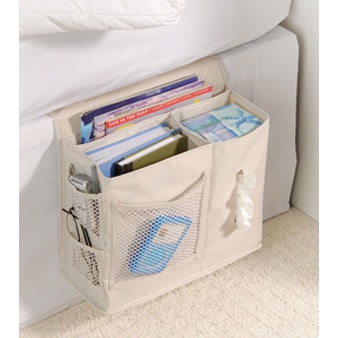 If you're super short on space in the bedroom and don't want to take up real estate with a bedside table, then a bedside caddy might be perfect for you.
This bedside caddy from Overstock  is a great option. It's got a spot for just about anything you might need and check out how there's even a hole to pull tissues out of.  If you ever have the flu and can't get out of bed, this thing would be a blessing.
If you love a neat, sleek look, then some hidden storage behind your headboard might be a great option for you.
I like this one because it is low profile.  It's not going to make your bed look like it's sitting in the middle of the floor.  And all of the little necessities like your bottle of water, your phone and a book are tucked away, out of sight.
Any time you can use some vertical wall space for storage, you should.
These cute little shelves from Thrifty & Chic are perfect for small storage and I love the idea of adding some knobs so that you can hang your pretty scarves.  I find if I keep my scarves in the closet, then I don't wear them because they are hidden away.
In this example, the scarves are as much decor as they are, well, scarves!
What's Next?
Well, I know what I'm doing next.  I need to start with a good purge of the bedroom.  It always becomes a catch all room for me.  My kids will even clean their rooms and bring stuff they don't want or need anymore into my room.  Why?
I do not know.
So purge, and then organize!  And I'll try out some of these awesome storage ideas to keep things tidy.
What did I miss?  What great storage hack are you using at your house that I need to know about?  Drop me a line in the comments and let me know!
And now that you're organized, check out this post on bedroom wall art to get the place beautiful, too!
If You Loved This I'd Love It If You Pinned It!