I'm not a big breakfast person.  I'm also not a big morning person.  I'm most functional after, say 10am.  Ok, fine, noon.  But when you are on the Keto diet, it's important to start early with getting the right food in your system so that you're eating the appropriate amounts of nutrients and staying in ketosis.  Keto breakfast ideas for me have to be simple, satisfying and fast.
If you're looking for the details, How do I get on this Keto train?? Check out Keto Bootrap.  It's an amazing program that will get you on the right track and keep you there with meal plans, recipes, work out plans and an entire Keto community!
Keto Breakfast Ideas
The best keto breakfast ideas, fall in to three categories, Keto Breakfast Casseroles, Easy Keto Breakfasts and Keto Fast Food Breakfasts.  Those three categories should cover you for whatever type of insanity your morning calls for.  Some days I'm home all morning and can put a little effort in, some days I'm running out the door and some days, I'm just plain lazy.  There are options in these categories that can work for any of those types of days.
Easy Keto Breakfast
An easy keto breakfast is one that requires not actually cooking anything.  My all time very favorite Keto Breakfast is a Keto shake that I make using chocolate Perfect Keto Collagen Powder.  This shake actually doesn't just happen at breakfast time, for me.  If I'm not in the mood for cooking, I'll drink this shake for lunch, or even dinner, minus the espresso powder!
It's super simple.  I make the shake with almond milk and a couple of tablespoons of heavy cream.  Then I add about a tablespoon of instant espresso and a dash of coconut extract.  The espresso powder means you don't even have to worry about getting your morning dose of caffeine.
If you're looking for more Keto Smoothie and Keto Shake options, check out this Keto Smoothie post!
I look forward to that shake every morning, I swear.  It feels like such a treat.  It's also an incredibly easy Keto breakfast.  Almost no brain cells used to make that one.
A hard boiled egg is also a great option for a Keto breakfast.  So simple to make a few at the beginning of the week and grab one and go.  Or two. It's usually two.
Eggs are great because they have fat and protein all rolled up in one shell. As a keto breakfast, eggs are going to play an important role, and hard boiling is about the easiest method you can do for an egg.  They are also totally portable, too.  When my daughter has a softball tournament, hard boiled eggs are always in my snack bag.
A good Keto Bulletproof Coffee is also a quick and satisfying easy Keto Breakfast.  Check out this Perfect Keto Collagen Powder post for lots of options.  It's super filling and it's coffee, so you can't get much better than that, right?
You can do lots of different things with your Bulletproof coffee.  I'll add a little French Vanilla or Coconut extract to mine for a little extra flavor.  I love that it comes out of the blender all frothy!  And because you've added some good fat to this, you won't be hungry an hour later.  If I don't have a shake in the morning, I have Bulletproof coffee.  Sometimes I have both.  I love caffeine.
Keto Breakfast Casseroles
Here's what I love about a good keto breakfast casserole.  It mimics a full breakfast at your local diner.  Generally, there are eggs, some type of breakfast meat, some cheese and why not throw in some veggies, too?  It's kind of like a big, flat, baked omelette.
For a Keto Breakfast Casserole, you have to remember to leave out the hashbrowns, but other than that, these are so customizeable.  Make one on Sunday and you can eat it all week long.  Pop a piece in the microwave and you're enjoying a hearty breakfast in minutes.

This Keto Breakfast Casserole from Stay Snatched looks so good.  I mean, really, really good.  It's packed with veggies and bacon.  And bacon is just soooo bacon-y.
This is a great one for cleaning out your veggie drawer in the fridge.  Just chop em up, saute them a bit then throw them in the casserol dish to be topped with the rest of this low carb madness.
If you're looking to make your Keto Breakfast casserole portable, you can also use a muffin tin instead of your casserole dish to make individual size casseroles.  They are technically something that could be hand held.  I mean, use a napkin, but this is a very portable option if you are running out the door.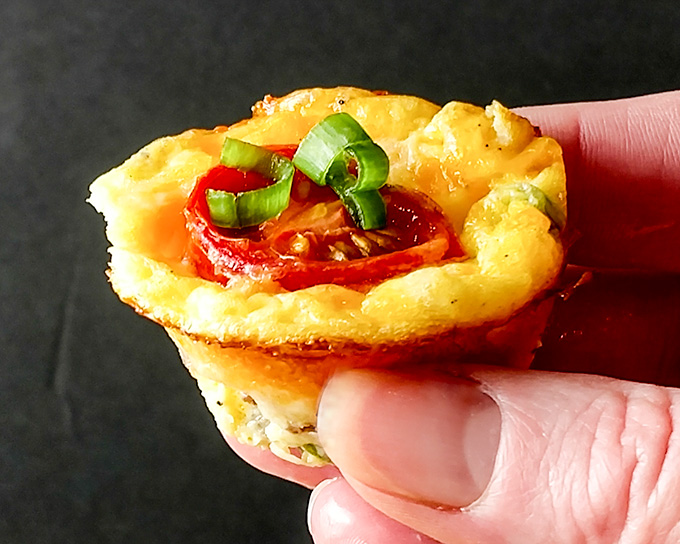 This little keto breakfast casserole from On the Go Bites looks pretty delicious.  Also, great nails.  Actually, if you used muffin pan liners when you makes these, you could totally bypass the need for a napkin.
Did you think you had to give up French Toast because you are eating Keto?  Well, you do not!  If you're looking for an alternative to the egg based casseroles, this Keto French Toast Casserole from This Mom's Menu is perfect.
That one does require low carb bread, but there's a recipe for that as well on This Mom's Menu.
Fast Food Keto Breakfast
If you're running out the door, you prepared nothing ahead of time, but you don't want to skip breakfast entirely, don't worry, you can stop at a fast food place and figure it out.
I'll usually go to our donut shop and order (NO!  not a donut) a breakfast sandwich with no bread and eat the egg, cheese and bacon.  Sometimes with my fingers, sometimes with a fork, if I happen to remember a fork.  Or just remember to ASK for a fork.
Taco Bell also has a Mini Skillet Bowl, that if you hold the potatoes, would work for a fast food Keto Breakfast.
There are add ons available for this bowl, too, like chicken or guacamole.  Guac would add a nice healthy fat to this bowl.
Starbucks also has a lower carb Sous Vide Egg Bites.  This one with Bacon & Gruyere has 9 carbs, which to me is a little high, but if you're careful the rest of the day, this should work. It's also 22g of fat which will get you off on the right foot as far reaching your fat requirements for the day.
Ok, now you have ZERO excuses for skipping breakfast.  But, what did I miss?  Are there other amazing Keto Breakfast ideas that I haven't found yet?  What are you favorites?
If You Liked It Then You Shoulda Put a Pin In It!