Being a reformed plant killer, I am really doing my best to show that I have paid my debt to plant society and am ready to be a responsible adult who can contribute to the world of horticulture around me.  To demonstrate this, I am going to give my Succulent plants a new home.  And I'd like to DIY it, if I can.  Here are some of the succulent planter ideas I found to get my creative juices flowing.
DIY Succulent Planter Ideas
Before I get too far ahead of myself, I want you to know, I've taken to heart the things that I learned and shared with you about taking care of succulents. I know that whatever container I choose for my new green friends will need to have a drainage hole.  I know that the succulents will like to be fairly close together, but that they also need to have room to grow.  And, I promise to not put a glass cover over my succulents because apparently, they like air.  Just like humans.
So, I have those important succulent care tips in my mind as I've looked through scores of DIY Succulent Planter ideas.  I have some here that do have a drainage hole and some that will require a drainage hole being drilled, somewhow, but all of these vessels should provide a happy home for your precious succulents.
Marbled Planter from the Happier Homemaker
I know, how on EARTH are you going to DIY marble planters?  Right??
I'm not. Those are tin cans.  As in like, a tuna can, a tomato soup can and a Spaghetti-O's can.  Then just simply wrapped in contact paper.  Doesn't get much easier than that, does it?  The only problem with this one would be getting the hole in the bottom for the drainage.  I'm sure there's a way though.
Either a drill or an appropriately sharpened awl of some kind (jk, don't try that, I don't think).
Repurposed Tea Tin Planters from The Sarah Johnson
Now these are lovely and cheerful, aren't they?  And hardly a DIY project, but it takes a creative mind to see a bunch of vintage Tea Tins and say, HEY!  I know!  I'm putting Succulents in there.
These might take some flea market and thrift store hunting, however.  I can't recall seeing anything like these at my favorite haunts, but I'll definitely be keeping an eye out!  If not for this project then for something equally fun!
Thrifted Brass Light Fixture Turned Succulent Garden from May Richer Fuller Be
This one might be might favorite of the bunch.  First, you can't tell from the picture, but there is a already a hole in this for drainage.  It's where the old light fittings would have been.
Second, I love that there is brass.  I'm into that right now. And third, I love that it gets a second lease on life.  It used to be a thing that someone said, OH, get rid of that light immediately and now it's kind of totally chic.  This Light Fixture has moxy.  Grit, even.  I like it.
DIY Clay Planters from Fellow Fellow
These little clay planters are totally adorable.  They are clean and minimal, but have just a touch of coziness.
I would attempt to make these in a heart beat if I didn't feel very certain that my DIY skills would fail me on this one.  Something would go wrong.  Cracks.  Fingerprints.  Dirty clay.  Something.  I can just feel it.  Don't let that discourage YOU from trying it though!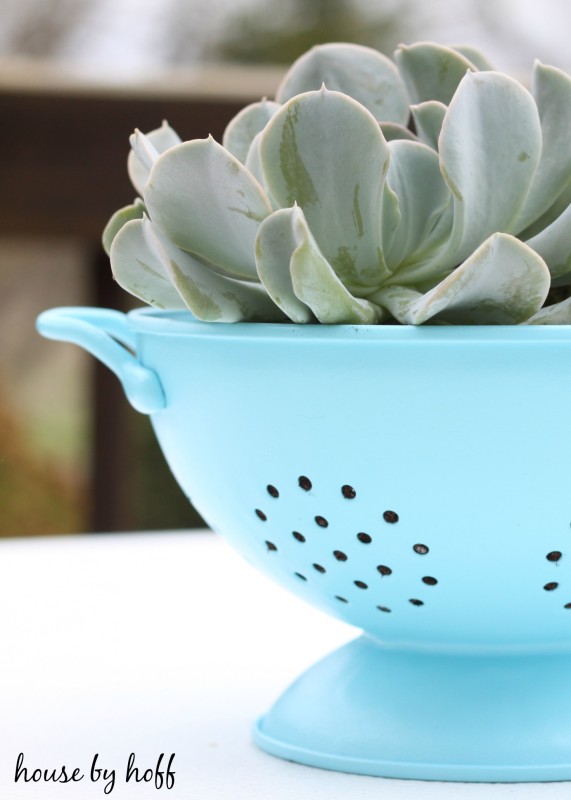 Old Colander Turned Succulent Planter from House by Hoff
This is totally brilliant, right? Look at ALL of those drainage holes!  Your succulents will love that they do not have wet feet in this special miniature garden.
I've definitely seen these old metal colanders at my local thrift stores.  This would be totally adorable and a great pop of color in my kitchen.  This could be the winner.  I'll have to hit up the thrift stores this weekend.
Decoupage Pots from Chica and Jo
I have a long history with decoupage, also known as Mod Podge.  That history includes an infamous fail which turned into one of my best ever blog posts on how to remove mod podge.
But, I'm fairly thick headed and have no problem with trying again and again until I get it right! And these decoupaged planters are totally adorable with their bright paper, aren't they?  Maybe this time I'll actually follow the the tutorial!
Berry Basket Succulent Planter from The Happy Housie
This option, a pretty turquoise berry basket, is fresh and clean looking.  I love turquoise, but I suppose you could probably paint this any color you wanted.  Pink, maybe?  Or even a pretty creamy white would be lovely.
And, once again, this vessel is made for allowing drainage.  Your succulents will be very happy to get their weekly soaking then dry out completely as the water won't be caught in the bottom of the container.
As I write this, it is Friday afternoon and tomorrow is Saturday, YARD SALE DAY!  My goal for this weekend will be to find an appropriate container that either has a hole or can be drilled so that I can DIY my own Succulent Planter idea and present it to you next week.
Which one did you like the best?  What should I try?  What did I miss?  What do you have lying around your house that would probably make a great  succulent planter??
If You Liked It Then You Shoulda Put a Pin In It!