Valentine's Day can be a nightmare if you're planning to go out to dinner. EVERYONE goes out to dinner on Valentine's Day.  You know what's better than going out to dinner?  Cooking something special and staying home and cozy with your loved one.  Try one of these special Valentine's Day Dinner Ideas for the perfect indoor date night!
Valentine's Day Dinner Ideas
Before you get to cooking, think about one of the important parts of choosing a restaurant for Valentine's Day.  You want somewhere with some ambience, right?  Candles, pretty napkins, a pretty table setting.  Maybe even some flowers?
You don't have to go crazy and buy new heart shaped plates and gold silverware.  Pretty white plates and your good wine glasses, a few candles and a small vase of flowers or even some evergreens from your yard in a little vase will do the trick.
Valentine's Day Cocktails
Start dinner off right with an easy cocktail.  Preferable something pink.
Strawberry Rose Gin Fizz from Dessert for Two
What a pretty and special drink, right?
See the full recipe for this Strawberry and Rose Gin Fizz at Dessert for Two.  The recipe yields two drinks.  And if you'd prefer vodka to gin, it's a recommended replacement.
Raspberry Moscato Cocktail from Tonya Staab
I have a new obsession with Raspberries, so this Raspberry Moscato Cocktail from Tonya Staab looks amazing to me right now.
Extra points to you if you make those adorable heart shaped ice cubes.  Cause Valentine's Day Dinner is about the details.
Valentine's Day Appetizers
For an appetizer on Valentine's, go for something light and small.  If it's from a shared plate, even better!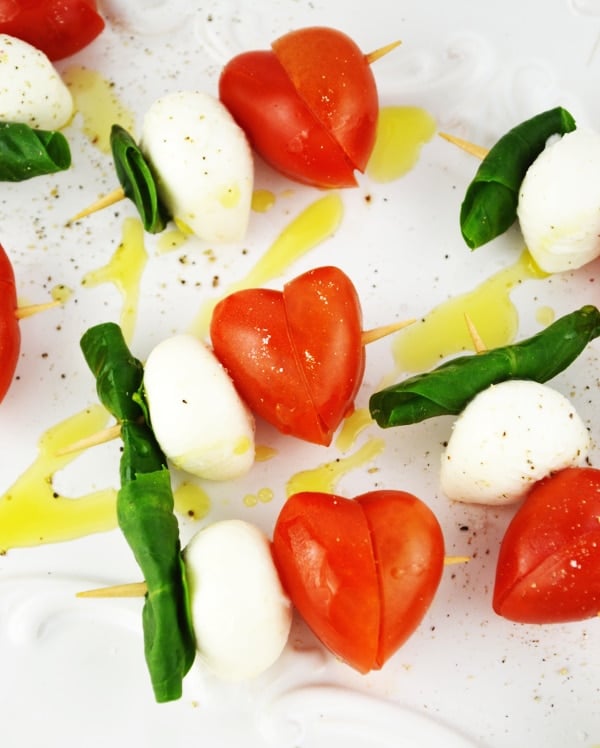 These Valentine Caprese Skewers from Inside the Rustic Kitchen are perfect for Valentine's Day.
They are so cute and those are classic flavors that will always taste delicious.  And just enough to have a bite while still leaving room for the entree and the dessert.
I LOVE brie.  I would probably break Keto to eat these delicious little Balsamic Strawberry Brie Bites from Casa de Crews.
How fancy are those?  I know what you're thinking.  That looks hard to do.  Check the recipe out.  I thought the same thing, but it looks completely doable!
I would really be breaking Keto if I ate Bruschetta, but I couldn't resist these adorable little heart shaped Valentine's Day Bruschetta Appetizers from the Jolly Tomato.
Perfectly on theme for Valentine's Day but not too gimmicky!  They look delicious.
Valentine's Day Entrees
The Entree is kind of controversial for Valentine's Day. I mean, you don't want something too garlicky, you don't want something messy to eat…  It's a lot of pressure. I say if you're eating dinner with someone you love, throw those things out the window and just eat something that you both love.
I love shrimp.  Add some cream sauce and some veggies and I am a happy camper.
This Creamy Shrimp Primavera from Joy Filled Eats has the added bonus of being low carb, so I can eat it guilt free!

You know what you don't want to think about on Valentine's Day?  Doing dishes.  So the fewer you can mess up while cooking, the better.
This Chicken, Mushroom and Green Bean dish from What's in the Pan? is made in ONE skillet.  Big win right there.
And it is also low carb, so acceptable for my Keto diet!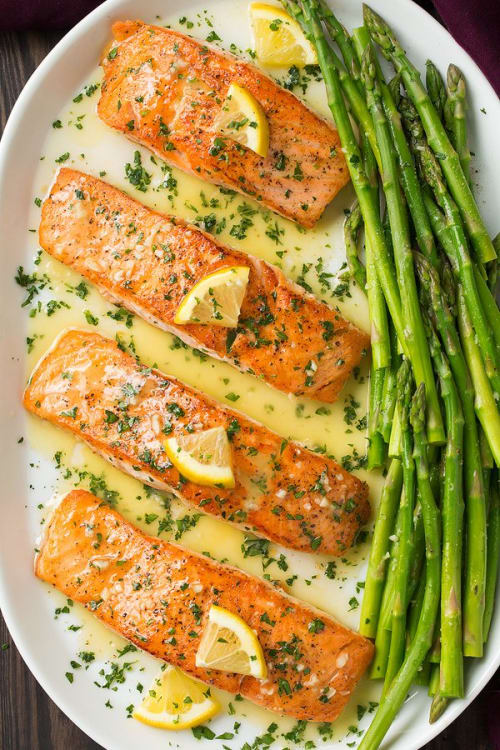 Salmon and asparagus is gorgeous together, isn't?  I really like the idea of having Valentine's Dinner served off of one platter, too, for some reason.
This recipe for Salmon in a Garlic Butter Sauce from the Kitchn looks simple and tasty!
If I were really looking to make the best loved dish of all time for my husband, I would this.  Potatoes included.  He's a total meat and potatoes kind of guy.  And that sauce looks amazing!
Check out the full recipe for Filet Mignon with Bernaise sauce at Celebrate Mag.
This recipe probably breaks all of the Valentine's Day rules.  It's probably messy.  There's definitely garlic.
But for some reason, something you eat with your hands seems perfect for Valentine's Day to me.
These Cashew Lettuce Wraps from Kristine's Kitchen look perfect to me!
Valentine's Day Desserts
I'm going to show Keto Valentine's Day Desserts here.  But if I didn't tell you that, you wouldn't know. Other than you'd have to replace some ingredients with regular sugar.
These glorious Red Velvet Cupcakes from Little Yellow Wheel Barrow are not Keto.
Keto can take a leap on Valentine's Day though when you throw red velvet glitter heart cupcakes in the mix, ok?  Those are way too pretty not to eat.

Chocolate and orange is an amazing combination.  These Chocolate and Orange Custards from Have Butter Will Travel are so perfect for Valentine's Day.
The look gorgeous.  They come in their own cute separate custard cups.  Add the strawberries and they are PERFECTLY themed for Valentine's Day.
I might have to test this recipe tonight.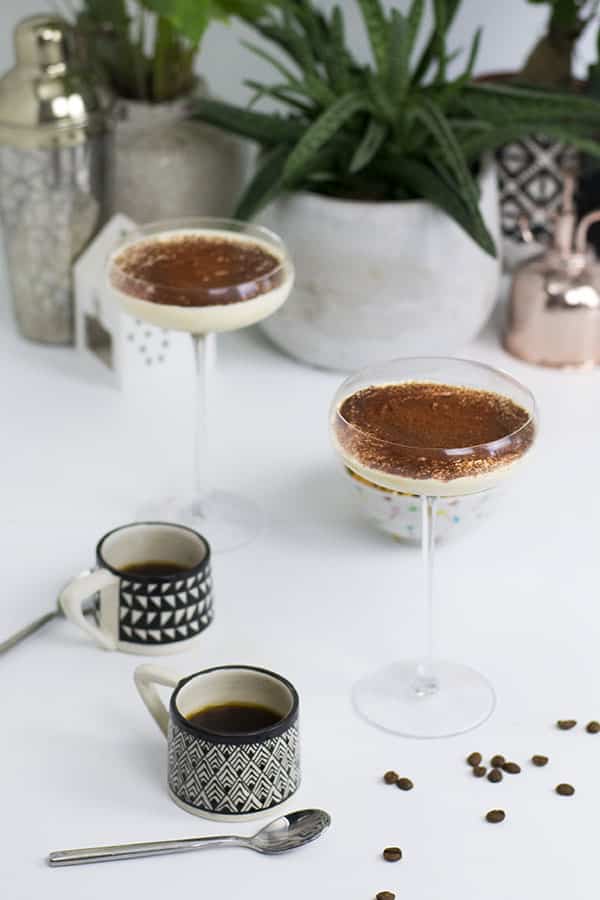 Here's another perfect Just for Two dessert.  You gotta get some cute glasses for this Keto Tiramisu from I Eat Keto.
These are so pretty and dainty and you will totally not feel like you over ate dessert.  It's just enough.
Valentine's Day Dinner with Kids
If you're planning on having dinner at home with the kids, check out this amazing Fondue Dinner on Champagne and Mud boots.
This is such a great idea and really, don't you want to include the kids?  Be sure to click over to check out the dessert fondue.  Looks amazing!
Alright, Valentine's Day Dinner is done.  You can't go wrong with these recipes.  Pick your favorites and let's stay in this year!
PS!  I have bunch more to say about Valentine's Day!  Check out all of my posts here:  Valentine's Day Ideas!
If You Liked It Then You Shoulda Put a Pin in It!
(Visited 670 times, 1 visits today)