I don't usually do a WHOLE lot of decorating for Valentine's Day, but one or two pretty and romantic items are always fun in the house during what is usually a dreadfully cold and snowy February.  For this coming Valentine's Day, I'm going to make something new to add to my Valentine's Crafts.  Here are the choices.  You can vote at the end in the comments and let me know what to make!
Valentine's Crafts
These Valentine's Treat Bags from Laura at Little Yellow Wheelbarrow aren't just the cutest treat bags you've seen.
They are also simple and useful for toting around candy on Valentine's Day.  Or any day, really.  And no one said that you can't just eat the candy yourself.
OR!
Fill them with some chocolates and give them to your favorite person after your Valentine's Dinner.
A DIY Valentine's Day card is so perfect.  It's heartfelt and you're not buying in to the commercial side of the holiday.
These pretty Watercolor hearts from 100 Directions are so dainty and colorful.  This would work for your husband or your kids.
This is super easy to make, too.  Waterbased markers and coffee filters are basically all you need!
Now, I'm not saying that sometimes the Christmas decorations get left out until Valentine's Day.  But, I am saying that if you use a little ingenuity, you could double duty these Yarn Wrapped Trees from Shaken Together Life for Christmas AND Valentines.
You all know I love double duty crafts.  For Christmas you could do a traditional garland and then this sweet heart garland for Valentine's Day.
I love it and, again, these are SUPER easy to make.
How quaint is this little Love Frame from Quirky Inspired?  There is something romantic about that sheet music, isn't there?
This is just a thrift store frame painted red and then the paper elements added.  It's perfect for the holiday mantel.
I adore these little Brown Paper Hearts from Lilly Bug Studio.  They are simple and sort of minimal looking, but still very "Valentine's Day".
Picture these hanging from a vase of branches.  Or, make a bunch for a garland across the fireplace.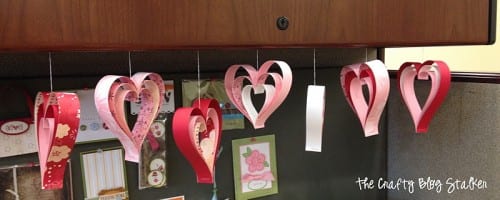 You know what is the best about this Paper Heart Garland from The Crafty Blog Stalker?
It's decorating a work cubicle.  If you work in a cubicle, you should MOST definitely be decorating it for every holiday.  Work is hard and boring (usually).  You need something bright and fun to walk into every day.
These are simple and you'll be the talk of the office.
This pretty Vintage Wreath is so perfect for a Valentine's Day Craft.  The colors are perfect, it's cute, but the vintage images make it interesting, too.
And you know what is great?  You can download the Valentine's images for FREE from Creative Breathing.  Print them and do with them what you like.
Sometimes all you need for Valentines's Day is a few chocolates in a cute little box.  This free Geometric box printable from Minieco gives you just that.
If you're decorating your cubicle for Valentine's Day, you might as well go all the way and make a few of these boxes filled with M&M's for your coworkers.
Have you seen the pretty paper straws on Amazon and thought to yourself, "Those are too pretty to use as a drinking straw?".
I'm with you.  So how about using them as a craft supply?  This Paper Heart Straw from Papercrafter Magazine is the perfect use.
Leave it to Martha to come up with these beautiful little treat holders.
And don't be scared because they come from Martha Stewart.  The instructions on these are easy and the materials are simple.
You can totally do this.
Alright, I get it if you're just looking for something super simple and quick.  These pretty yarn wrapped heart wreaths from Blue Bear Wood are perfect.
They'll come together in minutes, but they are super cute and cozy.  Give these a try!
I LOVE working with oven baked clay.  It's so easy to work with and other than the clay, you don't really need any special tools.
These little heart charms are the perfect Valentine's craft.  Why, you ask?  Because they are Valentine's related, but you could totally wear this necklace any day of the year and it will look just as adorable.
Check out the full tutorial for these Heart Shaped Pendants at Pretty Life Girls.
A pretty suncatcher in your window in the middle of Winter is a very, very good idea.  I live in New England and unless it is currently snowing or it is less than 24 hours from the last snow, outside can look pretty ugly in the winter.
Don't be fooled by those pretty landscapes of clean, pure driven snow.  Ten minutes after that photo was taken, the plows come by and the snow gets piled in mounds, swirled with dirt and debris.  It's not a good look.
So, make these simple Heart Shaped Sun Catchers from Fireflies and Mudpies and focus on them instead!
Here's a great little craft that you can do with your kiddos or niece or nephew.
Make a bunch of these bright and fun Pom Pom Hearts from Fun Littles and then string them together as a festive garland.
And last but not least, here's my Ombre Tissue Paper Wreath that I made a few years ago fro Valentines Day. This was crazy easy to make and I love the look of it.
I actually gifted this to my mom, so I'll have to maybe make myself another one!
Ok, what are you going to make?  What should I make?  What was your favorite?  What did I miss? Got pictures of your favorite Valentine's Day Craft?  Send them to me through the comments section!  I'd love to see them!
PS!  I have bunch more to say about Valentine's Day!  Check out all of my posts here:  Valentine's Day Ideas!
If You Liked It Then You Shoulda Put a Pin In It!
(Visited 20,384 times, 1 visits today)