I have a new thing.  It's an Instant Pot.  I know, I'm the last blogger on earth to get one.  But, I'm not much of a bandwagoner and I already have a slow cooker, so what did I really need an Instant Pot for?  Right?
Wrong!
So wrong.  The Instant Pot is nothing like a slow cooker.  It's a FAST cooker and it does lots of different things.  You can saute stuff right in your Instant Pot!  I had no idea.  And thanks to all of the fabulous bloggers who went before me, there are TONS of great Keto Instant Pot Recipes.
Now, the Instant Pot does have a teeny tiny learning curve.  So read your manual, don't wing it.  If you wing it, you might think it's a good idea to casually release the pressure which will create a ridiculous expulsion of steam and might give your poor old cat a heart attack.  (Worse, you could burn yourself, so read the manual).
Why Keto and the Instant Pot Were Made for Each Other
I said that annoying thing in this post about a meal plan for the week , about how when you are enjoying the The Keto Life , you don't really care that much about eating.  I know you want to punch me for saying that, but if you were in ketosis, you'd understand and also you'd be so chill and happy that you wouldn't care what I say.
When you don't care about eating, you forget to do things like, oh, take food out of the freezer to feed your family.  Or, you might eat boiled eggs, scoops of peanut butter and bullet proof coffee for days on end.  Because you can't be bothered cooking.
The Instant Pot is the cure for this small Keto problem.  It cooks things quickly, from frozen if necessary and they actually come out tasting good!
I've made a few Keto Instant Pot recipes, but I polled my favorite Keto bloggers and gathered their favorite ones to try next.
Keto Instant Pot Recipes
Jen from Whole Lotta Yum made some scrumptious looking beer brats in her Instant Pot.   If you use a low carb beer, then this is super low in carbs.
One of the things I love about this is that it's not chicken.  Or ground beef.  Again.  Every now and then it's nice to throw in a wild card for dinner.
And this recipe sautes the brats in some butter first, so you get that snappy bite. I'll definitely be trying these.
Jen at Whole Lotta Yum also has these lip smacking instant pot country style ribs.  To keep these Keto, use the low sugar barbecue that Jen links to in the recipe.
If you can look at those ribs and think, nah, pass, then you should probably just move along.  They look AMAZING.
And, spoiler alert before you head over to check out the recipe.  These are done in less than an hour.
This is Keto Shredded Chicken in the Instant Pot, from FROZEN chicken from Amber of By Amber's Hands.  How pretty does that picture of frozen chicken breasts look?  You can also do this with chicken thighs, a little more fat for you Keto fat lovers.
Shredded chicken is fantastic to have around for many reasons.  Chicken salad, Buffalo Chicken dip, Chicken burrito bowl, chicken soup… But for whatever reason when I'm thinking of having chicken salad, I don't have any thawed chicken.
This goes from frozen to done in about 15 minutes.  And then it's up to your imagination what to do with it!
OH, pro tip, you can shred chicken with your hand mixer!  It's AMAZING!  So quick and easy.  Just cut the chicken into small-ish pieces and let the mixer do the rest.
Amber also used her Instant Pot  to make this gorgeous Keto Instant Pot Filipino Chicken Adobo.  It is 24 degrees out and a bowl of that looks really good right now.
She's modified the recipe to be suitable for a Keto diet and it's one of those things that isn't overly complicated and comes together quickly if you use the Instant Pot.
And it looks pretty impressive, too, doesn't?
Lisa from Cook Eat Paleo  has a fantastically simple post about how to hard boil eggs in your Instant Pot.  I know what you are thinking.  Just do it on the stove.
And, it will probably be just as time consuming to do it in the Instant Pot as opposed to the stove, BUT!
For some reason that I'm sure involves science, hard boiled eggs are WAY easier to peel when you cook them in the Instant Pot as opposed to on the stove.
Once you've got a stock pile of hard boiled eggs, you've got lots of options on what to do with them.  Egg salad, deviled eggs, sliced on a salad, or just straight up as a quick and simple Keto Snack.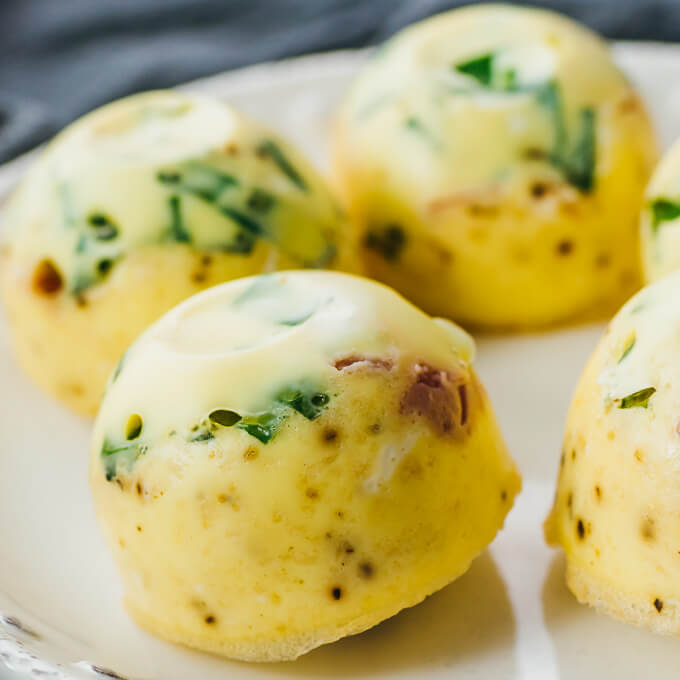 If you want to go a little fancy with your eggs in the Instant Pot, then you need to check out this post from Savory Tooth for these Intstant Pot Egg Bites.
How pretty are those?  You'll need an Egg Bites mold, but you can pick one up for 10 bucks from Amazon.
I love that these are customizeable and you can make a bunch of different flavors at once.  And they just look SO fancy!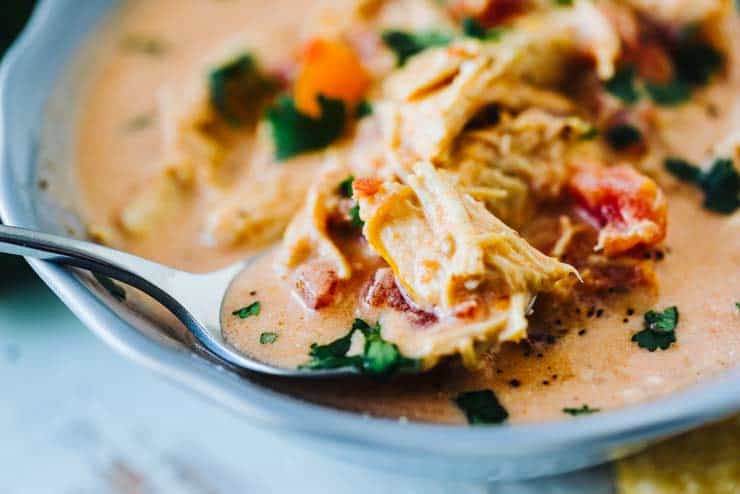 Keto Instant Pot Queso Chicken Soup from Heather Likes Food is a thing that you can eat when you are on the Ketogenic Diet.  If you need a better reason than that to eat Keto, then I can't help you.
That's a lot of creamy deliciousness in one bowl.
This takes 35 mintes in the Instant Pot.  You could have that soup in 35 minutes.
One of the things I miss as a Keto person is an egg roll.  This Keto Egg Roll in a bowl from Awe Filled Homemaker solves that problem.  It's all the egg roll flavor with none of the fried wrapper badness.
This is served over cauliflower rice and you can cook that in the Instant Pot, too, but, I would probably just use some froze cauli rice and cook it on the stove.
I have to tell you. I"m really not a very good cook.  I've tried making a pot roast before.  Not in a pot, but in the slow cooker and they always come out…  somehow moist and dry at the same time.
This Instant Pot Pot Roast from I Breathe I'm Hungry looks nothing like how my Pot Roast comes.  This actually looks like it is delicious.
This recipe is actually a great example of how when you find an amazing recipe on a blog, you should read the whole post.  First of all, Melissa is funny and engaging and secondly, there are tips and tricks scattered throughout the post and also a link to the recipe for Cheesy Cauliflower Mash to serve the post roast with.
I was a super picky eater when I was a kid.  Well, up until, I don't know maybe 5th grade.  And then suddenly I would eat anything.  I don't remember exactly what changed or how, but I know that it had something to do with my dad who loves food and trying different things. I remember Chicken Cacciatore being one of the first "weird" things I tried that I loved.
I know Chicken Cacciatore isn't weird.  But for someone who basically ate plain chicken and bland mashed potatoes for the first 10 years of life, it was weird.  And saucy.  And DELICIOUS.
This recipe for Keto Instant Pot Chicken Cacciatore is definitely going in to the rotation.  Maybe my son will come out of his "no weird food" phase soon and try this.  I got him to try Bagel Bites the other day and he liked those.
Yes, the "weird food" gene is strong in him.  He considered Bagel Bites weird.  Pizza on a bagel?? GROSS!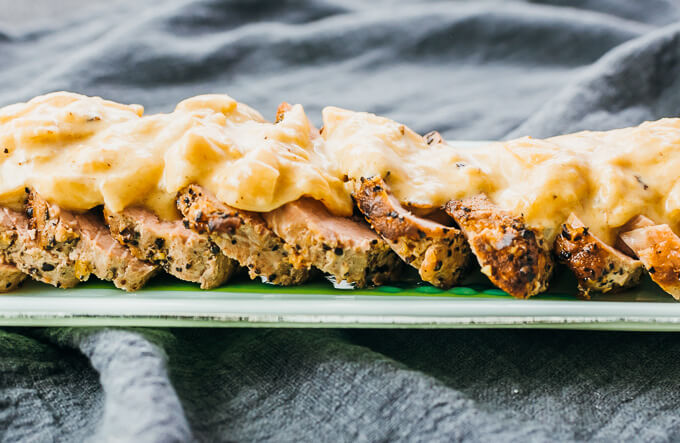 I don't make pork very often at all because, see above, I'm a bad cook and it always comes out dry.  However, my kids actually LIKE pork, so I should make it to get out of our pizza and chicken rut.  In the Instant Pot is a great place to try something when you want to be sure you end up with moist and tender meat.
This Instant Pot Pork Tenderloin from Savory Tooth  includes a recipe for a sauce that sounds completely mouth watering.  It's got heavy cream, parmesan cheese and dijon mustard.  Yum.
We buy a Rotisserie chicken from the super market almost every week.  It's usually gobbled up within a day or two.  I love the idea of being able to make my own in the Instant Pot.
This Instant Pot Rotisserie Chicken recipe from A Pinch of Healthy is simple and fresh.  I love recipes that you use "bright" flavors like lemon.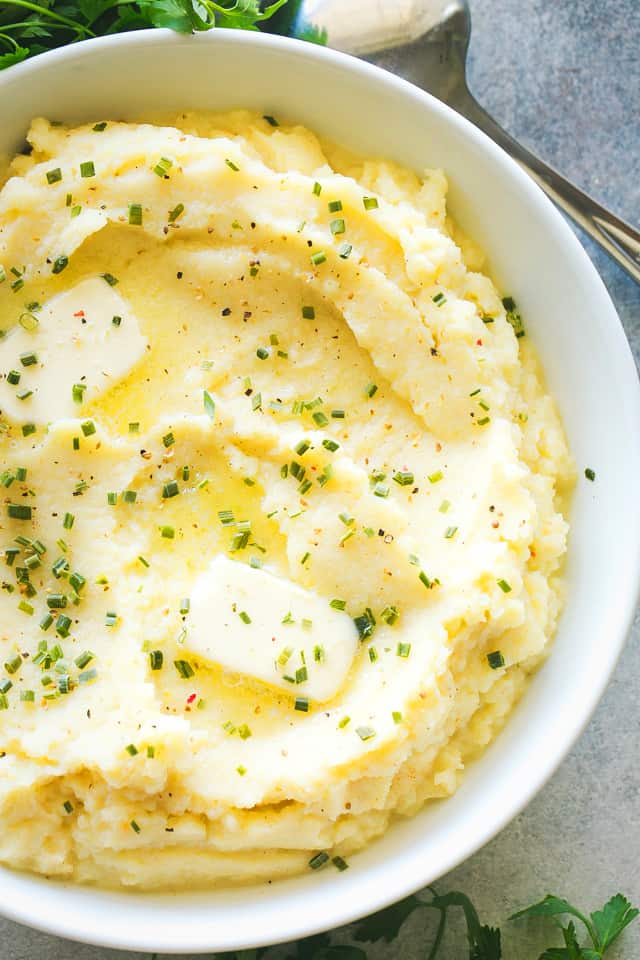 You need some Keto sides to go with all of these delicious dinner.  Cauliflower mash is perfect for that Roast Pork Tenderloin or the Rotisserie Chicken.
You know what I love about Cauliflower mash?  You don't have to make another side.  My kids and husband will be happy because they will think they are getting potatoes magically as a side and I will be happy that it's actually just good old cauliflower.
This Mashed Cauliflower from Diethood is done in 15 minutes total in the instant pot.  I love that this veggie side has 7g of fat for when you're struggling to reach your fat macro but still want to eat a vegetable.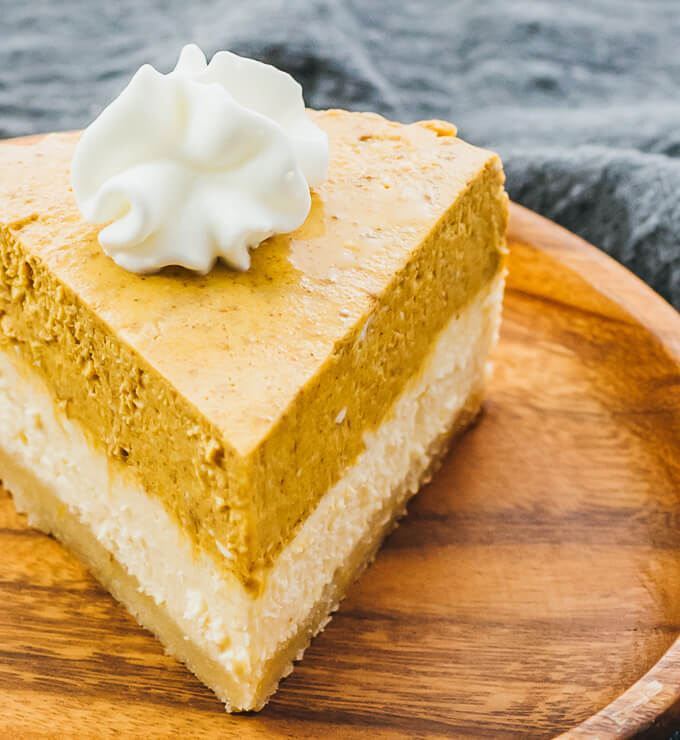 I'm back at Savory Tooth again for this Keto Instant Pot Pumpkin Cheesecake.
Go ahead, read that again if you need to.
You can make CHEESECAKE that has pumpkin flavor in your INSTANT POT and it will be KETO.
There's even a recipe for an almond crust.  I don't think I need to say anything else about this, do I?
What Instant Pot Do I Use?
I have this 6 quart Instant Pot.  I got it from Amazon.  It seems like the majority of the recipes I have found use a 6 quart model.
Now I want to hear from you!  Send me a picture of the recipe you made with your Instant Pot! Or, let me know which amazing Keto Instant Pot Recipe I missed.
If You Liked It Then You Shoulda Put a Pin In It!
(Visited 817 times, 1 visits today)