I'm into the whole handmade Christmas thing this year.  I made these wood burned ornaments a couple of weeks ago and this week it is some super cool DIY Marbled Christmas ornaments for the tree.
As you know, I have certain criteria for the crafts that I pick; they have to be useful as well as beautiful (at least to me!) and these tree ornaments fit both categories.  They might not be useful all year long, but they will decorate my tree for years to come!
And, of course, they offer my favorite part of crafting, the feeling you get from knowing you *made* something!  
***This post contains affiliate links.  If you click on one and purchase something, I may receive a commission!***
Pretty, right?  I have a vintage silver foil Christmas tree that I think these would be perfect for.
I love these because they are easy to make and it is very hard to mess them up.  You could mess them up by picking the wrong colors to marble them, but if you don't like the colors, just rinse them before they dry and start fresh with a new color.
How to Make DIY Christmas Ornaments from Your Old Nail Polish
Before we get to the tutorial let's talk for a second about the set up that's going to happen here.  Because you're dealing with nail polish and a tub of water.
It can get messy.
You're going to want to think about things like, is it a good idea to do this on the dining room table?  What can I cover my kitchen counters with for when I inevitably spill something.  Or drip something.  Or drop a glass ornament that I don't want shattering all over the counter?
You see where I'm going with this?  Crafting is messy, ok?  It's part of the fun. Ok, no it isn't, but at least I've warned you to plan for it.
Here we go.
Materials:
Nail Polish – I used a red-ish/pink and a pretty gold nail polish.  The cheap polish is better than the quick dry, expensive stuff!
Plastic Cups or other plastic vessel that you can dip the ornament in.  It should be something you don't mind either throwing away or reserving only for craft use.  I wouldn't use anything that might touch food after this project.
Clear Ornaments – I used mini ornaments, but they are available in lots of different shapes and sizes.  I've linked to a set on Amazon.
Wooden skewer – For stirring your nail polish.
How To
 Fill your plastic cup with water.  I tried hot water and then I tried cold water.  Cold water seemed to be easier to work with.  I've read tutorials that say you have to use hot.  What can I say?  Cold worked for me.  Do what works for you!
Before you start, figure out where you want to let your ornaments dry.  I opened my bottom cabinet doors, lined up some paper towels on the bottom and then taped the ornaments to the open cabinet so they could hang out and dry.
***Note – The next couple of steps need to be done fairly quickly.  The longer you let the polish sit, it will start to set and then it becomes difficult to work with.***
3.  Drip in a bit of each color of nail polish and swirl it around using your skewer. Mine looked like this:
4.  Dip your ornament into the polish/water.  In and out.  You don't need to let it sit in the water.  Just a quick dip.  Change out your water and nail polish about every two ornaments so that the polish doesn't get too clumpy.
5.  Allow the ornaments to dry and then hang from your favorite tree!
And that's it!  The one downfall I have to warn you of for this craft is the smell.  I hate the smell of nail polish and it seems to be even smellier when added to water.  Maybe I should add a clothespin to the list of materials!  All in all these were fun to do.
I wouldn't suggest for under, say 8 years old because it can get a little messy and I think I would probably cry if I spilled a cup of watery nail polish all over the kitchen.  And that is just not the Christmas spirit I'm going for!
Want to see ALL the Christmas Crafts and Inspiration?  Check out this Christmas Craft page.
And if you're just not in the making mood, you can buy some super cool marbled ornaments from Etsy: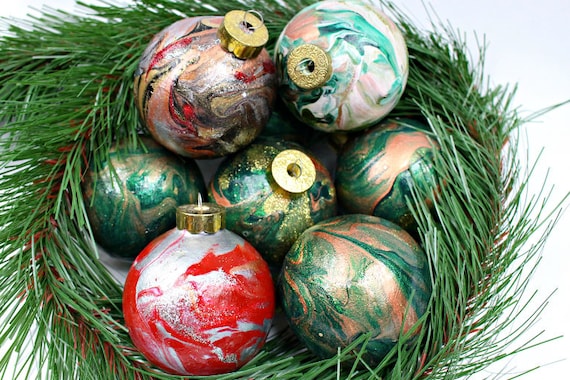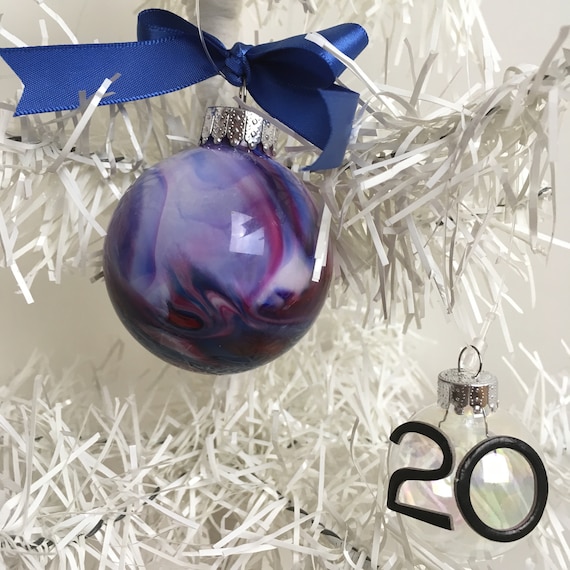 I've got a whole post for you on Nail Polish crafts that you can check out if you're looking for more ideas!
If you love this post, put a pin it!