First, to be clear, I'm talking about booties as in shoes.  If you're looking for the other kind of bootie, you're in the wrong place.  Also, you're spelling it wrong.  Anyhoo!  It's kind of a chilly morning here in the waning days of August in the Northeast and that has me excited about one of my favorite things about fall!  Boots!  I've found I'm not that interested in the tall boots this year.  Instead, I'm bootie-obsessed.  I've scoured my favorite on-line shoe shops and found the 10 Best Booties for Fall under $100.   ***This post contains affiliate links for your convenience.  If you click one and make a purchase I may receive a commission, at no additional cost to you!  Thank you for supporting Lifestyle for Real Life!***
10 Best Booties for Fall – Under $100
Franco Sarto Dark Burgundy Suede – $97.99 – I know, I'm right at the top of my budget, but these are my favorite shoes I've seen in a very long time. The color is gorgeous and the laser cut lace look?  I'm all in on these booties, people.
Nine West Tria – $99.00 – Ok, still at the top of the price point, I promise, there are better deals below. There's something about a lace up bootie that always gets me.  Maybe it's reaching my inner Mary Poppins.  I think these are slightly Victorian looking, but still modern.  These could go with tights and a skirt or jeans on a night out, right?
Vaneli Black and Suede – $82.00 – I'm calling these the Date Night Booties.  I love the touch of snake skin and the buckles.  Great little heel.  Not too high, not to low.
Boots with Straps – $49.99 – These were part of my H&M Capsule Wardrobe and I couldn't resist not adding them here.  They are just the perfect casual boot.  Nice sturdy heel, a little strap and buckle for some style.  I love these.
Nine West Tria – $99.00 – Oh, who's up for a little fringe?  These are super cool.  I love the fringe and the loop detail at the back.  And the front is just totally sophisticated, yummy boot.  These are the one's to buy if you've got a pair of booties already but you really want a new pair.  Why?  Because fringe.
Report Gifford – $59.00 – These are great boots to get you started in fall.  They have that lighter wedge heel that sort of still reads warm weather and they have that great cut out detail on the sides.  Which doesn't just look cool, it's also built in ventilation for sweaty feet!
Dirty Laundry Inviting – $35.99 (sale price as of 8/25/17) – These are super sleek.  The would go with your skinny jeans, your boot leg jeans and your tights or leggings with a skirt or tunic.  I love that wedge heel. These would be super-elongating for anyone who is height challenged, like me.
Me Too Zena – $79.00 – This is a great boot to have in your closet.  I love the tapered heel.  The color would go with just about everything.  They have sort of a rich feel to them.  Like they always look good, but they are never trying too hard.  Does that make any sense?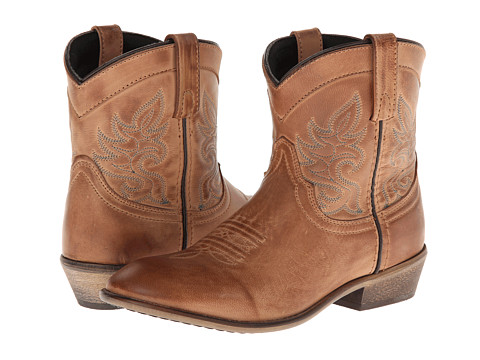 Dingo Willie  – $89.95 – I had to add a little cowboy boot bootie in here, right?  These are adorable and, at least in the Northeast, it seems like someone always notices when you've got some cowboy boots on.  Maybe that's not a thing in the south or the southwest, but it seems to be up here.
Michael Antonio Samtha – $59.00 – I love how these boots already look a little broken in.  The tassel and roping detail is great.  I like the height of the heel.  The price on these is great for a lot of style, too.
Alright, that's 10 great booties!  Which is your favorite??
And if you liked this post, put a pin in it!
(Visited 451 times, 1 visits today)